Should I go to Bandon Dunes or Scotland? How different are they? The weather is the same, right? How about the cost?
These are all common questions that I receive via email and social media from website readers. And, up until earlier this month, I could never answer it! I lived in Scotland for four years playing golf almost every day, but I had never made the journey to Oregon. Thank to LINKS Magazine, that has changed.
I made the trip out to Bandon in the context of my position as Assistant Editor at LINKS, and while I am no Bandon expert after one trip, I will try to compare the two here. I recently recorded a podcast on the topic with Ru Macdonald, my partner in crime at the Scottish Golf Podcast. We discussed the topic on the episode embedded below, so give it a listen. Also, check out my overview article for LINKS here.
Golf
This is obviously the most important point! I was surprised with just how "linksy" the courses at Bandon Dunes played. They were very firm, the lies were very tight, and the wind was blowing a gale. I don't think I've ever seen turf in the US that is as similar to Scottish fescue (well done, Jimmy Kidd et al). The courses at Bandon reminded me of the modern Scottish links (Kingsbarns, Castle Stuart, St Andrews Castle Course, and others). They really can't be compared to the Old Course, Carnoustie, or other ancient links. They are totally different designs.
I will say that the courses at Bandon Dunes were certainly the closest thing to Scottish links golf that I've ever seen in the states. I suspect that once you've been to Bandon, the urge to see traditional Scottish courses would grow instead of being satiated. 
Weather
After a one week trip to Oregon, I am by no means an expert. However, I will say that I didn't see a single cloud during my time there. It was 55-70 degrees depending on the time of day during the trip in August. I was told that the summers are usually very dry, and while the shoulder seasons can be less predictable weather-wise, they can often be the best times of year to go.
Scotland is obviously less predictable with its weather. You can see every season in a single day, but if rainy or windy weather is enough to put you off a Scottish trip, you don't have the right mindset anyway!

Ease of Travel
I'm not the first to say that reaching Bandon Dunes isn't easy, but I'll state it here again. When I flew from Savannah, I went via Atlanta and San Francisco to North Bend, Oregon, which is 35 minutes from the resort. A co-worker from California flew Los Angeles – Salt Lake City – Eugene, which is a  two and a half hour drive from Bandon Dunes.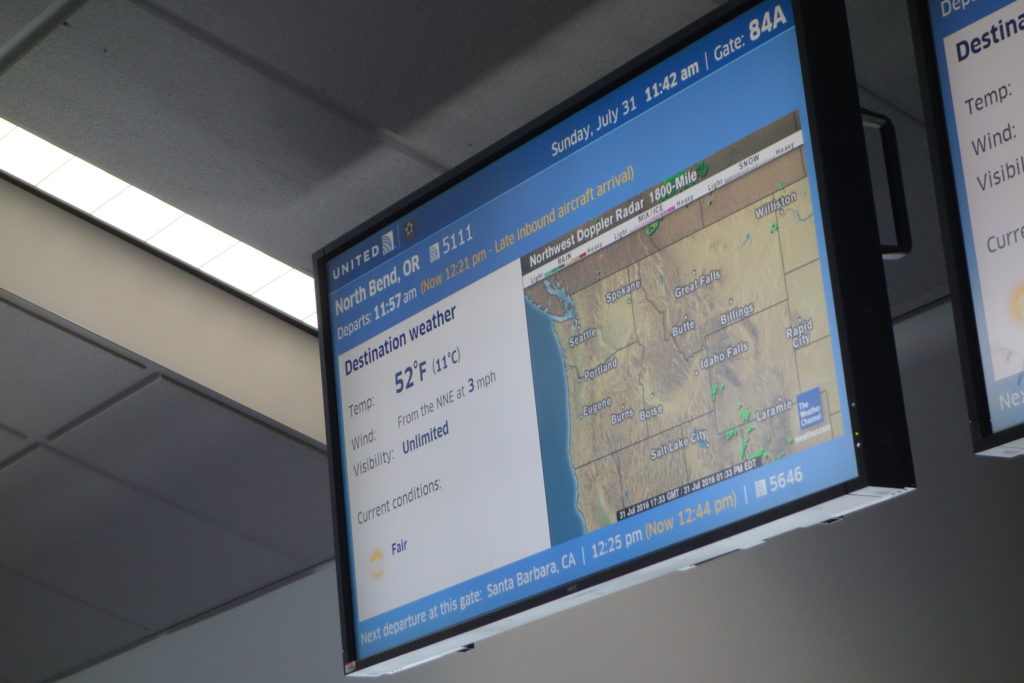 Getting to Scotland from the west coast of the US isn't easy either, but if you're on the east coast, it's not bad at all. If you can't fly directly to Edinburgh from the northeast, you can certainly connect through London from just about anywhere else. Depending on time of year, the flights from the east cost to Scotland or Bandon can be comparable. Often flights to the UK will be $100-300 more due to international fees and taxes.
On a different note, getting around Bandon Dunes once you're there is dead easy. Free shuttles take you from course to course, and they run 24 hours a day. It doesn't get much easier! Scotland on the other hand requires a rental car, transportation company, or public transportation to get from region to region. I strongly suggest setting up a one or two region base for Scottish trips because of this.
Amenities
While Bandon isn't filled with the frills of other resorts (a good thing), it has everything a golfer could need. A steam room, sauna, cigar bar, etc., is at your disposal, and everything is updated and modern. It isn't an amenity, but even the process of booking a last minute tee time is easy. Pro shops can see other courses' tee sheets, and booking a new time automatically notifies your caddie via text message. You don't have to do a thing and it all gets charged back to your room.
The luxuries in Scotland take a little more work on your part. Many hotels have spas and great amenities, but it isn't part of a tidy package like Bandon. If you're staying in a B&B in Cruden Bay, don't bother asking for the spa. That being said, Scotland has the characterful local pubs, restaurants, and sites that can't be found anywhere else in the world. This is another area where the experiences are totally different and direct comparisons don't tell the whole story.

Cost
At the time of writing (August 2016), the dollar is very strong against the pound. To compare apples to apples, let's consider a 5-6 day trip to both locales, staying in one area (St Andrews in the case of Scotland). The accommodation level in Scotland will be a standard, locally owned hotel similar to the rooms at Bandon's Lodge.
Playing one round per day, both trips will run you about $3,000-$3,500 depending on the level of food and beverage that you consume. Both trips could be done for slightly less if the group rents a house or cottage and splits the cost.
Trips to Scotland also become more expensive as you add additional regions, which introduces the need for a rental car or travel company. This isn't a factor at Bandon Dunes with their shuttles and the close proximity of every course.
A final factor is flexibility. You can go to Scotland, stay in B&Bs, play smaller local gems, and make out like a bandit. You could spend $1,500 for a week trip if you needed to. That flexibility isn't there at Bandon – but they'd be the first to admit that they aren't trying to service the lower end of the market.
The verdict
There isn't a black or white answer to which place is better. I know that it sounds like a cop out, but the decision is a matter of preference. Which is better – Mercedes or BMW? Same sort of question.
Bandon Dunes is an incredible resort where you arrive and don't have to think about anything else. Scotland takes more work, but can be extremely rewarding in a completely different way. If you've got the time and money, do both! If you have to select between one or the other, weigh up what is most important to you and how you want to spend your time.