To my own (and my wife's) detriment, I'm always the guy who tries a task myself. Buy a dining table? I can make one. Faucet won't work? Don't call the plumber.
I've always been the same way with my golf trips and this website is an extension of that. I've dedicated hundreds of hours to content about courses and how to a trip plan yourself. I've spent hundreds more corresponding with golfers helping them map out their dream journeys. However, some people don't necessarily enjoy or want to plan and book a trip themselves. Others don't have the time! In those cases, golf tour companies come to the rescue.
This post will help you determine how to choose a tour company, and equally important, help you decide whether you need one. In all cases, I'd love to hear about your experiences and recommendations for a tour company – please leave a comment at the end of the article!

Time Savings
One of the most valuable services a tour company provides is saving you considerable time. Although it can nearly all be done online, planning a great trip on your own requires major effort and research.
With most tour companies, there is an initial discussion about where you want to go and play, but once you've confirmed a quoted itinerary, you just sit back while they do the work. They book your accommodation, golf, transportation, and even some extras (or any combination of those). You don't always have much input in the planning process, but many consumers don't need or want it. As a friend of mine recently said, "I just want to cut a check and show up at the airport."
This point is especially true for larger groups. When dealing with more than four golfers, the logistics of a trip become significantly more complex – especially when it comes to transportation (see more below). Tour companies can deal with these larger groups with ease and can save major headaches.
The time savings can be worth the cost of using a tour company for some travelers. For others, they may have the time, but don't find enjoyment in the trip planning process. Tour companies meet that need very well.
Ease of Use
Along the same lines as the "Time" section above, it's very easy to cut a single check and have your whole trip planned and booked. For the golf traveler who doesn't know much about Scotland and doesn't necessarily want to do the research, there is also a level of security/comfort in knowing that a knowledgeable tour company is planning your trip. There's no second-guessing and no wondering if you made the right or wrong choices.
Transportation
In the case of larger tour companies like PerryGolf, they often have their own fleet of vans and buses to transport golfers. This can be especially useful for larger groups where a rental car doesn't make sense. Using the tour companies "in-house" transportation can also result in cost savings over contracting with a separate transportation company.
The tour company drivers are also often helpful, knowledgeable, and friendly. I've heard a few horror stories, but I've heard far more great reviews of helpful drivers who provide recommendations and useful tips.
Do note that those who plan trips on their own can contract with independent transportation companies.
Pricing – the Biggest Negative
Pricing is the biggest negative for tour companies. The cost of a trip varies with demand, where you want to play, and where you want to stay, but I've seen tour companies quote a price that is double the actual costs.
I often receive emails from readers with a number of quotes asking me for advice on which is best and/or if they are a good deal. The quote below was sent to me recently for a June 2018 trip. Take a look and I'll tell you what to be wary of:
Example Quote:
The Trip: 7 nights in St. Andrews with rounds at Scotscraig, Crail (Balcomie), St Andrews Castle Course, St Andrews Old Course, St Andrews New Course, St Andrews Jubilee Course, and Kingsbarns
Lodging: Private home rental (each player with their own room)
Extras: Nightly dinner included
Price as quoted: $5,300 per person (plus 5% credit card fee)
Real costs:

The Trip: £890 golf*
Four-bedroom apartment rental: £1500 = £375 each*
Transportation: £545/4 for van rental = £137 per person
Extras: £25 per dinner x6 = £150
Real Cost: £1,552 / $2,160.57 per person
I like that the tour operator recommended a week in St Andrews. It is an efficient way to take a trip and it provides a chance to really get to know the area! I also like single-region trips because they generally keeps costs very low.
With that in mind, the trip as quoted from the tour operator is pricey. I made some assumptions with my "real cost" quote, for instance I assumed it would be four golfers. I planned on £25 per dinner, and I assumed a nice (but not ultra nice) home rental. I also assumed that the foursome will rent a van instead of having a driver and bus. Since the entire trip is based in St Andrews, the longest drive is 1.5 hours to Edinburgh Airport to fly home.
*The biggest assumption I made was the St Andrews Old Course tee time. I priced it in using the rack rate of £180, which assumes the tee time was made via the Old Course Ballot. The tour operator included it as a guaranteed tee time. The loose rule of thumb is that a tour operator guaranteed Old Course tee time is worth around $1,000, so keep that in mind. Even if we bump up the Old Course tee time to $1,000, that still leaves a $2,000 difference between the tour operator and the do-it-yourself trip. Without it, the difference is $3,000.
That difference may be well worth it for some travelers! I will repeat it again, but take the 30 minutes to price out the real cost of the trip.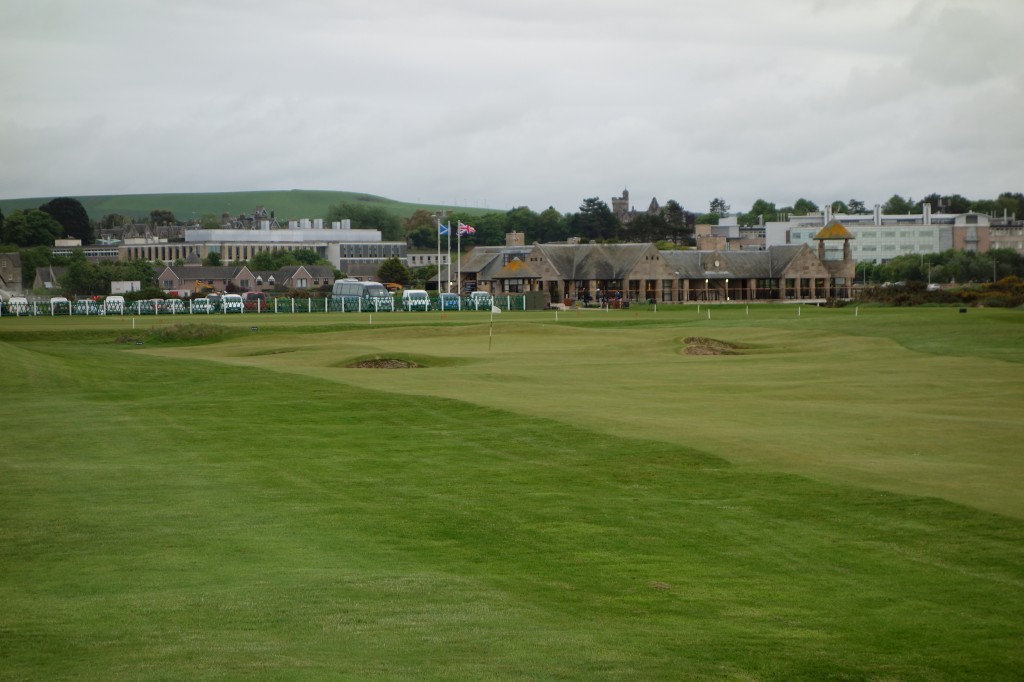 Things to Watch For
Keep in mind that tour companies have relationships with certain courses and hotels where they get preferred rates.
I've received emails in the past where a client presented a tour company with a general outline for their desired trip. The quote they received back was very different than their desired trip. For instance, instead of staying in B&Bs like they requested, they were quoted 4-star hotels. Instead of certain courses, others were swapped into the quote. This goes back to those preferred rates that tour operators receive. Some (not all) companies will steer your trip toward places they receive preferential rates and therefore have higher margins. If you're dead set on a trip, hold fast to where you want to play. If the tour company has swapped in a different place, ask them why. It could be for a good reason, but find out their thought process and make the choice yourself.
How to Choose
In all cases, get multiple quotes from multiple tour companies. Compare their costs and be a smart consumer – check out tee time and accommodation prices yourself. Which company best listened to your desired trip and delivered in their quote? 
I've worked with and spoken to many happy clients from PerryGolf, Haversham & Baker, Bonnie Wee Golf Tours, Carr Golf, Connoisseur Golf, and others.* Some specialize in certain things, like Connoisseur Golf with very high-end trips (think helicopter travel and castles), but most just deliver on solid golf trips. Speak with at least two, but hopefully three.
*I'm sure I will get emails from all of the tour companies I didn't mention… there is no need to email me – just leave a comment on this article so everyone can see!