I finally got hold of a Mackenzie bag. After years of loving Mackenzie's work and seeing their bags at courses across the world, I received this one as a birthday present from my family—and what an awesome gift!
Mackenzie Golf Bags is a company based out of Oregon that makes high-quality bags and accessories. They're best known for their leather golf bags, but they also make waxed canvas and ballistic nylon variants that can all be customized to a high degree. 
It's important to note that this isn't a review of my Mackenzie golf bag. Instead, it's a look at the ordering process and the "spec" that I chose for the bag. After a season of hard use I'll write a follow-up review that will cover durability, long-time use, and other important aspects.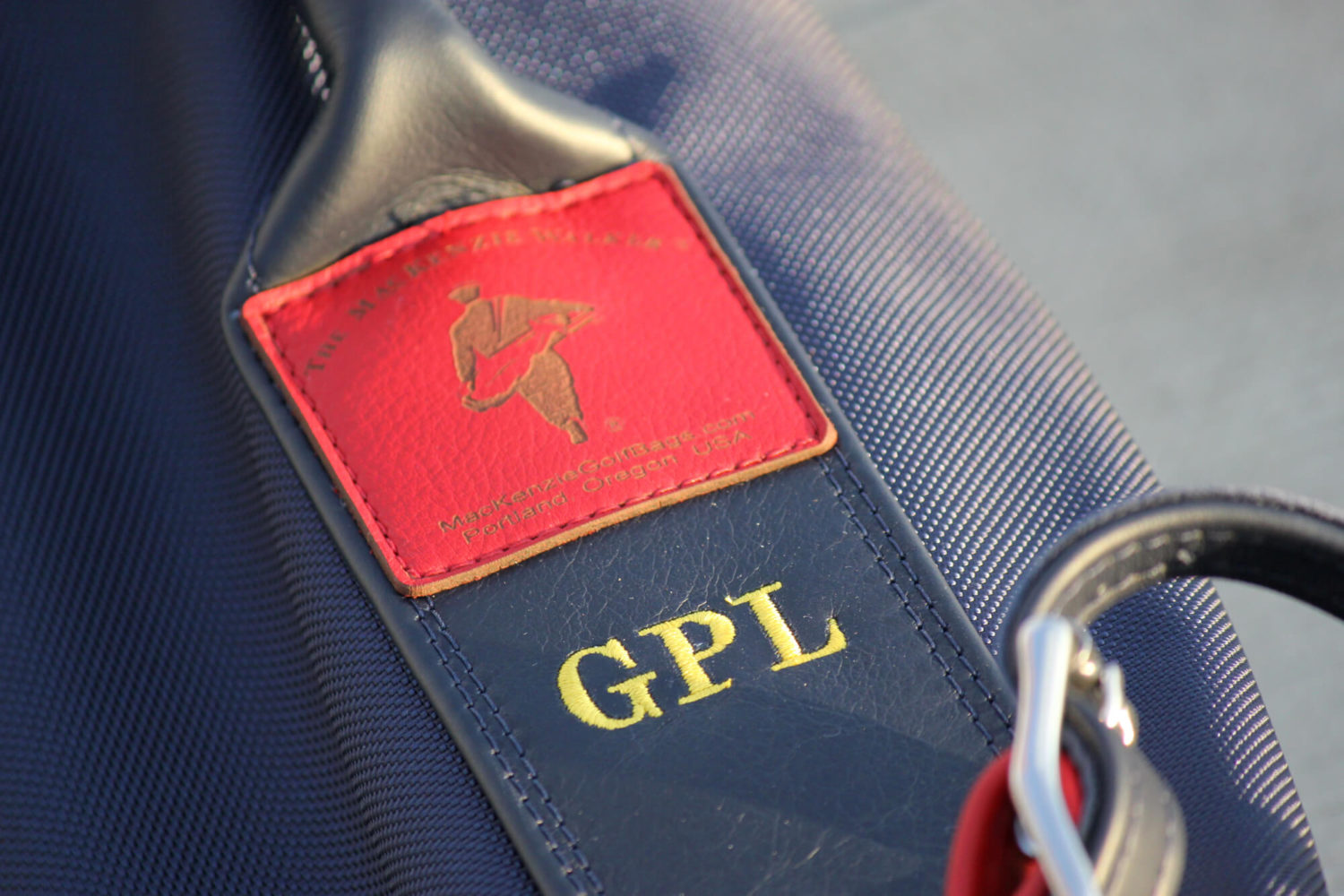 The history of Mackenzie is told best on their website, but the company was founded in 1985 by Peter Jacobsen following a round on the St Andrews Old Course where a caddie ditched his large golf bag in favor of a small, leather carry bag. Jacobsen returned to the states and founded a company to make those smaller bags. The company has evolved into a built-to-order shop for high-end customized bags and accessories. Since every item is made to order there is a wait time of usually a few weeks to get your bag. The wait time for mine was between three and four weeks and as you'll see below, there is a fairly high amount of customization.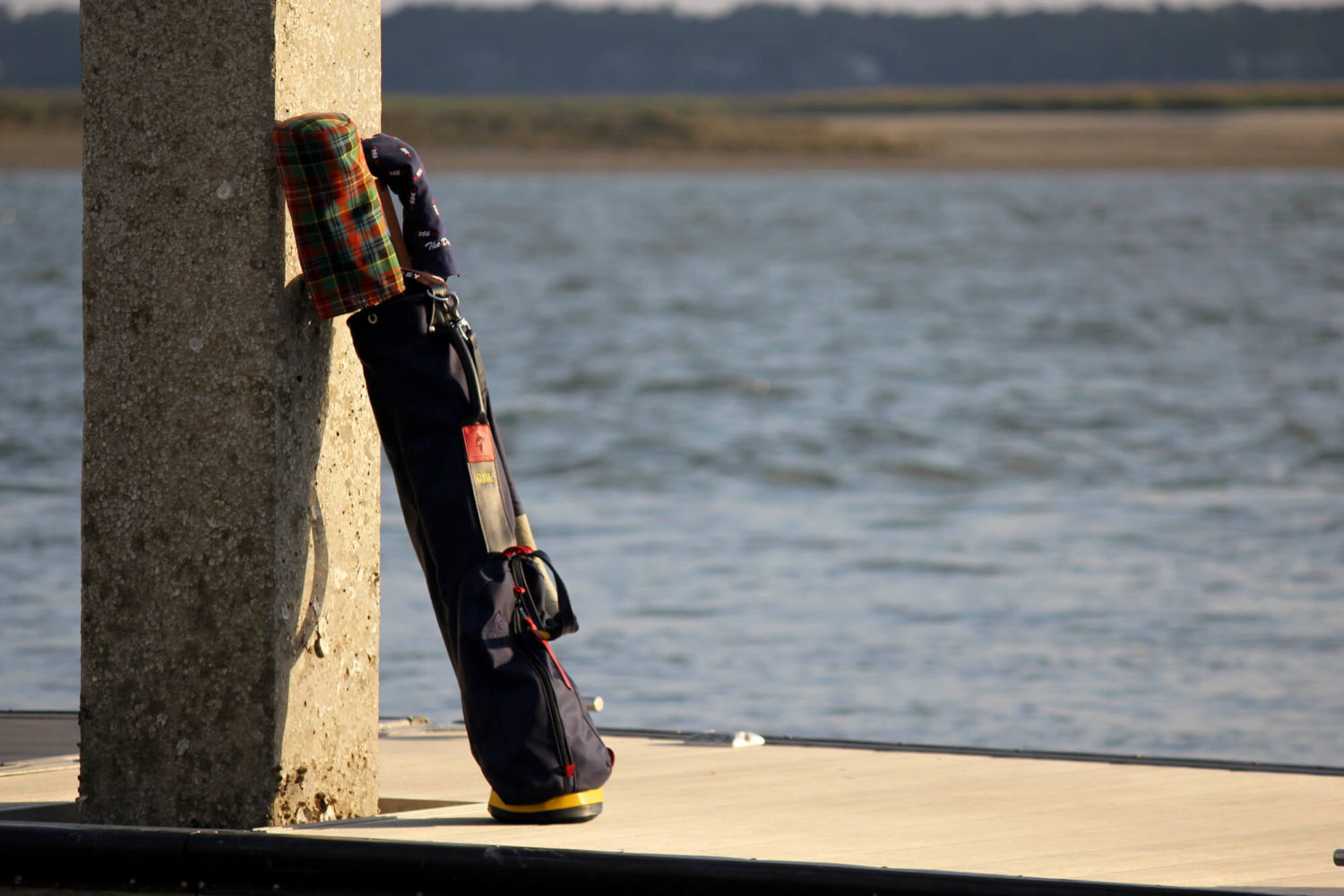 It's all in the Details (and "Ghost" Embroidery)
During the initial design stages of the ordering process, my contact at Mackenzie started the conversation with, "We can do pretty much anything – just let me know what you're thinking." Those are words you love to hear!
After an initial conversation he sent over mockup with suggested colors based on the University of St Andrews crest. We went back and forth on a few color ideas and settled on the combination you see in the mockup below.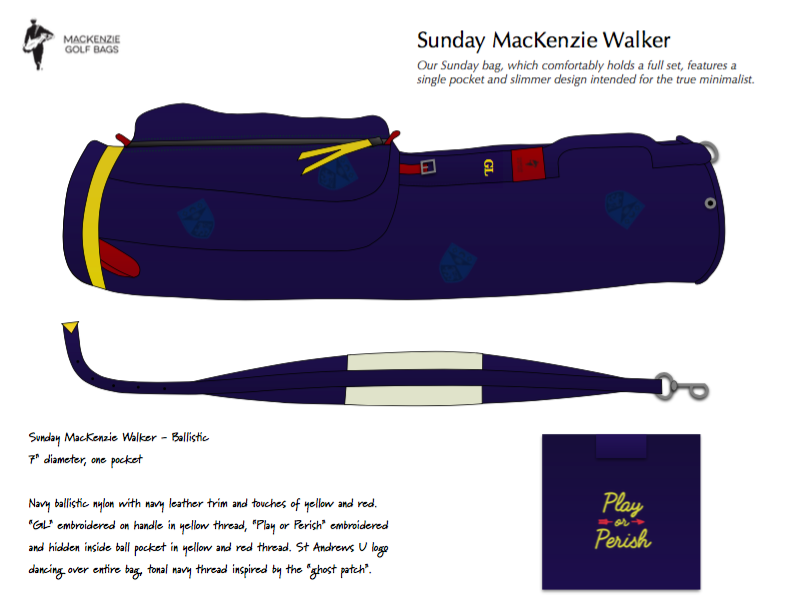 As for the embroidery, I knew I wanted "dancing" logos located randomly across the entire bag. I also wanted to feature a number of logos that have meaning to me, but didn't want the bag to be a loud, brash display of seemingly random logos. The solution is something I'm calling "ghost" logos, which are all embroidered a single color that matches the navy blue of the bag. The "ghost" idea is something inspired from "ghost patches" in the Boy Scouts – gotta draw inspiration from everywhere!
There are two University of St Andrews crests on the bag to represent my time in Scotland and the UK.

There are also two Sugarloaf Social Club arrows that represent not only the club but a certain mindset toward the game.

Finally, there are two Biltmore Forest Country Club crests (bottom right in the photo below) that represent the course where I learned the game and my connection to family in Asheville, NC. 

The bag itself is blue ballistic nylon with red, yellow, and blue leather accents. The nylon feels different than other ballistic nylon products that I own. The weave feels "tighter" and in turn smoother and seemingly more durable. Whether that tighter feel leads to a longer lifespan, I'll report back with a "one season later" post when the time comes!

The materials and detail work on the bag both all top notch. The embroidery is clean and looks great, no stitching is loose, and the leather feels (and smells) like it came from an Italian handbag.

My thoughts
You may notice in the bag rendering that there is supposed to be a "Play or Perish" embroidery inside the pocket of the golf bag. Unfortunately, the embroidery was missed in a mixup at the shop. I was disappointed in the missing detail (from a detail-oriented company), but Mackenzie's handling of the mistake turned the experience into a positive.
As you would hope, Mackenzie immediately offered to take the bag back and add the logo. After a brief discussion though, they offered to send a "Play or Perish" embroidered valuables pouch and hybrid headcover to match the bag.
Mackenzie handled the situation well and turned a negative into a real positive.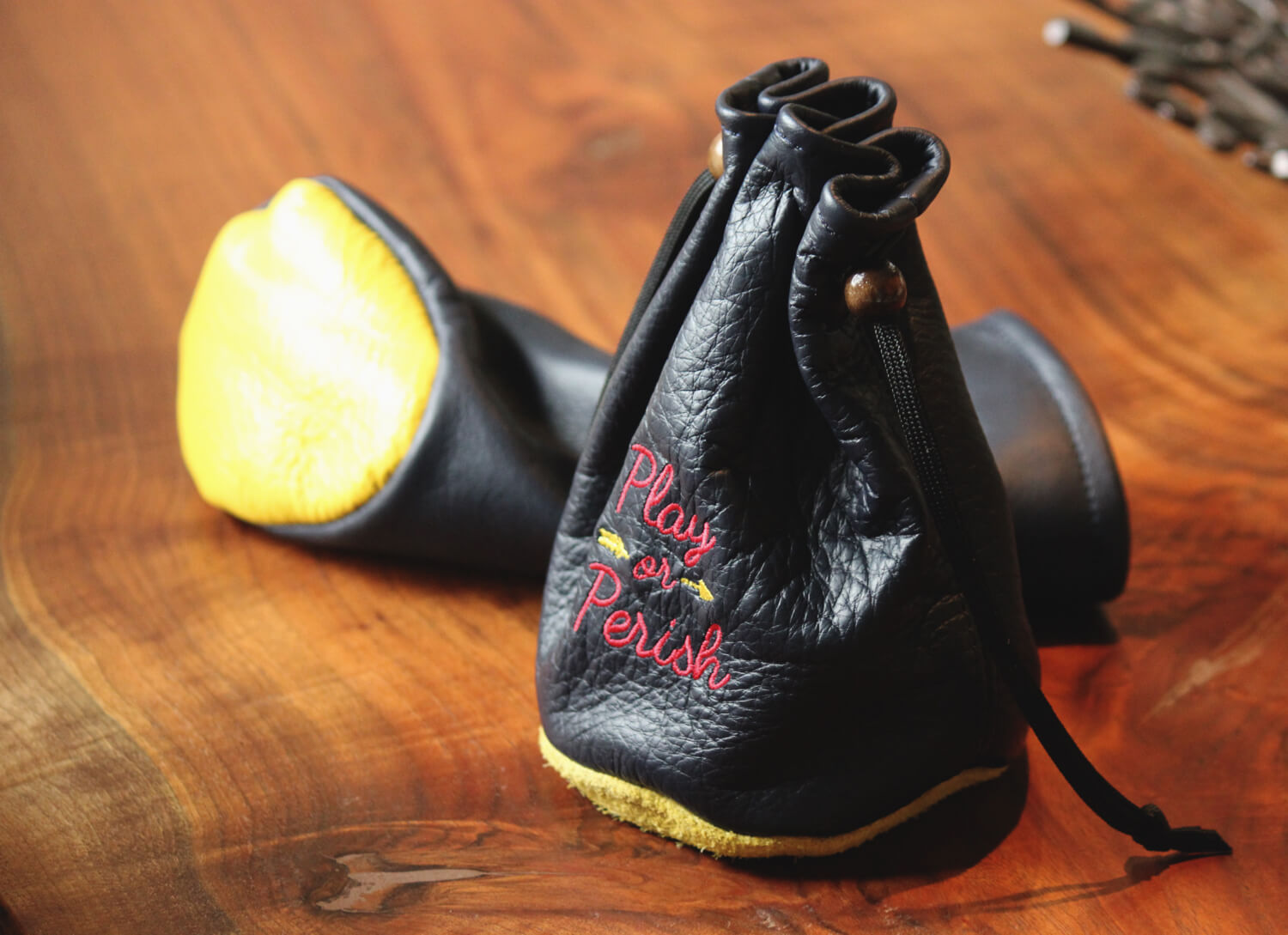 Overall, the buying experience was not only nice, but really fun with this golf bag. The couple of weeks brainstorming ideas and considering my options built anticipation for the bag. The materials feel high-quality, the bag looks beautiful, and most importantly, it functions as a great lightweight walking bag. More than anything else, every time I pick it up, or even see it in the corner of my office, it makes me want to immediately head to the course.
Look out in the future for a review of this bag after a season of hard use!