I first came across Aimee Smith in 2021 when she sent me a direct message on Instagram. Aimee was looking for reference photos of Royal Dornoch and I happily sent her a handful of images of the fifth hole. Ever since, I've followed Aimee's work and have watched with admiration as she uses the tools of social media to connect with her audience and bring us along in her creative process. Read more about Aimee's use of video in the interview below.
Beyond admiring the beauty of her work, Aimee and I have a shared love for Scotland and Scottish golf. I usually see her working on a piece on Instagram and immediately pause the video thinking, "Ohhh, which course is that? Which hole? And what angle?" Look for the painting of Cruden Bay below and you'll know exactly what I mean. I could go on, but without further ado, enjoy my interview with Aimee Smith:
Are you a golfer? Tell us about your background with the game and how you got started painting scenes from the golf world.
I am a golfer, although I didn't pick up the game until a little later in life. That's one of the many reasons I love this game so much. You can start playing as a kid, or you can pick it up as an adult. My husband was a pro golfer when we met, and he introduced me to the game. After working in the clinic indoors all day, it was so refreshing to have an excuse to be outside in the sunshine and fresh air for hours. It brought balance back and forced me to slow down while I was on the course. I then started diving into the history of golf, specifically golf in Scotland, and quickly became obsessed.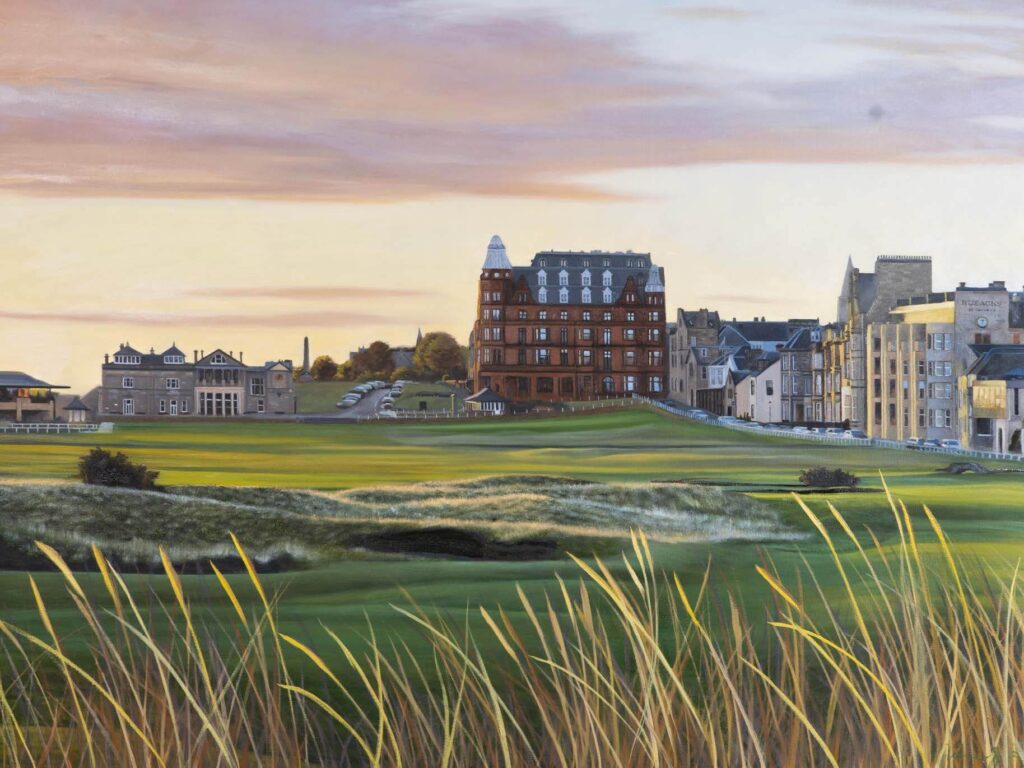 I had painted since I can remember and always had that far-fetched dream of being a full-time artist. I painted on the side while working in the medical field, and after a few friends asked for golf commissions, everything just clicked. I put those two passions together and niched down. It turned out I wasn't the only one who liked golf art, and after a few years of working at it, I was incredibly lucky enough to quit my job and pursue a career in golf art full time. I've since been able to work with amazing collectors and golf courses around the world.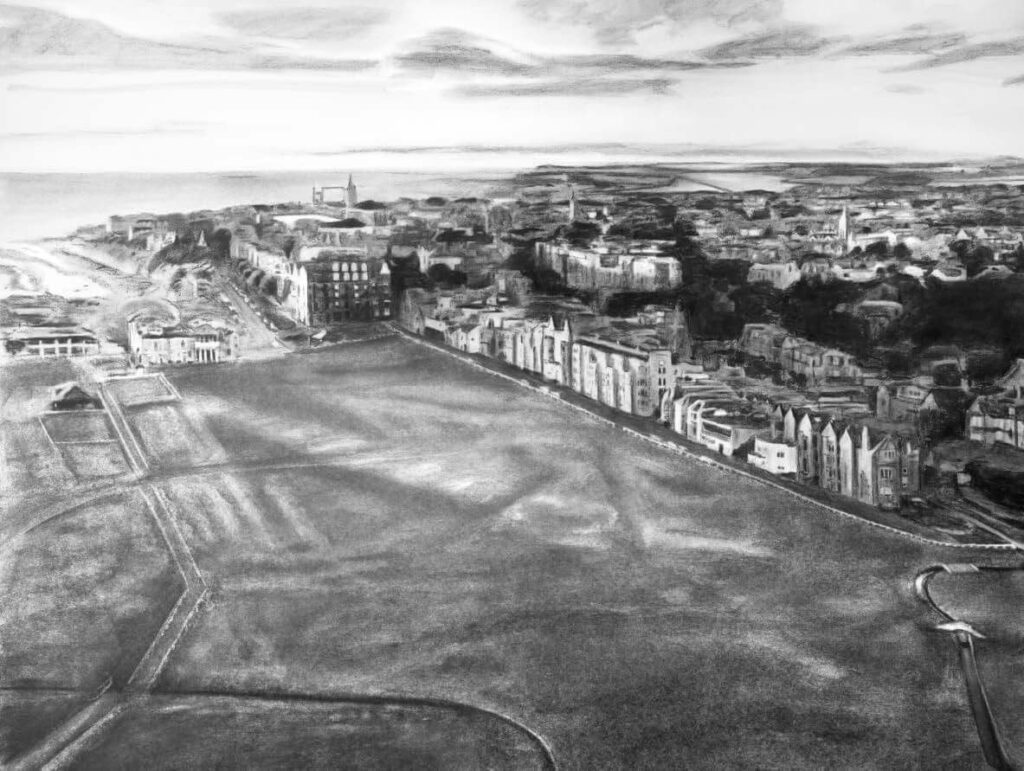 From an outsider, it seems like you feel a connection to St Andrews and Dornoch – what makes painting scenes from those courses so enjoyable?
The history of those two courses initially drew me in and continues to fascinate me. From the origins of the Old Course to the stories of Tom Morris, St Andrews is just packed full of stories to explore. Visiting the St Andrews Links always feels unreal each time I'm there, and knowing that I'm not the only one who feels that way strengthens that sense of community in the golf world.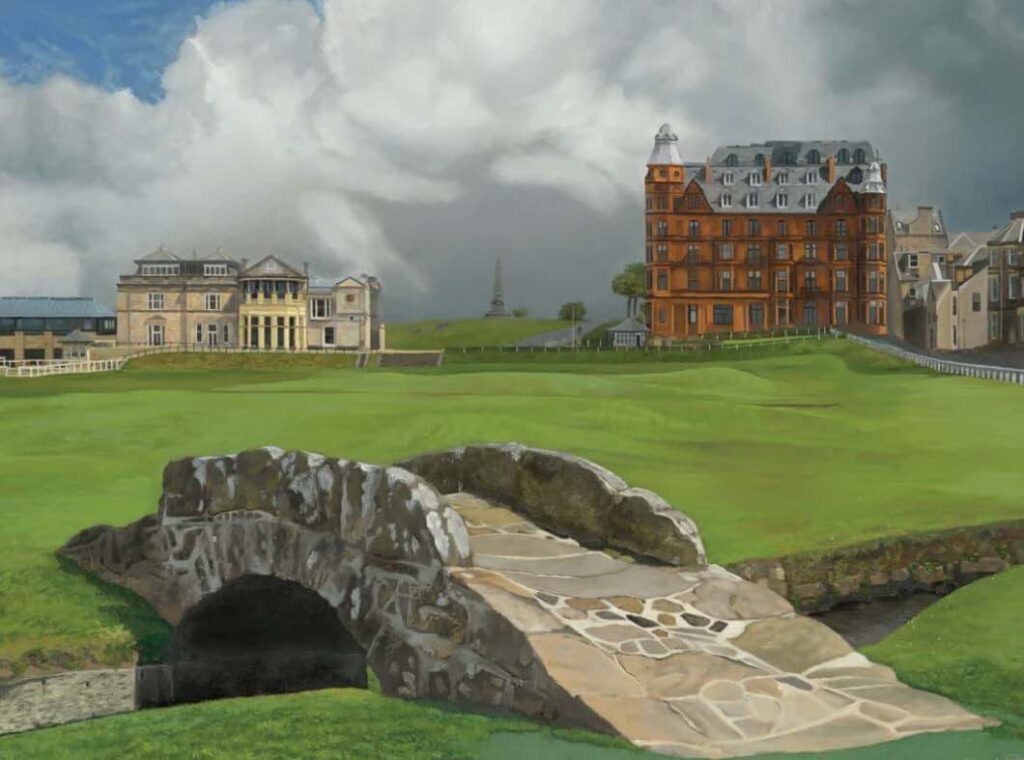 Royal Dornoch is just as magical a place, and it's not quite known to the same degree. I love talking with other golfers who have been there. We all feel like we know about this secret golf heaven. Our first visit was just as the Covid restrictions were lifting, so the town was still quiet and sleepy. We stayed at the castle hotel and were on the course for sunrise and sunset a few days in a row. The last morning, we got incredibly lucky with a golden sunrise that I was able to capture in "Sunrise at Royal Dornoch." We've been back a few times since, and while the town is small, I feel like each time we walk away with memories of a new adventure.
Tell us about your own trip to Scotland! Have you been more than once?
I've been a few times! My husband is from Edinburgh, so we had our wedding in Scotland long before I started painting golf courses. Scotland is so enchanting, and I always semi-joke with my husband that I'd move there in a heartbeat. He says he hates the weather, but we get wet and cold weather in Nashville, and he survives just fine. We visit Scotland a few times a year, both to visit family and meet collectors and get reference photos for future golf course paintings.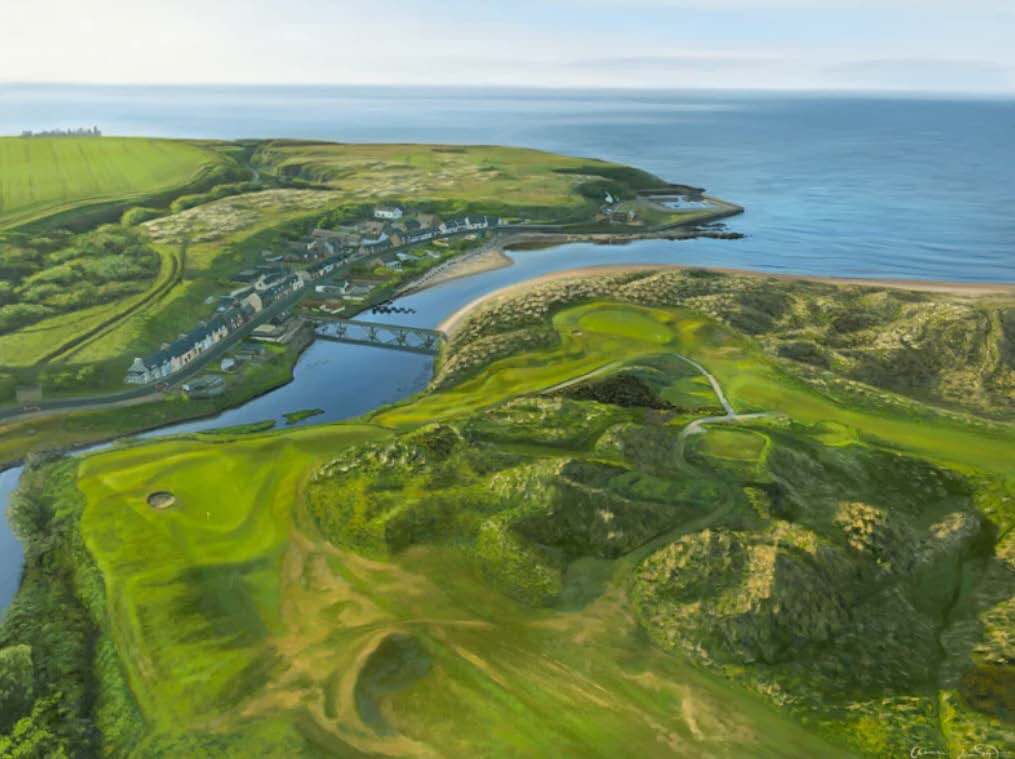 The videos you create while painting are inspiring, but they also help show the scale of your work. Have you always created large-scale work, and what's your thought process behind going big?
Thank you! I enjoy the behind-the-scenes process, and I hope the videos help the collector experience that journey. It's been a learning curve with filming/video editing, so it's always encouraging to hear that others like watching the videos!
I've painted canvases of all sizes, but there's something about the challenge of big canvases that excites me. I work in oil paint, and so I love to paint in layers. Some oil paints are transparent, and when layered up, they change the way the light bounces off the canvas to give a sense of depth to the landscape. And then I found that when I paired that technique with large canvases, you immediately feel like you can walk into the painting and start playing a round. I'm working on a 5' x 6' painting of the Old Course right now that I hope gives the viewer that same feeling. The issue is when we see art on our phones or computers, that impression can be lost. So I hope the videos help to immerse the viewer back into the painting as if they're standing in front of it in real life.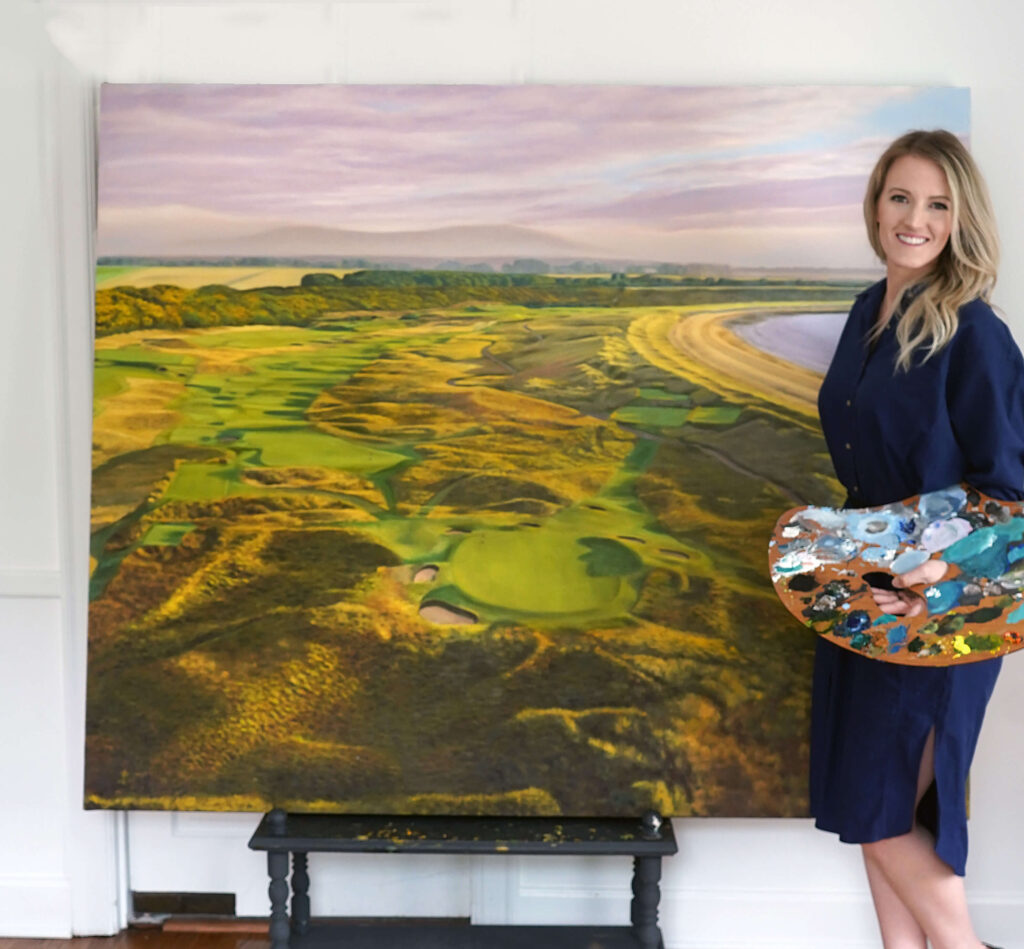 In addition to golf courses, you also paint scenes from whiskey distilleries (among other things!). Tell us about your "bourbon art."
One of my art mentors in school would say, "If you want to be great at landscapes, paint still lifes. And if you want to be great at still lifes, paint portraits," basically stating that if you want to master a subject, you've got to practice with others. My goal as an artist is to continue to learn and push my boundaries. So I started a whiskey still life series as both an exercise and as a palate cleanser from the green paint. It gives a little balance to my portfolio, but it keeps the storytelling aspect at the same time. Each painting has a story subtly surrounding the still life set up. I've found the initial lesson to be true: these paintings have been an excellent study in value, composition, and technique that I can then bring back to my golf landscapes.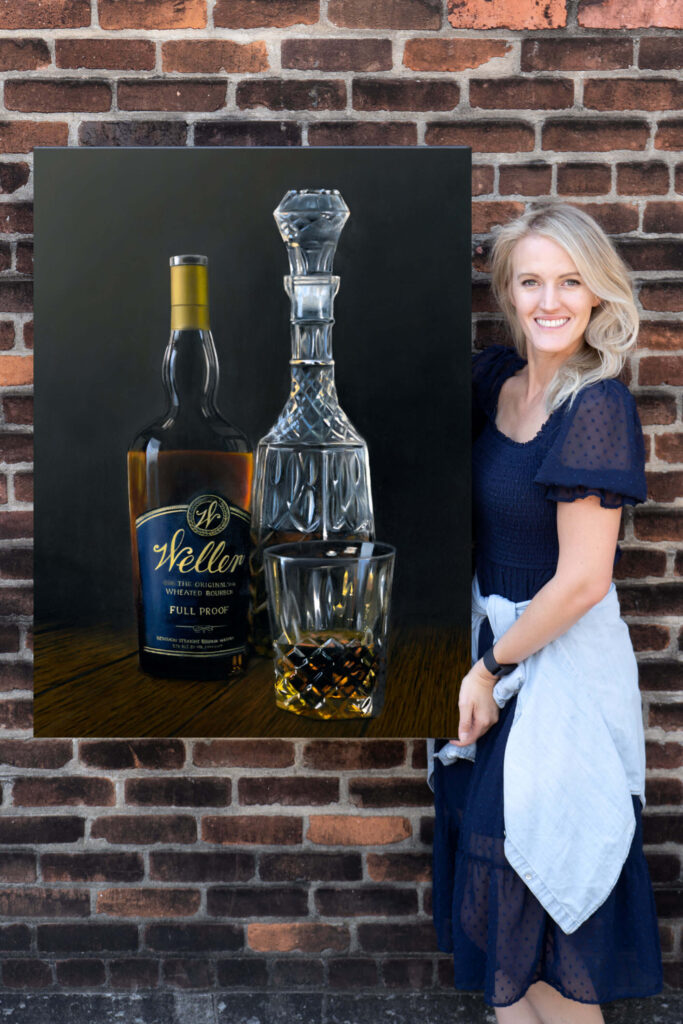 Is there anything else you'd like to mention? The amazing detail in your paintings combined with their large scale is breathtaking… keep it up!
I would like to give a big thank you. To you for reaching out for this interview, to readers, followers, and collectors. It's been such an incredible journey into the golf world, and I am beyond grateful. I can't wait to see where this career goes in the next few years.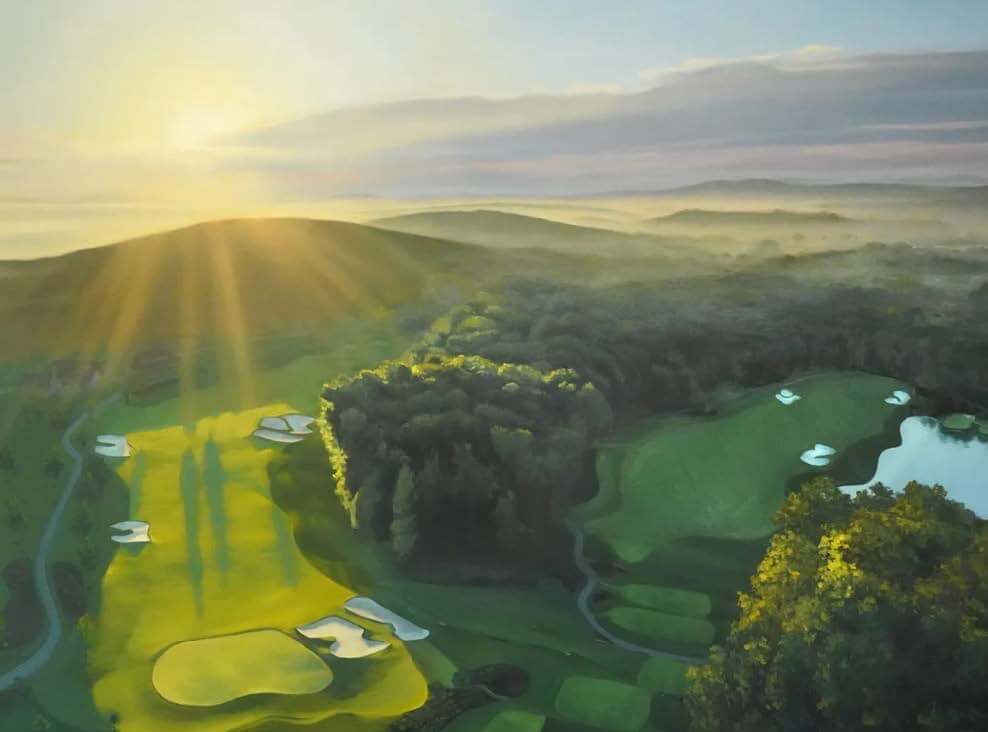 And to those who haven't yet picked up the game for one reason or another: it's simpler than you think, and it just may open up an entire new world and community that you've been looking for.