Ken Reed is one of the artists I was most excited to interview for the site. His legendary work has appeared in books and collections around the world. The interview below touches on a number of unique aspects of Ken's paintings, from his unique watercolor look to the inclusion of golfers in his landscapes – something that makes his paintings feel alive and more relate-able. Ken's art spans much more than just the St Andrews scenes below, so be sure to visit his website to see more.
Q: What is your background within both golf and art? How did those two become so closely tied?
I started playing golf in my early twenties and at that stage in my career, I was working as a graphic designer. Five years later I began teaching graphics at art college and it was there that I became more interested in fine art. Our Head of College, Walter Parker was exceptionally good at watercolours and inspired me to start painting. The generous holiday breaks from teaching, meant more golf and time to develop watercolour techniques. After many efforts, I eventually felt I had a grasp of the medium and it seemed a natural progression to paint the game I loved.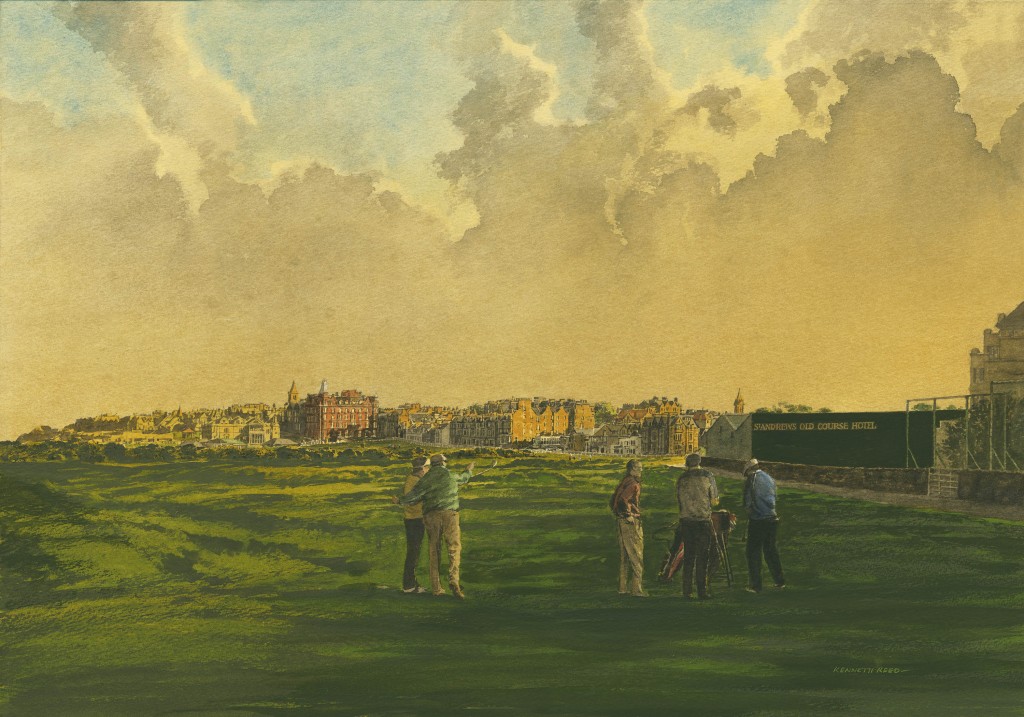 Q: When looking at your paintings, viewers might not immediately recognize the medium as watercolor. Can you provide some insight into your painting methods?
The first thing I paint, after resolving the general composition, is the sky, as this sets the mood of the scene and in pure watercolour can be difficult to achieve. I then establish the lightest and darkest tones, as they will dictate the interim tones to follow. I think my early work was fairly representational and have since preferred to be more impressionistic in approach, rather than showing a lot of detail. I believe a painting that achieves this balance of interest, stimulates the viewer, into seeing what he or she imagines to be there.
Q: Many of your landscape paintings feature golfers, however small or secondary in the scene. Is this a conscious choice to include figures in the painting?
It's a personal choice. There are many fine golf paintings without figures. As golf courses are made for human activity, I like to incorporate golfers, somewhere in my paintings.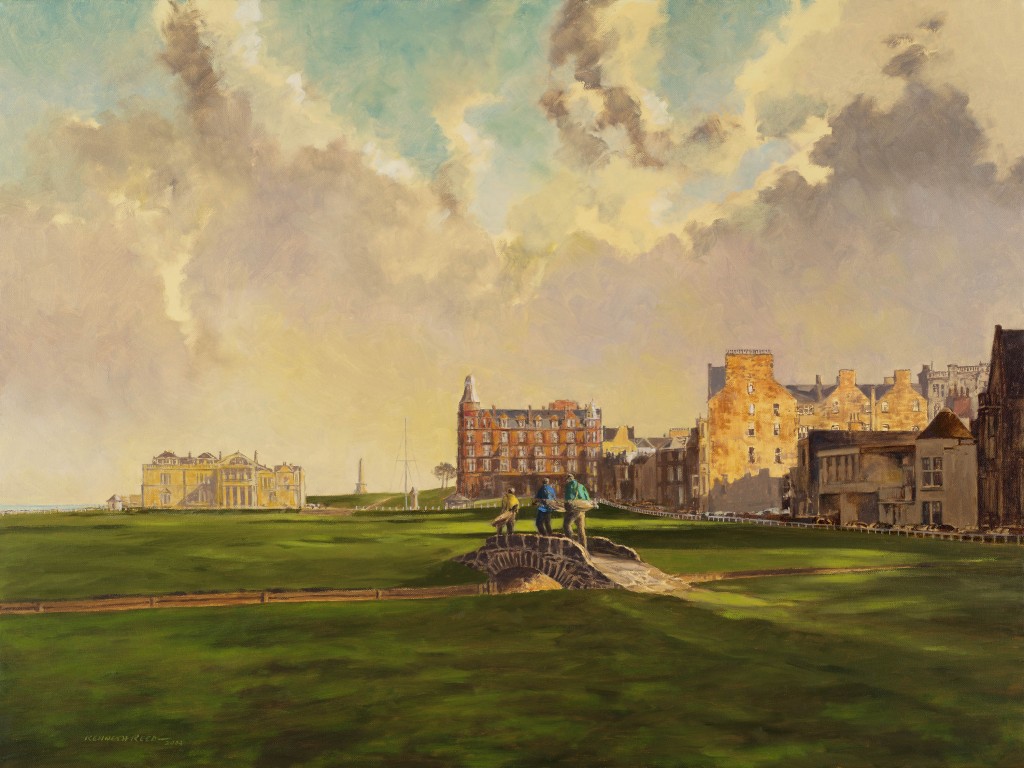 Q: Your painting "Rainy Day at St. Andrews" is one of my favorite takes on the famous view of the 17th and 18th holes on the Old Course. What was your process and inspiration with that painting?
I had seen a very atmospheric watercolour by Walter Parker, who I referred to earlier. This was of a window scene, looking out to a mountain in the English Lake District, where they get a lot of rain. I thought the same weather conditions could lend themselves to a golf scene and what better place than the Old Course, where every golfer wishes to play. The technique used for the scene from the window,was painted, appropriately, wet into wet, with the use of Chinese white for the rain on the window.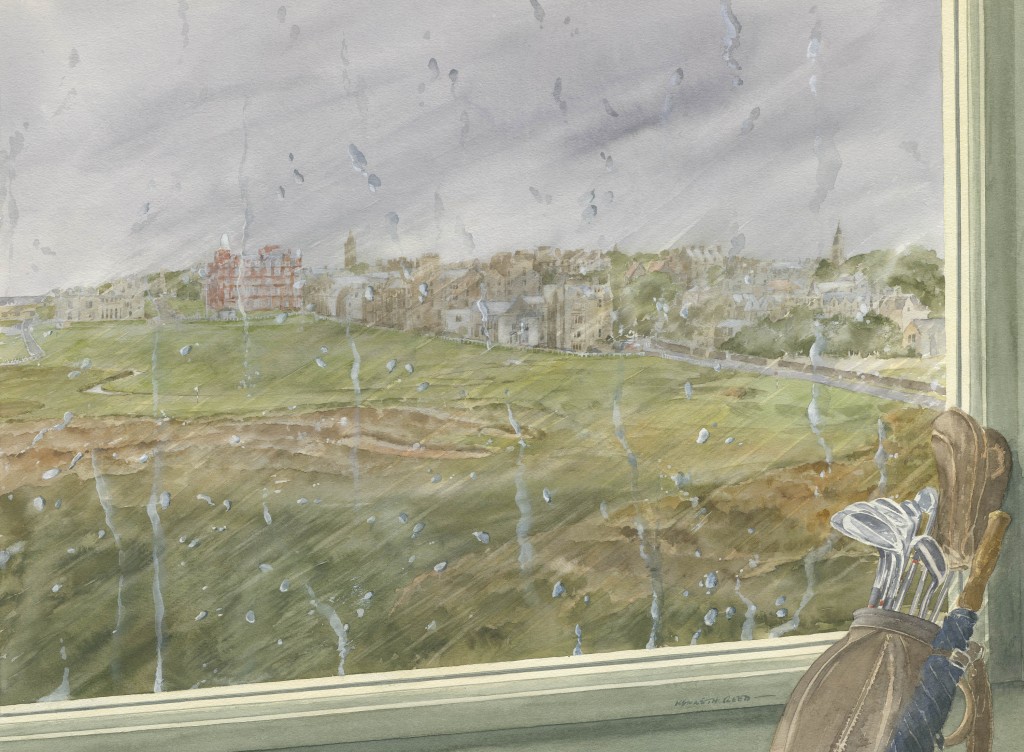 Q: You have painted many of the best golf courses in the world. Was there a course that was particularly enjoyable to visit, both as a golfer and an artist?
This is difficult to answer, as I think it's the people who help to make a place special and with my friend and agent, Bob Pringle, have had the pleasure of meeting many wonderful people. Having said that, in 2002 he and I had the good fortune of working on an art project for the Mid Ocean Club, Bermuda. Lovely people, lovely golf course, lovely place.