My initial email to Ballpark Blueprints asking about this interview led to something not all too uncommon in the world of golf. I had found another passionate golfer who was as crazy about the game as myself. The story of Ballpark Blueprints is interesting a number of levels – not only is it the story of a unique and innovative product, but it is also a story of perseverance leading to well-deserved success. Although their work came across my radar a number of years ago, it wasn't until I saw their collection of golf routings and clubhouse blueprints that my interest was truly piqued. I hope you enjoy this interview with Thomas Young from Ballpark Blueprints below (he asked me to edit it down, but I couldn't bring myself to cut it up – too good)!
Q: The blueprint captures a completely different aspect of the beauty in an object – What was the inspiration behind starting Ballpark Blueprints?
The inspiration came probably around 15 years ago, when I simply wanted a blueprint poster of Fenway Park. Marvin (my business partner) and I had met our freshman year of high school, and so we had known each other about 15 years at that point. Around that time, Marvin got a Golden Gate Bridge blueprint poster, which I thought was really cool-looking. We were huge baseball fans, and that's back when the Red Sox were still terrible, but Fenway Park was the classic gem of a ballpark, and I thought it would make a great-looking print. I couldn't find anything like that in any local poster stores. The internet was still pretty new, there was no Google and no Amazon.com, and I couldn't find a Fenway blueprint poster anywhere. Marvin has always been more savvy with keeping up with trends, so I asked him to see if he could find anything, and he came up with nothing.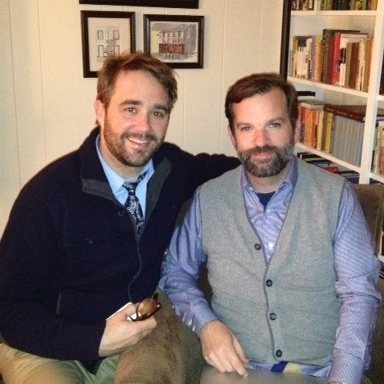 I think around the same time, he was finishing business school, and he was itching to apply his education and start a small business. So, really on a whim, I decided to try my hand at creating blueprint-style art for major-league parks. In Ballpark Blueprints 1.0, I based the designs on photographs and essentially 'traced' the structural lines in Photoshop to create a line-rendering of the ballpark. I think we started with Fenway Park, Yankee Stadium, and Wrigley Field, the big three. We partnered at that time with a designer/printer in Las Vegas – someone we never met – to do the final pre-press layout and print work. I think we ran a couple of hundred prints, and started a website, and waited.
And nothing much happened. We continued for a few years to release prints – slowly – and sell them (even more slowly). By the time that first iteration died, we were doing most of our business on eBay, which was just coming into its own as the first efficient e-commerce site. We never turned a profit, but we never really lost anything; it just kind of . . . existed. He got married and had kids, then I got married and had kids, and we both were getting into decent careers in our "real jobs", and so it just kind of died on the vine.
In the fall of 2013, Marvin was tired of filing the LLC paperwork, and asked if we should just pack it in. I recently went back and looked at this email chain, because what happened next is fairly remarkable. Right as he had filed the dissolution paperwork for Ballpark Blueprints LLC, I think we both just said, "It was a great idea. Too bad it didn't work." And something just triggered in both of us that kind of re-lit the spark, and we said to each other, "want to give it another shot?" Starting over, building from the ground up, with a new design, new printer, new website, new business model, basically a whole new company – Ballpark Blueprints 2.0. So the next day, we filed the incorporation paperwork for Ballpark Blueprints LTD. Within a day, I had come up with the new design template, which was leaps and bounds above anything we had done before. It was finally achieving the vision I had seen in my mind's eye when we founded the company originally. (And better, in my eye, than the original Golden Gate Bridge inspiration piece.) We sourced the best printer we could find, a company called Classic Color here in Chicago, and they worked with us to find exactly the right ink and paper combination. We want to stand out from the typical "sports poster" market, and so we've chosen a very nice (and expensive) paper, and, to get the right color and saturation on the print, Classic actually developed a custom color blue for us.
We're trying to create sports artwork that isn't banished to the basement or the 'man cave' – a remarkable number of our sales at the holidays are to women. Many, no doubt, are sports fans themselves, but I think some of those must be gifts for fathers/brothers/boyfriends/husbands. We've gotten several comments about how nice it is to find something that allows the sports fan to show his or her allegiance, while still having something that everyone is happy to have hanging in the living room or den. Something a little "classier" than standard sports art. The classic white-on-blue blueprint (which no longer exists; technical drawings are all black-on-white CAD-printed drawings today) has an elegance that hearkens back to when artists and craftsmen designed buildings.
We re-launched with the new line in November of 2013 and the response was tremendous. And it's just grown from there!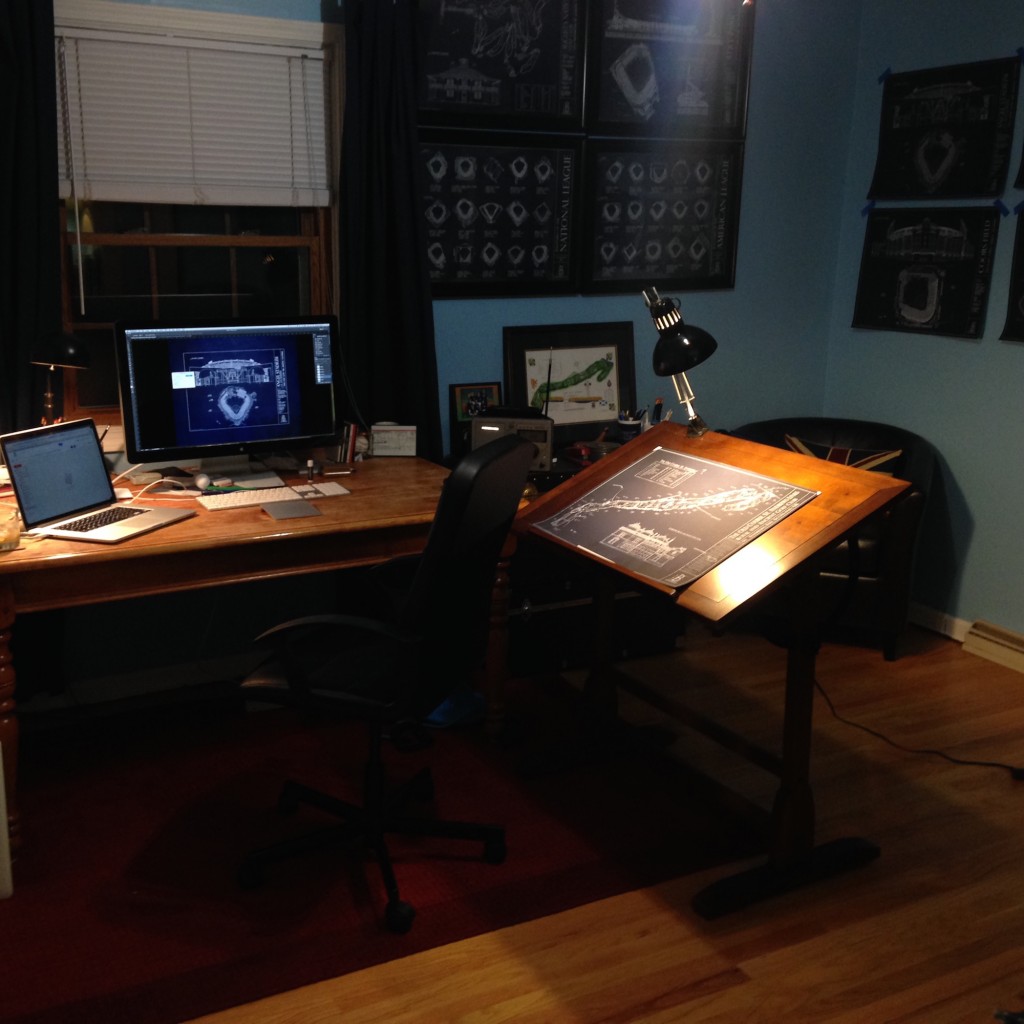 Q: Your blueprints touch on architecture, art, and history – does your background lie in more than one of these? Touch briefly on your golf background!
I'm (obviously) very interested in architecture, history, and art, but I don't have any formal training in any of these. I'm enjoy painting – I do watercolors, landscapes and buildings – but I'm also very technical- and detail-minded. I love working in Excel, and making all of the rows and columns line up and tally correctly. The Ballpark Blueprints artwork has a remarkable amount of detail work: I have a 27″ Apple Thunderbolt display, and I'll frequently have a section of a design blown up to 400% magnification or larger while I work pixel-by-pixel. It can be mind-numbing, but I'm always working on multiple designs simultaneously, and when I can't take any more of one project, I just flip to another one and can continue working. Which doesn't make sense, even to me, because it's exactly the same work involved. But somehow, the fact that they're *different* white lines on a *different* blue background fools my brain!
As for golf: I first played when my uncle came to visit my family when I was probably 10 or 11 years old. We played a little pitch-and-putt course (probably with rented clubs? I can't imagine why we would have had clubs around). Uncle Tom showed me the Vardon grip and a proper stance and how to keep the left elbow straight on the backswing . . . the classic Ben Hogan's Five Fundamentals stuff. (My mom, his sister, refused to learn the "complicated" grip and stance . . she just wanted to hit the ball). I didn't play again until college, when my roommate at the time started really getting into golf. (This was around 1992 or so . . . so before Tiger had even started making waves in the Amateurs. I don't know why Obie got into golf, but I played because he played. We went out to the crappy little muni track and that's where it all began.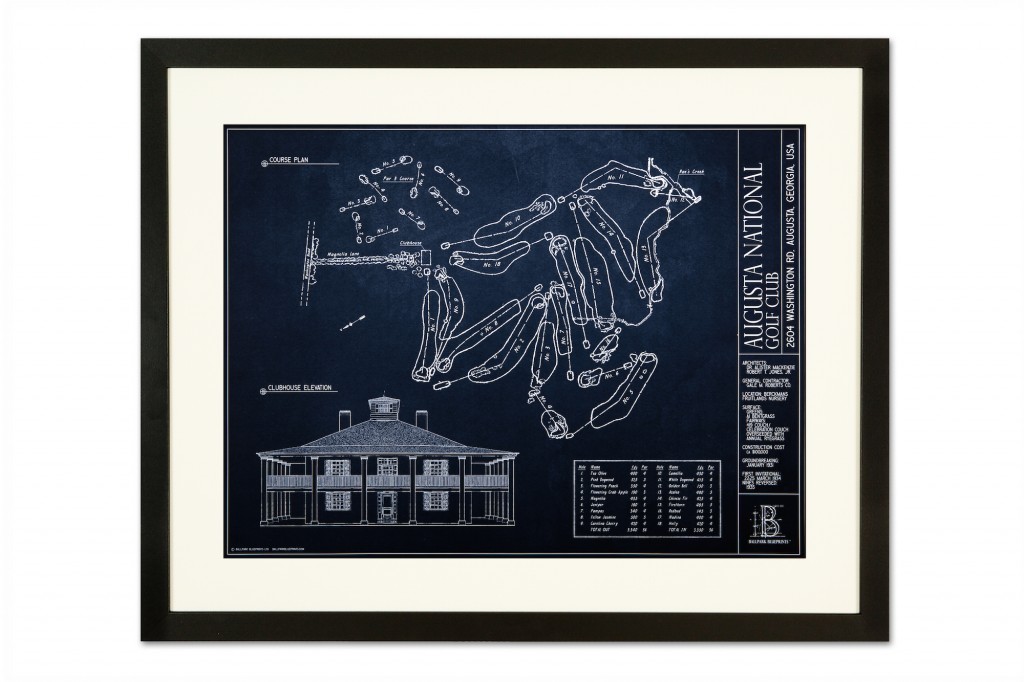 Q: What is your process for creating a blueprint of a building, stadium, or course layout? How much time is involved in creating a single blueprint?
The process for creating our designs is time-consuming and labor-intensive, to say the least.
The first element, which is arguably the most important, is choosing which ballpark/stadium/arena/course to do next. There are 30 major-league teams. There are 32 NFL teams. There are dozens of top-flite division I NCAA college football teams, plus 30 NBA and 30 NHL teams. There are 20 in the Barclays Premiere League, plus dozens more around Europe and South America in top-tier Champions soccer league. Not to mention the classic ballparks past: we've already release Polo Grounds, Ebbets Field, Shea Stadium which don't even exist anymore. I do all of the designs myself, one-at-a-time, in my design office here, and they take a couple of weeks apiece, from a blank page to rolling off the presses, so we really have to choose wisely. That's a combination of assessing the market (email requests through the website, people posting requests on social media), and looking at merchandise sales figures for all of the teams in the various sports. We started with the Red Sox, Yankees, Cubs, Cardinals in MLB and the Cowboys and Packers in the NFL and Notre Dame, Ohio State, Michigan, and Florida State in the NCAA. These teams are always at the top of their tables by way of merchandise sales. But the good part about owning the company is that Marvin and I can do whatever we want; my kids are soccer nuts, and one of them was a Real Madrid fan, so I made Santiago Bernabeu Stadium just so he could have it on his wall. And the golf line was just something I actually wanted to hang in my own house: I wanted the Old Course on my wall, so I made it!
As to the process, well, that's kind of an industry secret. We visit all of the ballparks/stadiums ourselves to take photos from several angles/perspectives/distances. All of the renderings are based upon photographs. I usually take several (sometimes double-digits) images and overlay them to create a composite image at a very large size and very high resolution. An architectural elevation view is kind of a defined thing: ideally, it's an entire facade of a building, at a 90-degree angle, showing the entire length of the facade in great detail. Given where some of these stadiums lie, that can be tricky enough itself just to get that shot! In other cases, the "signature" view (home-plate entrance, for example), is on the corner of the building, and that's not actually an architecturally accurate rendering. But it's a combination of architecture and art: we always say "you can't use our blueprint to build an exact replica." They're meant to be art, and so giving a die-hard fan a new perspective of the signature facade of their stadium is what we want. I then go through the mind-numbing process of rendering that composite elevation photograph into a detailed line drawing, and then cleaning it up to remove all of the lines that are not a part of the elevation view I want to show.
The tricky part is that these composite photos are usually blocked in large part by trees, buildings, people, cars and buses, etc, and so there is usually a large portion of the facade that needs to be rendered from scratch, based upon all of the other perspective photos we've taken. There are some that are much easier than others: the NFL stadium in Cleveland — which we actually haven't release yet — is set down a little below road level, and there's a spot to take a picture that was just perfect: in one frame, I got the entire, perfect elevation view. The lighting was perfect (that's the other hard part: glare/shadows make for disastrous line renderings!), and I literally spent 2 minutes there and got one photo, which rendered into perfectly clear lines, and will take just a couple of hours of cleanup work. On the far end of that spectrum is a place like Dodger Stadium, which is one of the highest-demand titles and yet which we STILL have not released. Dodger Stadium is kind of set into a hillside, with a wall of trees all around it, making photography almost impossible, and it's also set into the ground a bit, so there is not a lot of facade above parking-lot level. I've been working on Dodger Stadium for more than a year. Marvin just went up there and shot another series of photos, and hopefully that will let me finally complete it.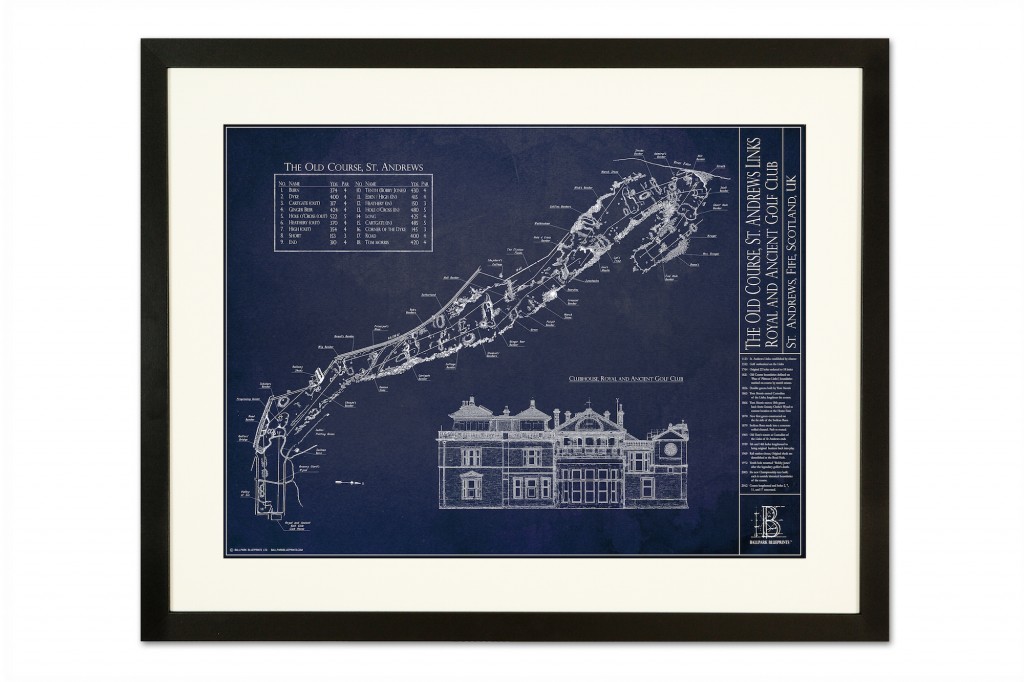 Q: Touching on Tom Coyne's A Course Called The Kingdom, tell us about your involvement with his book and your journey to join him for a number of rounds!
The Tom Coyne project is really a great story. I'd never played links golf before in my life, although I'm completely obsessed with it, and even on my crappy parkland course here in Illinois, I try to play knock-down woods and bump-and-run shots into the greens, just because I find it more fun. I think I originally planned a Scottish golf trip around my 30th birthday. And then my 35th. And then my 40th (by this time it had morphed to an Irish golf trip; I'm of Irish descent, and the wild dunes in the Northwest (Carne, Enniscrone, Co Sligo) looked (and still look!) like great fun to me.) For years I've had a silly habit of writing to authors whose books I like. It's worked out fairly well; I have a baseball signed by Doris Kearns Goodwin here on my desk; I have nice cards from Michael Palin and Paul Reiser and a few others. In this case, I wrote to Tom (through his publisher, I think) to ask advice about my Irish golf trip I was planning. He's a great guy, and generally writes back to everyone who contacts him. Trying to stand out from all of the other Irish golf fans who had been writing him since A Course Called Ireland came out, I offered to send him a Ballpark Blueprint – and ended up sending him the Notre Dame Stadium print, as he had gone there and ND alumni are fans for life. I think you've read Ireland, and so maybe you remember Tom's college roommate, from Chicago, who is a big White Sox fan, and whose business card actually says "I'd rather have a sister in a whorehouse than a brother who's a Cubs fan." I offered to send that guy a US Cellular print, and I think Tom got a kick out of that.
It was around that time I was starting to think about doing the Old Course print. I think Tom–jokingly–made some kind of comment about "see if you can put www.tomcoyne.com on the Old Course print." And I said something like "I'll put that on the print if you put a copy of the print on the back cover of your book with a link to our website!" A couple of more back-and-forths and one of us came up with the idea of doing a "blueprint" of Tom's trip: a map of the Great Britain, with a flag denoting every place he'd stop. It was honestly, at first, a joke. But I quickly mocked up a rough draft, and it actually looked pretty good (and not too far from the final design concept, to be honest.) Tom liked it, and within a day or so, we'd determined to do a limited run for the book. He took about 150 with him on his trip, and signed one for every clubhouse and hotel where he stayed. Which is kind of cool: there is a copy of a print I designed at virtually every links course in Britain! He's using the image on his blog about the trip, and I think after the book is released, these will be a pretty good seller for us. (We're already talking about doing a companion print for A Course Called Ireland. They'd make a pretty great matching set)!
Tom asked me if I wanted to do the cover for the Kingdom book, and — while it's not a done deal — I'm doing some designs and I hope he likes one of those. But as the map was coming together, I was researching every last course, because I wanted to include yardages and pars for each course on the print. Tom and I went back and forth for dozens of emails: I was actually doing more research on the courses than he was, and he loved the attention to detail and what I was coming up with. I'm happy to say he added one course at my suggestion: the new Tom Doak Renaissance Club in Gullane. I think he enjoyed the course, so I feel like I contributed.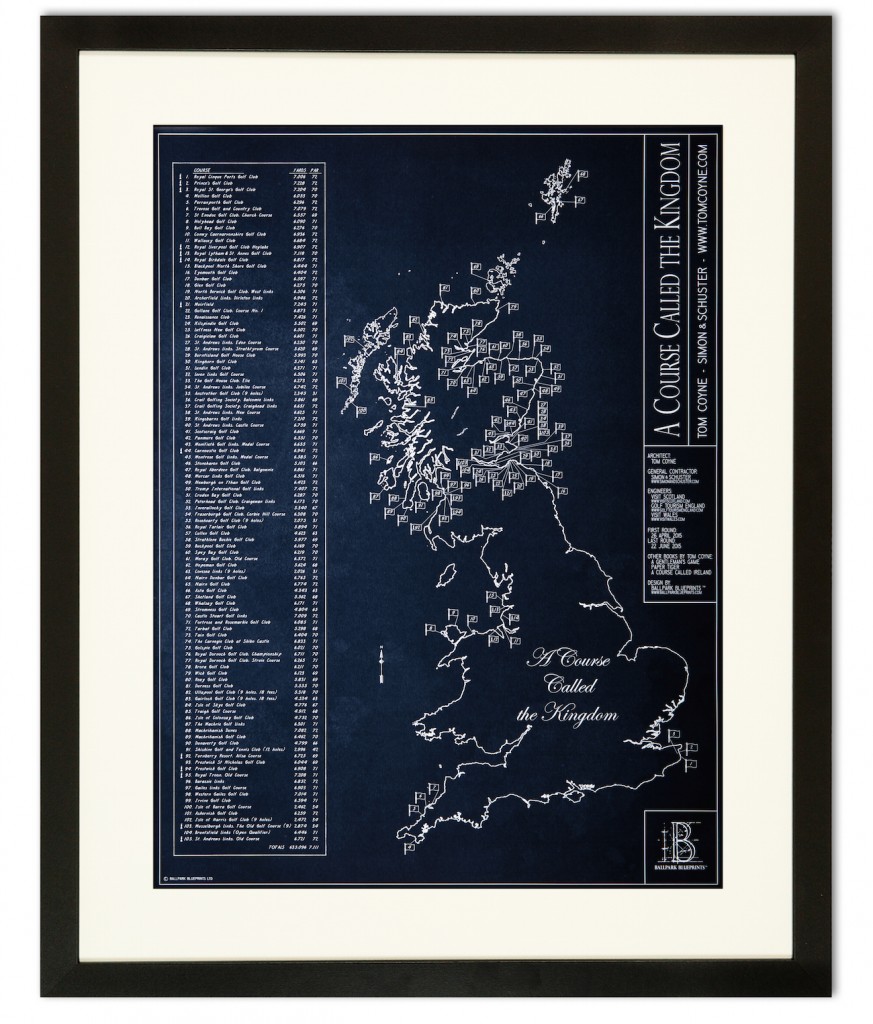 He was inviting a few people to join him on his adventure. He said I should come play some of Scotland with him, but I had really had my heart set on doing my Ireland trip this year. It was finally going to happen. But Tom rightly pointed out that I could play Ireland any old time, but how often was I going to get the chance to play part of Scotland with him while he was doing this amazing book. It was really not a hard call. He said I could join him for any part of the trip I liked, for any duration. Whatever I wanted. There were three courses I knew I had to play: the Old Course, because, duh. But the other ones were not Open Rota courses, or the great links, or the famous ones. I had to play Machrihanish, because I LOVE Michael Bamberger's book To the Linksland, and Machrihanish has just had a special place to me because of that book. And the other course I had to play was Askernish, on South Uist. A dear friend of mine, Fred, with whom I've sadly lost touch, sent me the New Yorker article back in 2009 called "The Ghost Course" about Askernish. Since then I've read what I can — notably John Garrity's writings — and I knew that that was exactly the kind of course for me. Natural. Wild. Original. Pure. I didn't care what it took to get there, I was going to play Askernish.
I looked at Tom's itinerary, and he was playing Machrihanish and Askernish about a week apart. Perfect. My wife Tracy and I flew into Glasgow and drove straight to Machrihanish, one of the most beautiful drives I've ever seen. We checked into the Ugadale, had a quick bite, and an hour later I was playing Machrihanish Old with Tom Coyne, plus two others who had made the trip to join him. We played Mach Dunes the next morning, and then back to the Old Course that afternoon. Then Tracy and I drove across country to spend our one-year anniversary in Edinburgh, and saw as much of Edinburgh as it's possible to see in a day and a half. Then we made the drive up to St Andrews, where I spoiled us and put us up at the Russacks Hotel, right on the 18th fairway. They were already setting up the grandstands for the Open Championship — we were there on Wednesday of the last week the course was open to the public before it closed down, several weeks ahead of the Open. Amazingly, within an hour or two of arriving in St Andrews, I was playing the Old Course. Even in the height of the season, as a single I was able to just walk on. Incredible. We walked the town that night and had dinner, and the next day I played the New Course, which I had to myself. I was a one-some, on some of the greatest golfing ground in the world. It was unreal. More St Andrews that night, and then we drove back across country and made the short flight out to South Uist, where I experienced Askernish. I played the course completely alone, in the late afternoon. There was not another human being in sight. It was one of the most surreal, magical, wonderful experiences of my life, and I'm not just talking about my golfing life.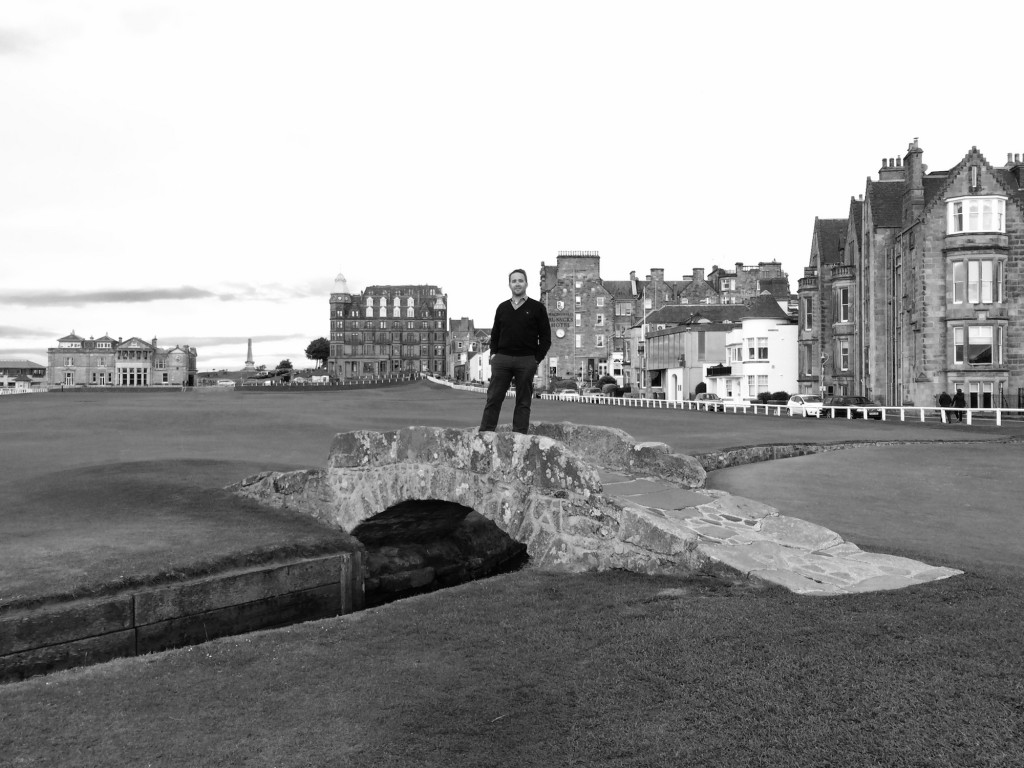 Tom arrived the next morning, and we played the course alone together that day. Again, incredible. I was so honored to be with Tom as he played around that place for the first time. And that was it. Tracy and I flew back to Glasgow, and from there back to America. I didn't touch my clubs for more than a month. (In fact, the next time I played was just a few weeks ago, when I drove down to South Bend to play the Coore & Crenshaw Notre Dame course with Tom. I had to knock the Askernish sand out of my spikes in the Notre Dame parking lot)

Q: Although you started solely with baseball ballparks, you guys now do NFL arenas, NCAA arenas, and most recently, golf courses. Are there any plans to add new courses to the current offerings? (A US Open series… hint hint ;))
As for the next designs, I'm working on a big batch right now, to have out for the holidays. Dodger Stadium(!), plus some football and another soccer stadium. We're just launching arenas: we just released the United Center here in Chicago, and I'm flying to the east coast shortly to get Boston Garden and Madison Square Garden to add to the lineup before the holidays. (Arenas are great, because most of them host an NBA and an NHL team — two fanbases in one!!) I do love golf, and I'd love to do more courses. Pebble Beach seems like a logical course to add to our lineup. It's a fantastic layout, plus an iconic clubhouse. Sure, I'd love to do the upcoming US Open courses — that would be a great addition every year: release the US Open venue every June. That's the great thing about this just being Marvin and me: we can do anything we want. Right now, I'm just pumping out the designs as quickly as I can (while maintaining quality.) I'd love to do some designs for the Keiser courses: I think it would be incredible to have a line of all of the courses at Bandon. And now there's the new development being built up at Sand Valley just a few hours north of Chicago. I cannot WAIT for that place to open. I'm really beside myself excited that there's a Keiser course–or courses–opening up near here.
Graylyn: I write this conclusion while looking at my framed St Andrews Old Course Blueprint. It proudly sits on the wall of my office, garnering attention every time someone sees it. I have loved getting to know Tom and I encourage everything to check out the Ballpark Blueprints website!