This review is written by my good friend Andrew Rehfeld, who continues to offer his vast knowledge to the site as equipment editor.
Having had my fair share of golf lessons, I've always known that the grip is extremely important. After all, the hands are the only part of the body that touch the golf club itself. In general, I think golfers overlook the importance of their grip in golf equipment. The average weekend golfer rarely replaces his grips, and gloves seem to have even less importance (think of the value pack at Costco). Because I have sweaty hands, I've always struggled to keep a consistent, relaxed grip on the club. I recently decided to look more seriously into the many options for golf gloves.  I ended up purchasing a Bionic golf glove.
Most people have seen the Bionic gloves. They are often used as demos for testing clubs at golf stores (Golfsmith), but I have never seen anyone use one on the course. It turns out that the typical Bionic glove (and apparently many Bionic glove options) does not conform to USGA rules, unless you have arthritis.  However, Bionic's performance series, the PerformanceGrip, conforms to all USGA regulations. This is the one I tested.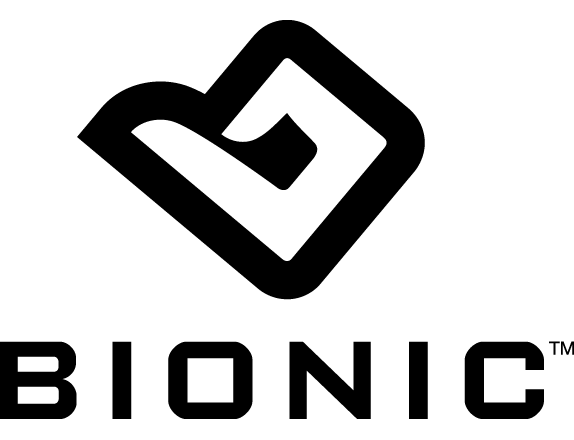 Fit:
Bionic advertizes that an orthopedic hand surgeon designs their gloves.  One thing is for sure, a lot of design went into the product. I'm not sure if the large amount of seams and stitch-work is necessary, but this glove fit great from the second I put it on. It definitely fits better than any other glove I've had. (I usually opt for the FootJoy WeatherSof.) It's snug and has little loose fabric.  
Grip:
I'm not sure there is a huge difference in the quality of the material used to make this glove, but the grip it provides is fantastic.  It's definitely a bit thicker and bulkier than traditional golf gloves, but this provides an extremely stable base for your grip.  Some people may not like this feeling (I'm sure Fred Couples wouldn't go near the Bionic), but I really like it, and I can finally hang onto the club! The grip and stability it provides are second to none.  It's not necessarily any tackier than your average glove, but the form-fit allows little to no movement between your hands, the glove, and the grip.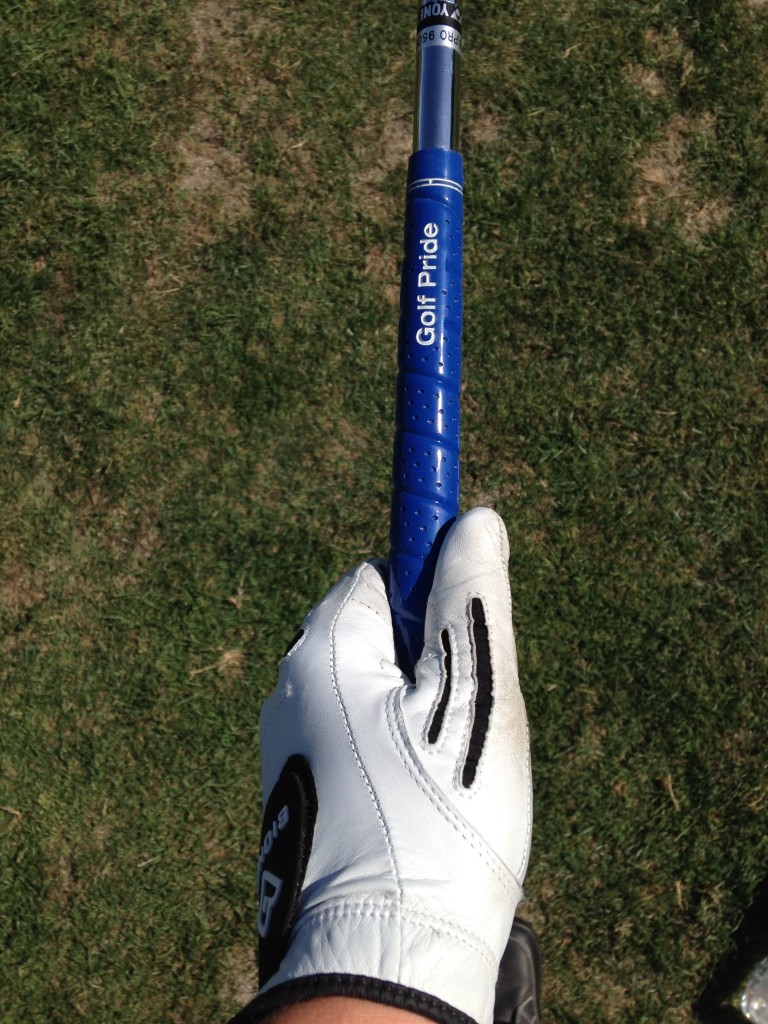 Durability:
After playing with the glove for about two months now, I will definitely purchase it again – despite the hefty $30 MSRP.  Though it is quite a bit more expensive than your average glove, it lasts a lot longer.  How often can you play a dozen rounds of golf and have twenty range sessions and still not worry about changing your glove?  Especially during the summer in Southern California and with my sweating issues, this glove has really held up. 
Bionic presents the durability of their glove as a key selling point.  They try to compensate for the high cost by saying that the grip lasts two times longer.  I'd challenge them and say that this glove lasts even longer than that. My gloves get crusty and lose their fit very quickly. There has been little sign of that here.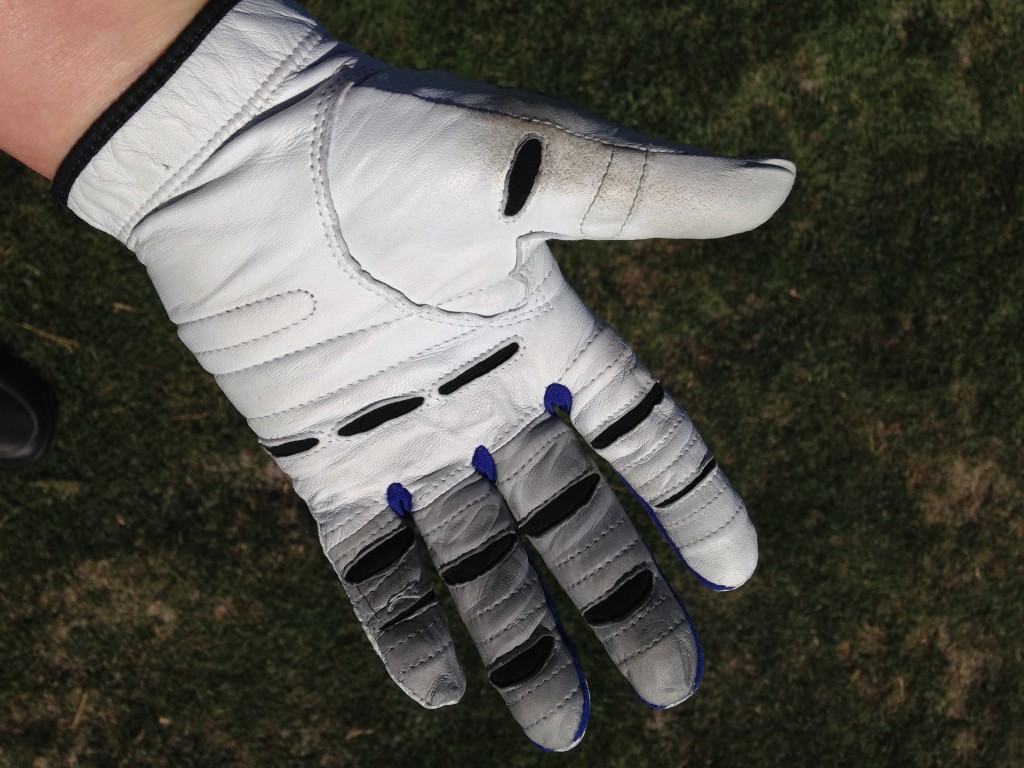 Looks: 
I placed the look of the glove at the end of this Bionic PerformanceGrip review because I don't think it is important. To some people, it might be worth noting that this glove looks a bit like a gimmick from an infomercial.  You certainly aren't going to win any 'cool' contests wearing this glove.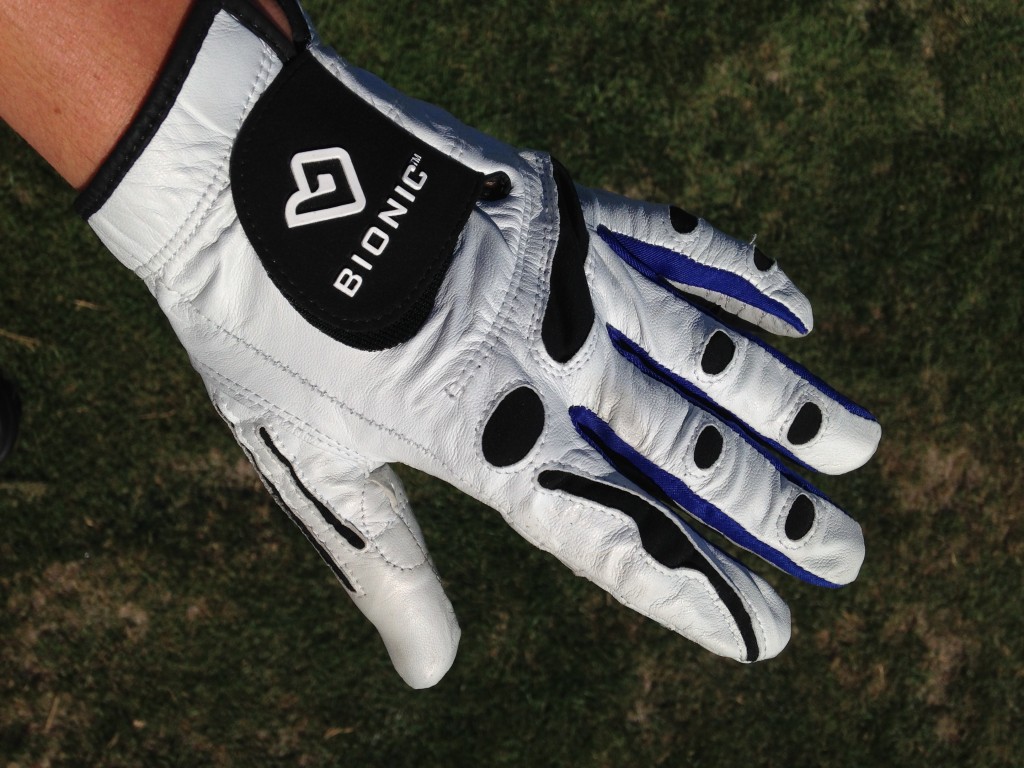 Overall: 
I think Bionic has made a great product and they definitely put a lot of time and energy into this product – it is very high quality. The only negative thing I can say is that it is a bit hefty; purists that are looking for the thinnest feeling glove will steer clear. However, this is obviously a preference, and Bionic clearly didn't design their glove with this goal in mind. I can't hold that against them. If you're like me, and you struggle with your grip, I think you should definitely look into the Bionic PerformanceGrip.  The grip it provides is fantastic, and it allows me to hold the club more lightly and without fear of losing control.