When I stumbled across Josh's website, I was immediately intrigued with his posts outlining the progress in his paintings. He shows every step from drawing in major feature outlines to putting in the final touches. When I reached out to Josh, I found out that he was a lawyer, having only started oil painting with any seriousness at the age of 40. 
Josh has offered readers of this website 30% off the purchase of one of his paintings. All you need to do is mention Graylyn Loomis when you contact him about the purchase. Here is the link to all of Josh's paintings that are for sale! 
Q: Tell us briefly about your background within golf. Have you always played the game?
I grew up in Urbana, Ohio and learned the game from my Father who was and still is a great golfer.  Having 2 older brothers, including one who is a PGA teaching pro, I grew up as part of a built in foursome.  My Father was my only instructor and his ability to work the ball left or right is something I am so lucky to have learned.  Beyond ball striking, my Father shared the importance of etiquette that is such a crucial part of what makes golf such a great game. 

Within my family golf was always and still is a way to enjoy time with each other.  One of my favorite family occasions was called the "Money Belt" tournament.  This event would happen at least once a year and entailed my Father and his brother, a great golfer from Georgia, playing matchplay against my brothers and I.  In the early years we rarely won and as time progressed the three of us started to take over.  Now we still play for the "Money Belt" but the time spent together is what we all treasure though my Father and his brother can still win and it is still nice to win the belt.  I look forward to the day when my two daughters and 5 nieces and nephews come looking to take the belt from the three brothers, but we won't give it up easily.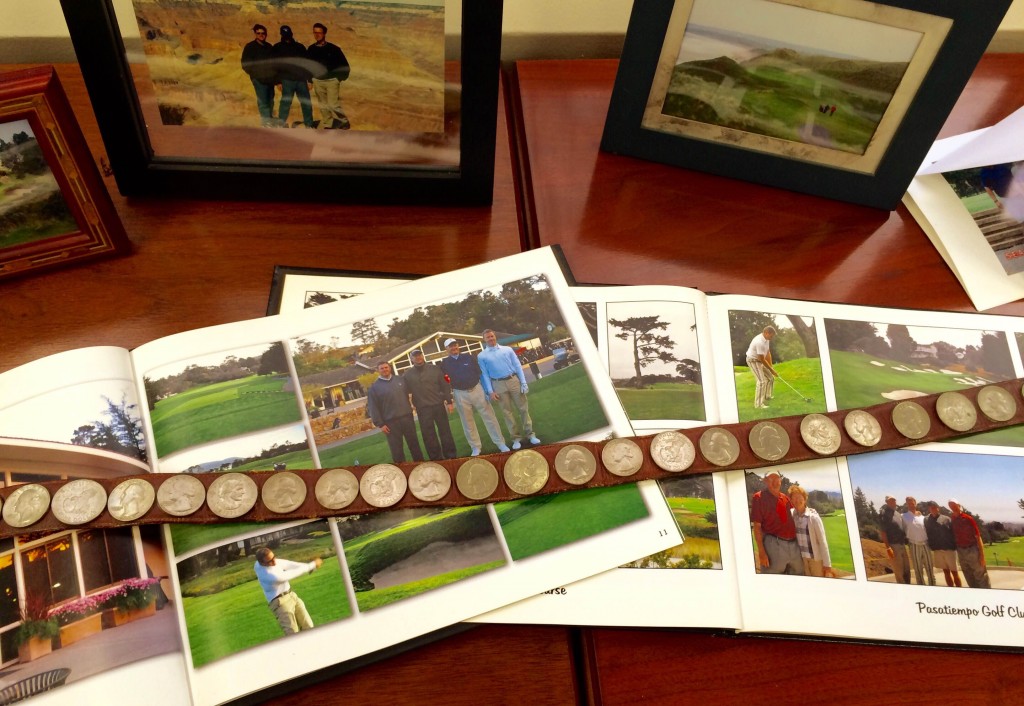 Q: You have mentioned that The Golf Course, North Berwick by Sir John Lavery played a role in sparking an interest in painting golf courses. What else played a role in that decision?
I have always enjoyed the beauty found on golf courses, even the most basic of public courses like the one I grew up on, Woodland Golf Course in Cable, Ohio.  Over the years, I captured many photos of those great and not so great courses.  During one of those rounds my Father had a crazy low round at Pebble Beach with all three brothers with him and I wanted to do something to capture that magical moment, namely a nice oil painting.  I contacted various highly regarded artists and found their prices were simply too high (though now I appreciate why they charge those prices).  I made the decision to attempt my own oil painting.  I watched videos online and the results were surprisingly good, even my wife was amazed.  I had taken 4 years of art in high school but that was 20 plus years ago and something about painting with oil that just clicked.  All of this coincided with my turning 40 as well, not your typical reaction to turning 40, but for me it was what I wanted to do.  I did run a half marathon and a few other normal turning 40 milestones, but painting has been by far the best discovery of life after 40.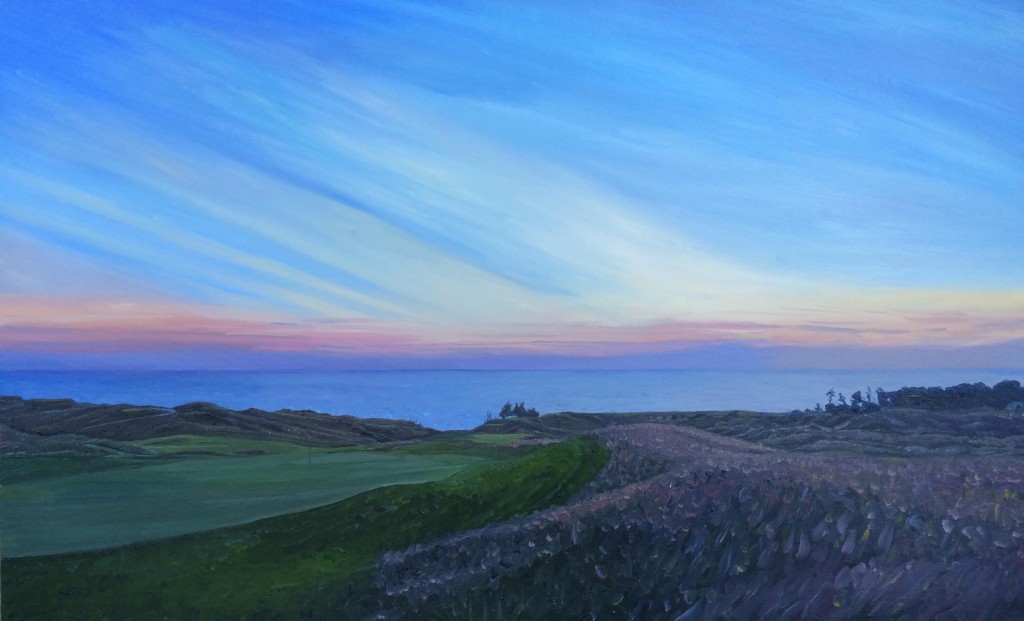 Q: On your website you show the progress throughout the creation of a painting, working from blank canvas to finished product. It certainly makes me appreciate the final painting even more. Can you provide insight into your painting process, particularly as it pertains to golf course paintings?
Though I never liked having to show my work in math back in the day, with painting I enjoy showing each step so others can see it is a real painting and allow others to see the painting come to life.  I work from dark tones to light tones generally and have a basic paint palette of 5 standard colors (blue, red, yellow, brown and white) and one power blue color used to help accentuate the greens found on most courses.  I use oil paints only and from that I make all the colors and hues found on any course in the world.  The simple palette helps me to not exaggerate the colors on a course and accurately convey the natural beauty found at each site.  
The time it takes to paint each one depends on complexity of the course.  Basic links courses are much easier to paint as they usually lack trees and structures, which can often be time consuming to paint.  Chris Johnston, owner at Dismal, has commissioned numerous paintings and thankfully those are basically links golf courses, without the crucial location element by the sea, but they are significantly less complex to paint.  Here is one I painted of Tom Doak's Red Course, Hole 18, from a photo that I took during 2014's 5th Major.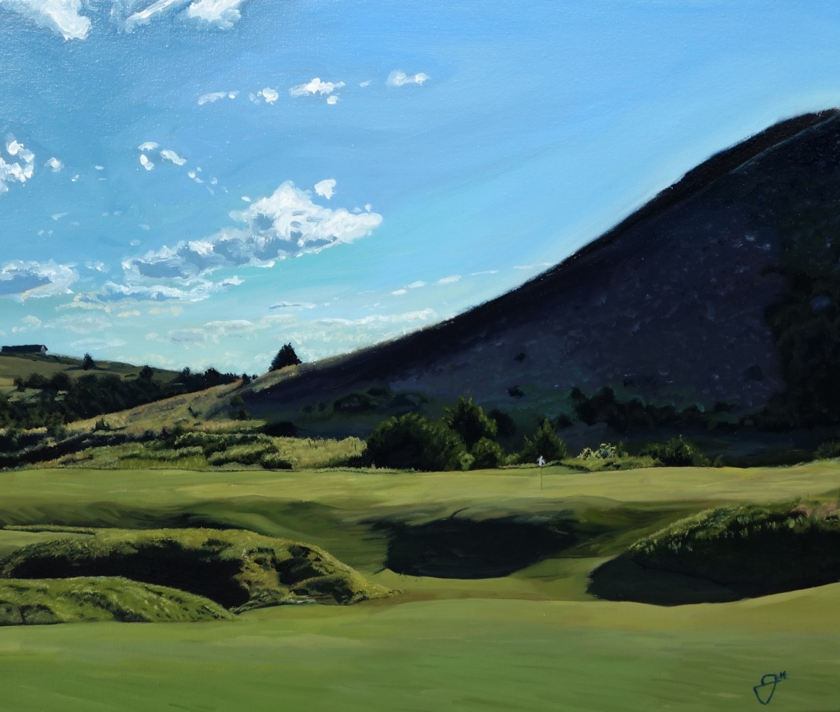 Parkland courses like Merion East, are a little more difficult and time consuming.  Each tree, house, blade of grass tends to require more time and effort, though no less enjoyable for me.  Here is my painting of Merion East's Quarry Hole, the 17th par 3, with a photo taken by Jon Cavalier.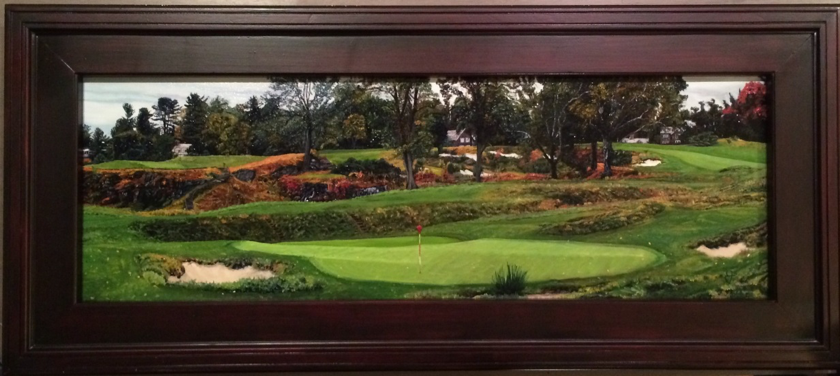 I am fortunate to love golf and regardless of how complex or simple the painting, I can enjoy quiet time in my studio (okay the basement) occasionally a couple fingers of Bourbon and paint for a few hours after my wife and twin daughters go to bed.  I am fortunate to have a job that I love during the day, and this is a great way to end the day dreaming of golfing and watching works of great course architects unfold before me on the canvas.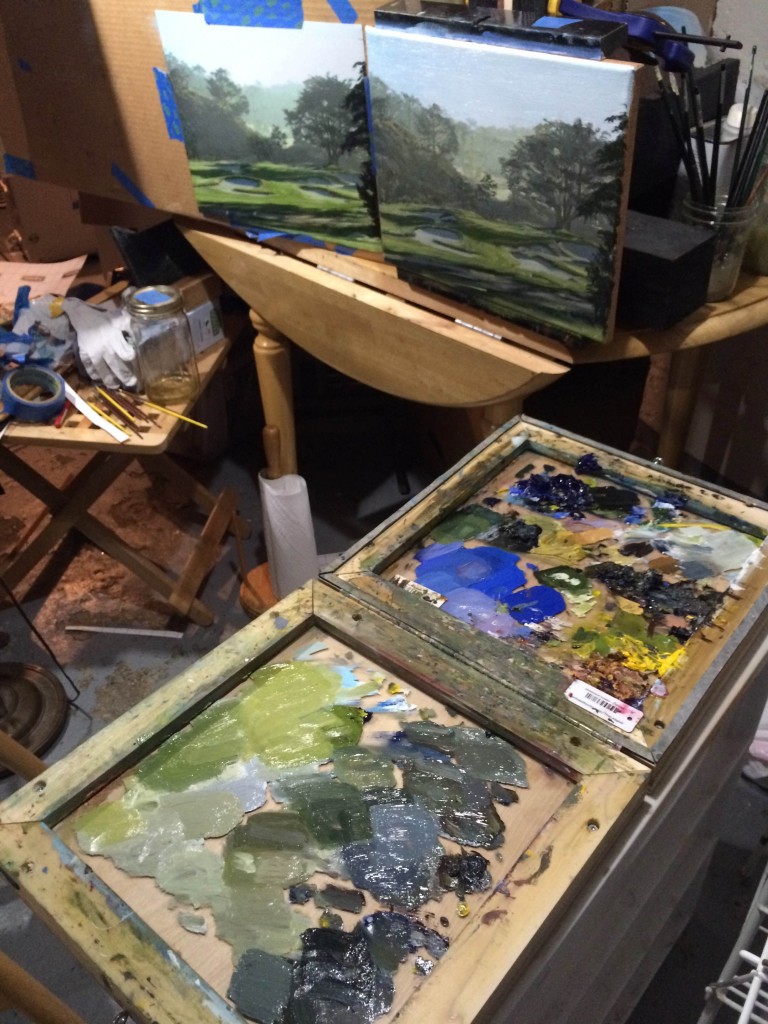 Q: How do you choose subject matter for your oil paintings? Do you remember the first golf course you painted?
I prefer to paint from a player's perspective, as I believe that perspective best conveys the course to anyone who views the painting.  Painting from a player's perspective also helps spark the joy of playing the hole for anyone who views it.  That perspective provides more depth than any type of aerial perspective and I believe best conveys the effort put in by each architect in designing that hole.    
Early on, many of my paintings were from my photos of courses I had played.  I still prefer to use photos I have taken myself, however, as requests have come in for various architecturally significant courses, I have been fortunate to make friends with many in the golf community who have been more than willing to share their photos.  Whether amateur photographer, golf addict or professional, golf aficionados like Jon Cavalier, P.J. Koenig, Howard Riefs and even golf pros like Bill McKinley have been kind enough to share their photos so I can produce the best painting possible.  Their generosity is always appreciated and their ability to capture golf from a player's perspective is truly amazing.  I believe the player perspective better enables you to remember your time on that course, or make you wish you were there.  I hope my paintings elicit that same feeling. 
I do remember my first golf course painting, as it was only my second oil painting ever and was 2 years ago.  I took the photo during our round at Pebble Beach, while playing with my brothers and father.  The painting is a 16×20 inch oil on canvas of Pebble Beach's 6th green.  My father still has the picture hanging on his wall and I feel lucky enough to have given him something he treasures and from a photo I took.  While more impressionistic than my current style, I was pleased with how it turned out, especially for my first attempt.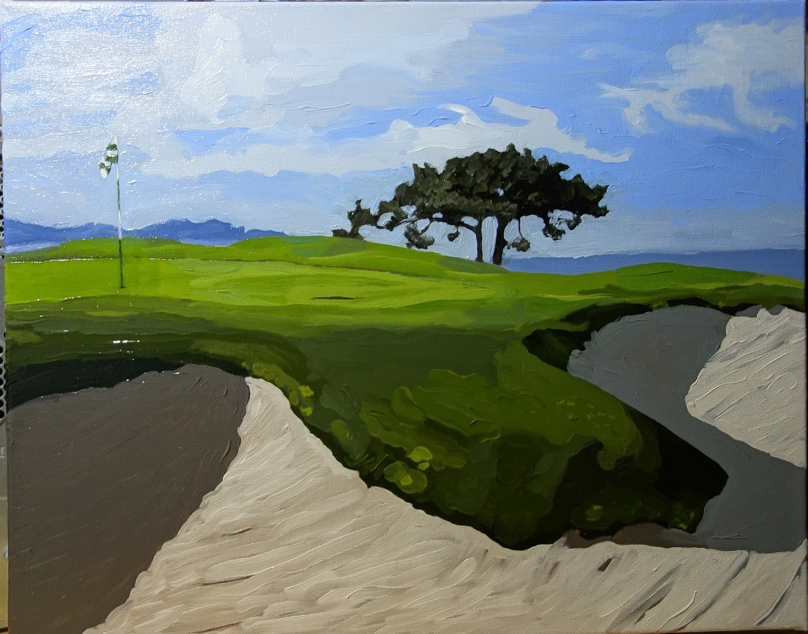 Q: Tell us about the experience(s) of undertaking a 100 Hole Hike (two now!). Talk about everything from the experience(s), the Chambers Bay painting, and the chosen cause, Nationwide Children's Hospital!
Jim Colton's creation, the Hundred Hole Hike, has been an unbelievably rewarding experience.  I finished my second HHH this July and have been fortunate to have so much love and support, whether friends caddying, donations from everyone or just a simple sign on the course supporting my efforts.  My reason for participating in the HHH was to raise money for Nationwide Children's Hospital who for 6 weeks cared for my twin daughters Ellie and Claire after they decided to arrive 10 weeks early.  They were born at 2 ½ pounds and no doubt due to the love and care from Nationwide Children's Hospital, and my wonderful wife, they are now healthy and sweet 4 year olds.  I wanted to give back more than just a thank you, and the HHH allowed me to do something I love, play golf, for a place that I love, Nationwide Children's Hospital. 
As part of this year's hike I offered a painting for auction of Chambers Bay's 17th hole, and while the painting did not sell as hoped, I had a request from a donor to substitute my painting of the 13th at Pacific Dunes instead.  This painting was from one of Jon Cavalier's photos, as you can see his photos are amazing. 

I was happy to do so and he donated $300 as his triplets had just spent time at Nationwide and he wanted to give back as well.  There are so many people that care in this world and I feel lucky to have found a way through the HHH to allow them to give back.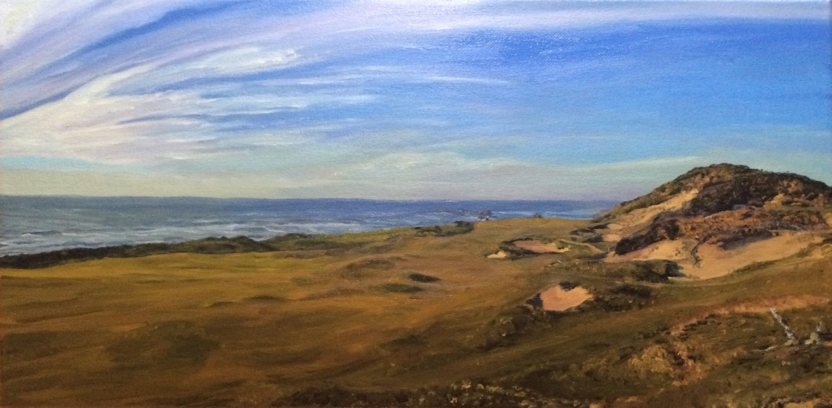 (By the way, the Chamber's Bay painting is still available if anyone is interested. Click here to see all paintings for sale.)
Concluding remarks from Josh –
Even though I did not start oil painting until I turned 40, I look forward to every new project, every new contact and every opportunity to do something I have found I love. Golf is an amazing sport that one can enjoy for a lifetime and I hope my love of painting will last a lifetime as well.
Again, support and have a look through Josh's website and the paintings that he has for sale!