I came across Dave Baysden's work within the first few days of having decided to create an art section on the website. My initial email to Dave opened up what has become a friendship, with me having commissioned two paintings (one can be seen on the home page!). I find myself checking his Twitter during golf events, knowing sketches will be following the day's action (see below). Have a look through Dave's website here and a selection of art he has for sale here. I thoroughly enjoyed the interview below and I hope you will too!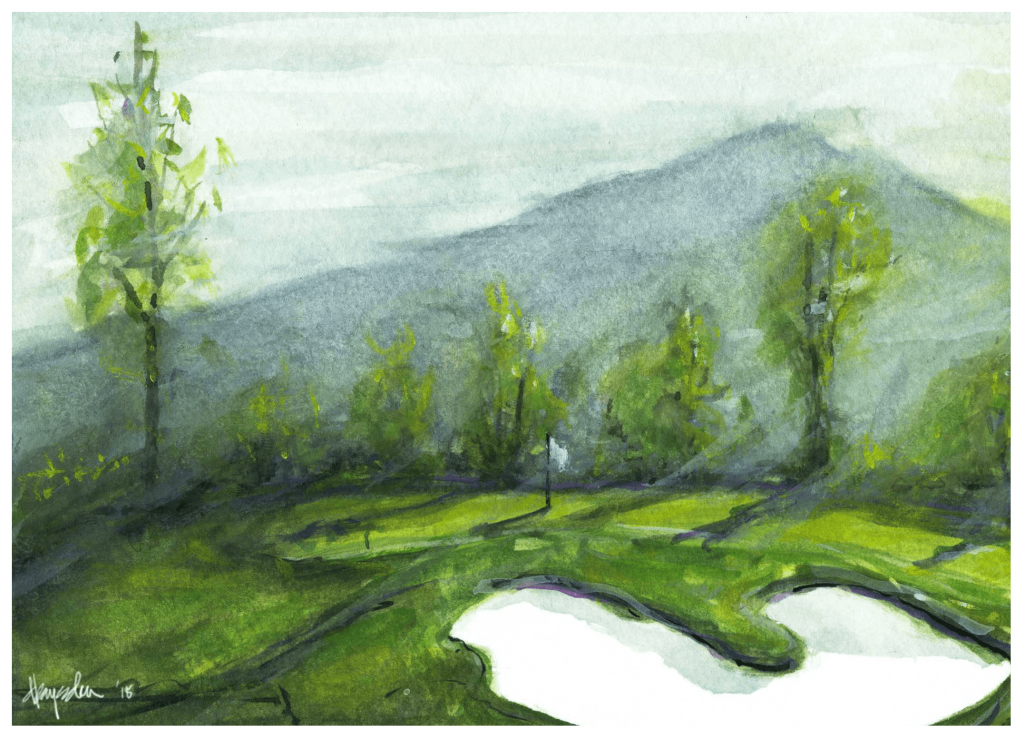 Q: What is your background within art? (touching particularly on your self-taught skills and how long you've been painting!)
It feels like I've always drawn and painted.  Like many people, it's been a passion of mine since I was a kid.  Art in some form or another definitely has roots in my family through my mother and grandfather in particular.  As a kid I drew inspiration mostly from Garfield and Calvin and Hobbes (they still inspire me actually) and I learned a lot reading and copying those strips over and over.  While I grew up with 2 brothers and a sister, it was my sister that shared my interest in painting. We spent many summer afternoons as kids painting together and taking a few art classes. 
As I got older I figured I needed to find a career path and that didn't initially include art.  I started and finished at the University of South Carolina with a degree in Biology and little direction as far as a career.  I made my way to UNC Charlotte where I earned a Masters in Geography and Urban Planning.  After a winding journey of a career path – art and creativity ultimately won out in the end.  I now work for an international engineering firm as a graphic designer and visual communicator where I get to find ways to present information in a creative way.  For years, however, I struggled with not having a creative outlet and felt a real internal pull to paint and illustrate.  I believe God put that desire in me and that he wants to grow and use that.  Over the years, I have found ways to partially fulfill my need to create, through cartoons, graphics, illustrations, etc.  At the beginning of 2015, however, I finally committed to painting more and with more purpose.  I decided I would see what would happen. 
That was it. Stop talking and looking for inspiration; just START something. 
That sounds easy, right?  For me, that was actually really tough.  I had to tackle a LOT of fear and insecurities associated with my art; a lack of education, training, time, and most of all a fear of rejection.  Anyone knows if you create something and share it, then you're opening the door to people not liking it or proclaiming that I have no clue what I'm actually doing. That was something that always stopped me in my tracks.  My wife has been a great encouragement and over the years and has seen how critical art is to my life.  In the past, she could always tell when I came home if I had been illustrating or drawing at work that day.  I imagine I was a much more pleasant person to deal with on those days.  I'm very thankful for her patience and encouragement to pursue my art!
I could go on, but in short: this year has been amazing!  I've been supported at every turn, learned a ton and still feel the best is still way out ahead of me.  My church is also one place that has challenged me.  This community has so many artists and creatives, way more talented than myself, that have walked beside me and challenged me in this area.  I feel as if something is happening.  I mean, I'm being interviewed about my art.  Crazy, right? 
That little thing called twitter can be pretty amazing too, huh?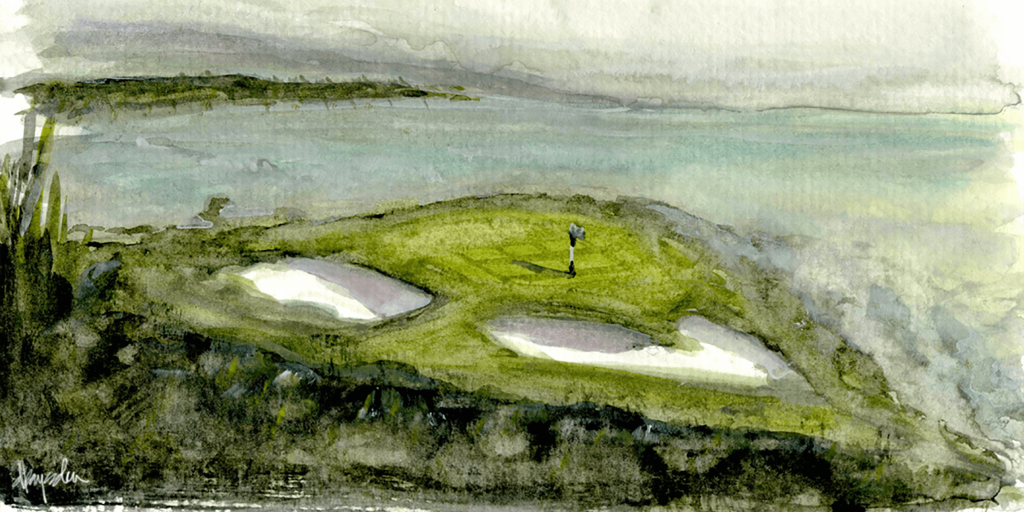 Q: Your artwork spans much more than golf, touching on many outdoors activities. What was your subject matter when you first started painting? And what drew you to golf courses?
I started feeling this pull to paint in Mid-December, 2014 when I did some commission watercolor paintings for a company that a friend of mine started, called Buffalo Jackson.  The images were of trout and fly fishing and camping – all things that I love!  We met several times and talked quite a bit about the idea of working hard at the things we most want and the things we most fear.  Xan Hood (Buffalo Jackson) and Micah Whitson of Old Try (a letterpress printing company) are two guys that encouraged my pursuit during this time and provided models for working diligently towards goals and dreams.  I finished the paintings and felt inspired, but also felt a sense that I could have done much more and that left some of my creativity in the brush and not on the paper.  
After another month or two of waffling around, I knew the Masters were just ahead.  As golfers, we know that this is a pivotal moment in the year.  In winter, I ache to get outside and see the green emerging – The Masters is like this southern signal that spring has officially taken hold and that is something I yearn for.
I just felt that I'd start painting well-known golf holes, even though they had been painted so many times over the years because that's what I was aching for.  I loved it.  I tried to find unique perspectives of these holes to put my own stamp on them.
I love golf because it is a challenging game on SO many levels and it's a place where real effort and practice can produce clear and visible results – much like art.  However, the natural beauty is what I've always been drawn too.  Like fly fishing, it is an outdoor sport where a bad day on the river or the course is way better than not being there in the first place.   Each trip contains stories that can be shared for years.  So I kept painting golf courses and began to also paint other things I love: sports, fly fishing, hiking and the South Carolina coast.  I did a series of paintings / illustrations for the Charleston Waterkeeper of Charleston, SC in the spring that had great meaning and helped support a great group of people protecting Charleston's water – a really special place in my life's geography.  This allowed me to stretch some of my ideas and techniques a bit.
I just kept painting and sharing on twitter and Instagram.  I began to have friends and twitter followers ask me about my paintings and what I was doing with them – that was an unreal feeling; to have a friend ask to purchase something I had painted not only because it was something I had painted, but also because that image captured a special part of their lives.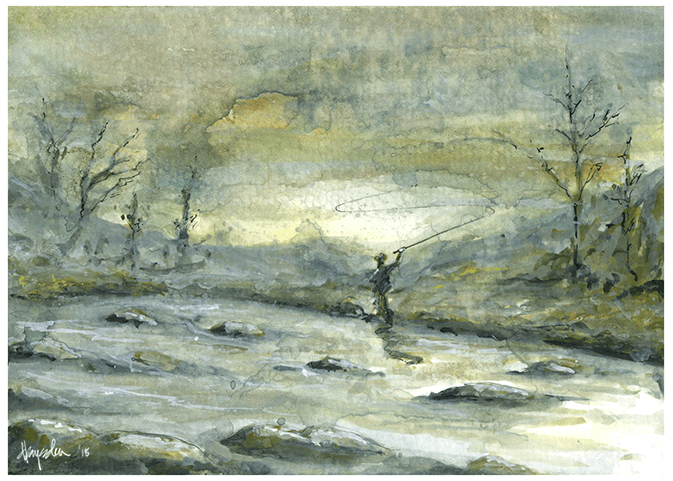 Q: I love both paintings that I commissioned from you! What is your process when taking on a new commission, particularly when you have never visited the subject matter?
That's a great question and I had so much fun painting these two courses for you, courses that I dream of playing one day!  I love art and certainly am impacted by many artists, but it's humbling to see someone impacted deeply by one of my paintings.  I'm definitely learning how impactful a painting can be and how it can create such an emotional and personal connection for people; to a place or an activity or particular time in their lives.  I start with that in mind.  I'm not trying to paint a picture of a picture.  I'm trying to capture a mood and personality for that place.  It's tough to do not having visited a place and I'm not sure how well I'm really doing at that.  I hope I'm doing these fabulous places justice.
I loved painting your images because in a sense I got to experience those places for a little while.  It's a real treat to do a commission for a place I've never been, but I know to be in a place would for sure create a different experience to draw from.  I've seen that in several of my paintings where I have been.  I've been to Augusta and felt the power of the silence and sheer beauty of that forest and history there.  I hope that comes across in some of my Masters related work.
I have a new commission where I've been asked by a friend to paint a particular hole where her father-in-law got a hole in one.  What a great gift that will be for him and what an honor to be able to have him look at a painting I've created and relive such an awesome day in his life.  He won't just see a golf flag and some sand traps.  He'll remember the heat of August, the high fives from his friends, maybe a round of drinks in the clubhouse, and the drive to go do it again the next day.  Humbling, isn't it?
As I start, I try to do as much research as possible on the course, the hole's setting, the natural setting, trees, etc.  Maybe one day this research will involve playing a round of golf on location to experience a particular shot first hand (hey we're talking about big dreams, right?), but for now I ask for a photo if they have one and we start from there.  I begin with multiple sketches and shade for lighting and composition.  I begin to feel the layout of the painting coming together as I sketch, but when the paint starts going down is when the fun starts.  The painting starts to come alive as paint does its thing.  Watercolors in particular mix and run on the page.  I'm just trying to control some of it and create a 'mood' that I feel like the course and particular hole needs to evoke.  That may sound like artist speak to most people and it did to me for a long time, but when you start painting you realize that it's true.  A painting seems to speak to you as you create it.  I need to continue learning to listen.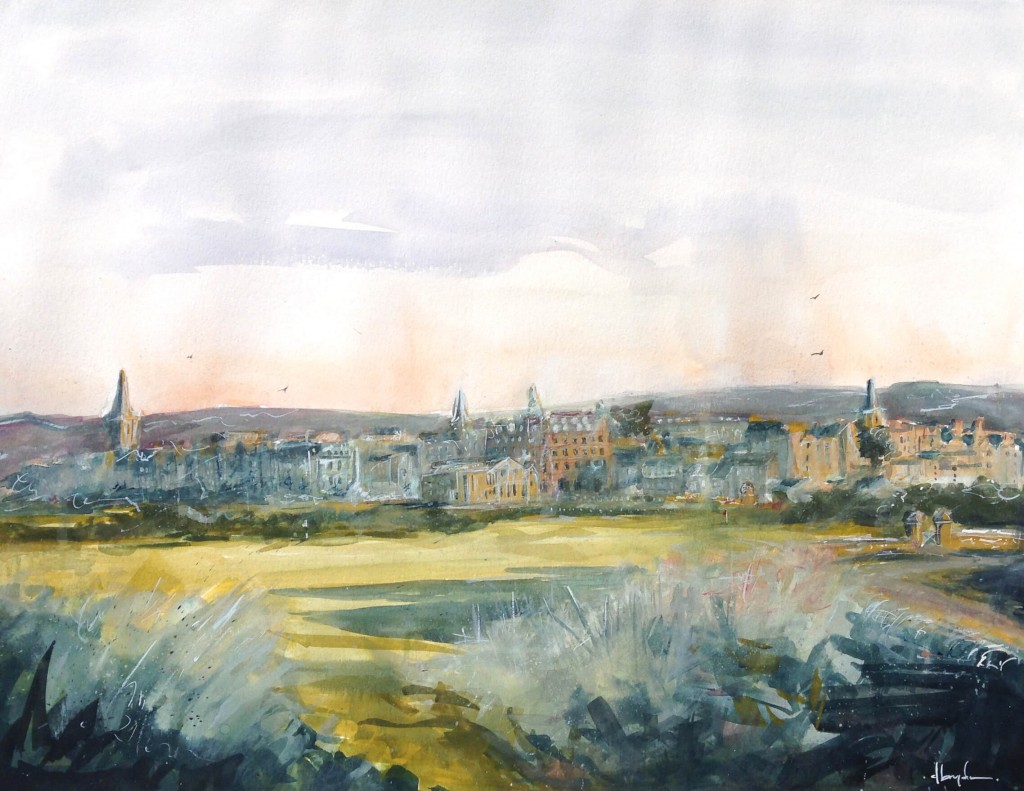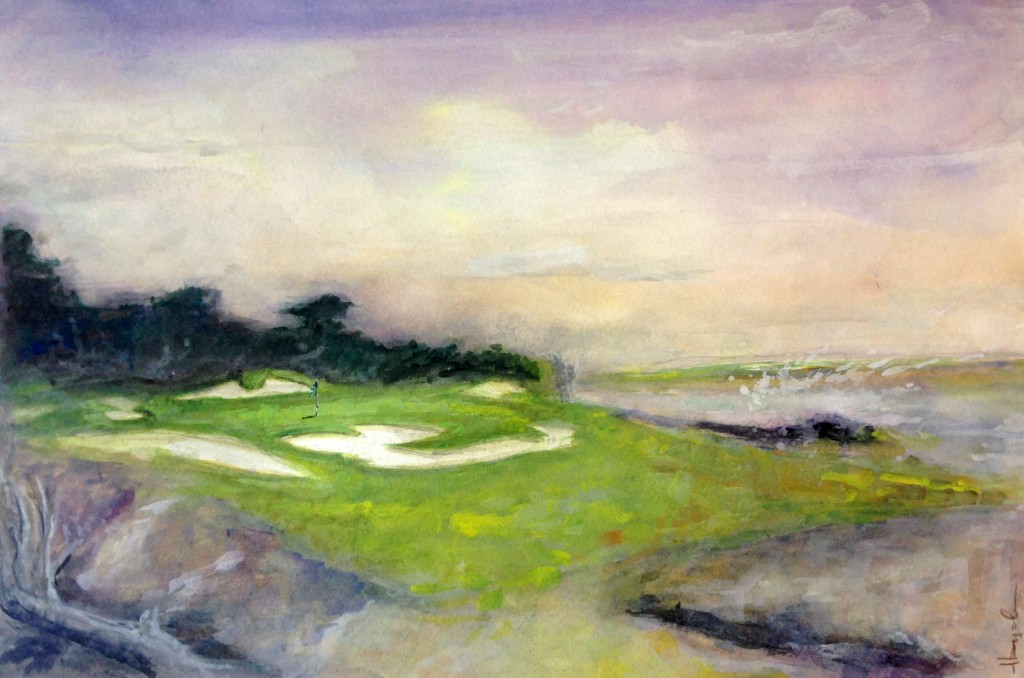 Q: Followers of your Twitter account will have seen your sketches throughout the week, but particularly after the Major championships. How often are you sketching and what role does it play in your more formal paintings?
I am constantly sketching; goofy stuff, serious stuff, cartoons, people, buildings, whatever I can sketch.  I sketch to practice, but I also sketch to retain information.  For example, it's how I take notes in church or during meetings.  The sketches you are referring to that I did this year during the Major Championships were something of an experiment.  Could I take that form of note taking and apply it to sports and capture a scene or a tournament?  A friend in Seattle told me about Gabi Campanario (@seattlesketcher) who is a staff artist for the Seattle Times and during the US Open he was posting images of his sketches during the tournament.  He was at the tournament, but there wasn't any reason I couldn't join in on the fun via Twitter as I watched online and on tv.  I learn and retain information SO much better when it's presented visually and especially when I'm creating the visual.  So that's what I started doing. 
I enjoyed the tournaments more and I remember so much more about them because I was sketching during them.  One of my favorites was a quick illustration of Tom Watson's last walk over the Swilcan Bridge on the Old Course at St. Andrews.  It was a chance to capture a moment in my sketchbook that was also a moment in history.  I also tried to capture the image of Zach Johnson's putt on 18 that had so much drama and caddy waving his arms.  The PGA championship was the first where I did a sketch each day – that was a lot of fun and Whistling Straits had some great imagery and some excellent drama to illustrate.  It was pretty fun to have Dustin Johnson like one of my sketches after his fabulous day one of that tournament.  A simple mention of his twitter handle and he saw my silly illustration.  Crazy time we live in, eh?
Sketching as a practice, though, is a tangible way to make my paintings better by helping develop vision and scale for a painting.  It is an essential practice for me and like any skill it takes continuous practice.  It's also quite fun to make a silly sketch for my kids' lunch boxes.  It's such a joy to start to see my kids (6yrs and 4yrs) realize that I enjoy drawing and to get to do that with them.  I just found a page in my sketchbook today that my daughter drew a picture on – what a treasure.  My son cried tonight because he didn't want to go to dinner, but instead he wanted to draw a picture of himself telling Santa what he wanted for Christmas!  (A remote controlled ninja turtle if you're reading this Santa)  They are already capturing their world visually.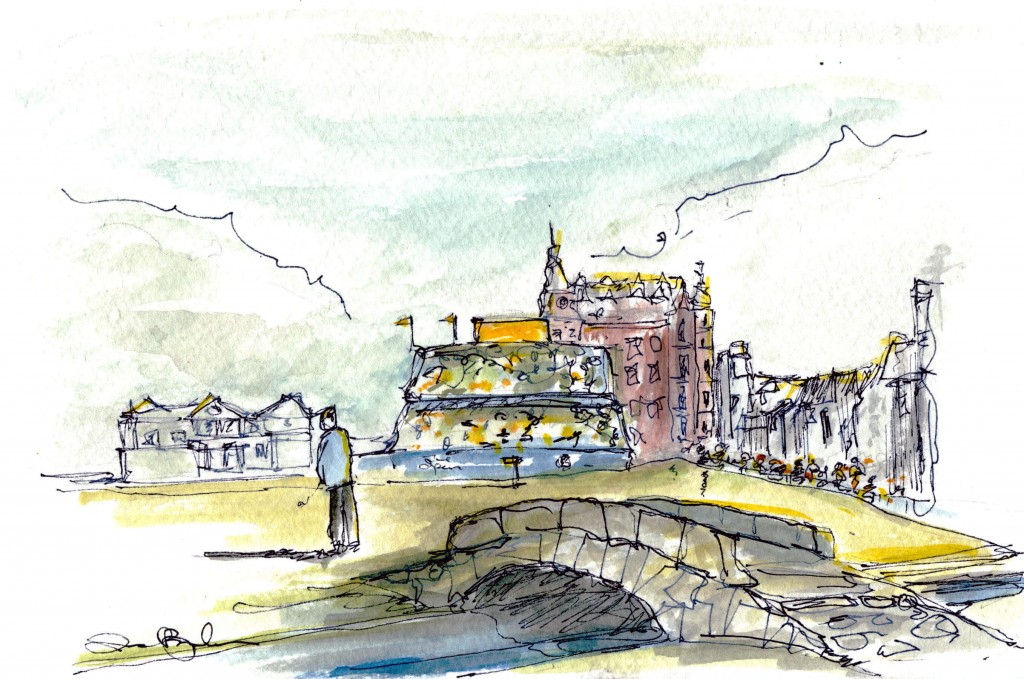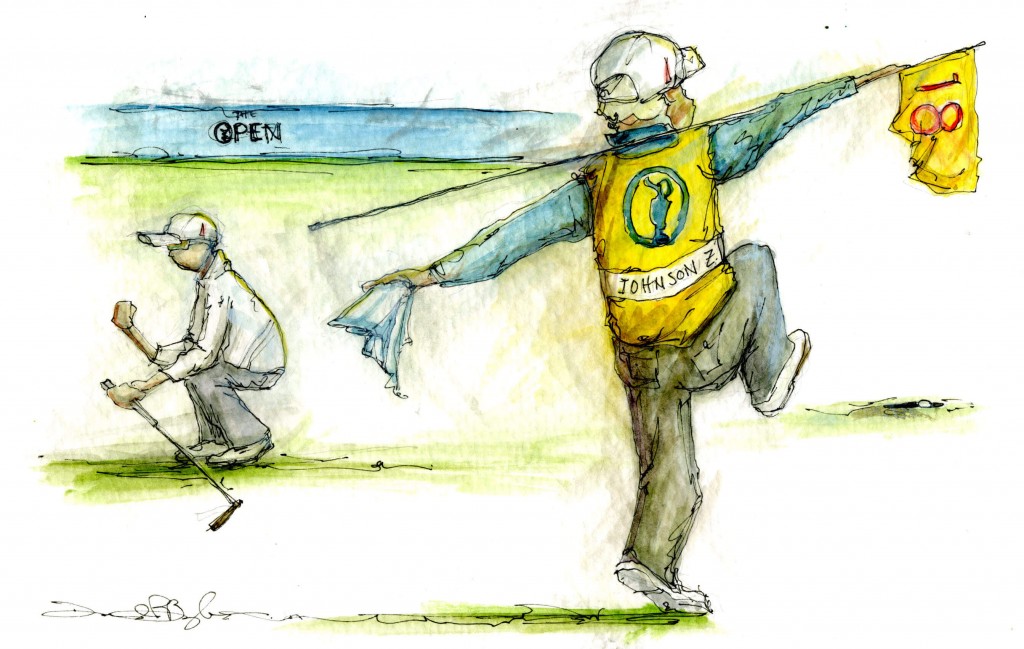 Q: We are both "Carolinians" with you being from South Carolina and me being from North Carolina. Now that you live in North Carolina, what role does the great NC outdoors play in your artwork?
Well, we've truly been blessed haven't we? I definitely love both states and while they have their own unique senses of beauty, they are also so much alike.  The NC mountains and rivers have definitely inspired a lot of my outdoor paintings of fly fishing and camping.  The SC coast, though, holds a special place in my life and in my painting.  I guess just like me on a golf course, I'm always drawn to water and sand. 
You're right, though, I live in a beautiful place and I have an endless treasure to draw from for paintings. However, there is so much I want to see in and around the world as well.  I love the opportunity to see the world of golf through your reviews and photos!  Great work and continued blessing to you Graylyn.  Thank you for reaching out to me and asking me to contribute a bit of my journey.  Maybe someone else will read and start their own journey, no matter how late in the game.
Golf and art have so many parallels and the more I dig into those, the more I appreciate them both more deeply.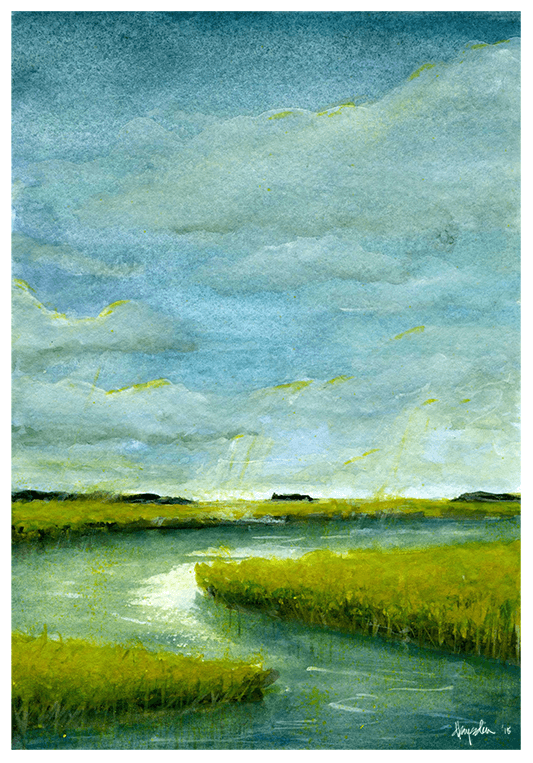 All of the images in this post were provided by Dave himself. I strongly recommend visiting Dave's website… It is how I first came across his work and it has led to me having two paintings of my own from him! What started as an email has led to a friendship and mutual appreciation for the beauty of both nature and golf courses.