I made many trips to the Pinehurst area while growing up in North Carolina. Even after all of these trips to play everything from Pinehurst #2 to Forest Creek, I never made it to Dormie Club. As many keen golf travelers will know, certain courses seem to always be near misses on trips, like a word on the tip of your tongue that never comes out. My course that I never seemed to be able to get to was Dormie Club.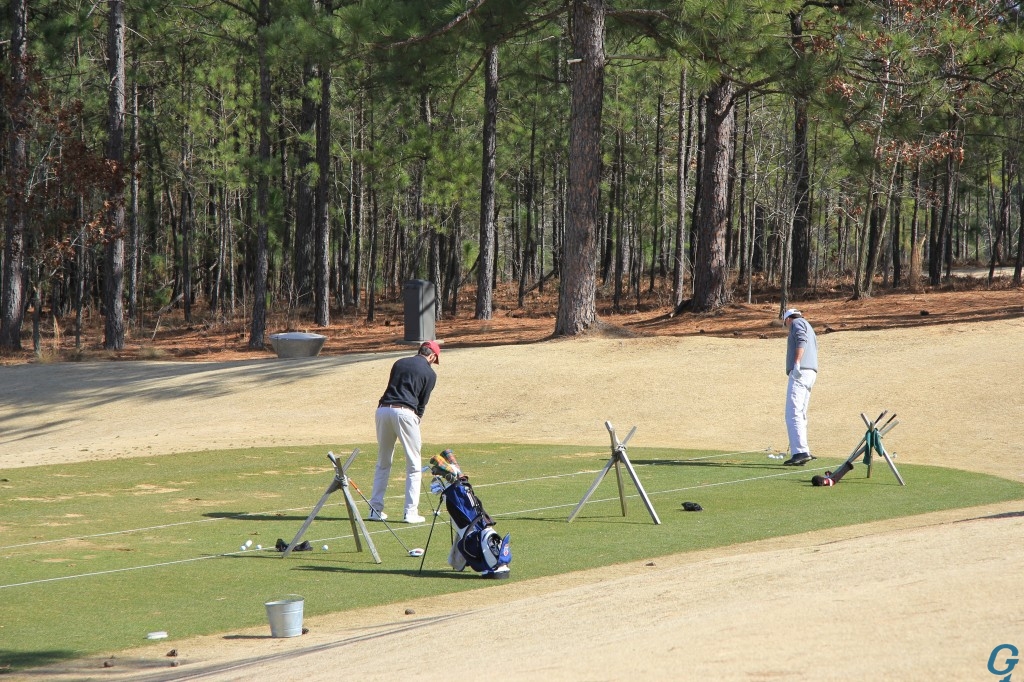 I got the call to join a group of friends at the public Dormie Club in early February and I cleared the schedule to make the 4-hour drive to the course. I had heard amazing things about the place and was eager to play my first solo Coore & Crenshaw design. I had also heard that the club had been through financial problems prior to its opening, and I was curious to see how the "club" aspects had fared in addition to looking at the golf course. As I drove up from Charleston, SC, I passed through Scotland County, North Carolina, seeing St Andrews Elementary School while passing signs to Aberdeen, North Carolina. The area was settled by Scottish Highlanders in the 19th century, and it was a fitting drive while approaching Dormie.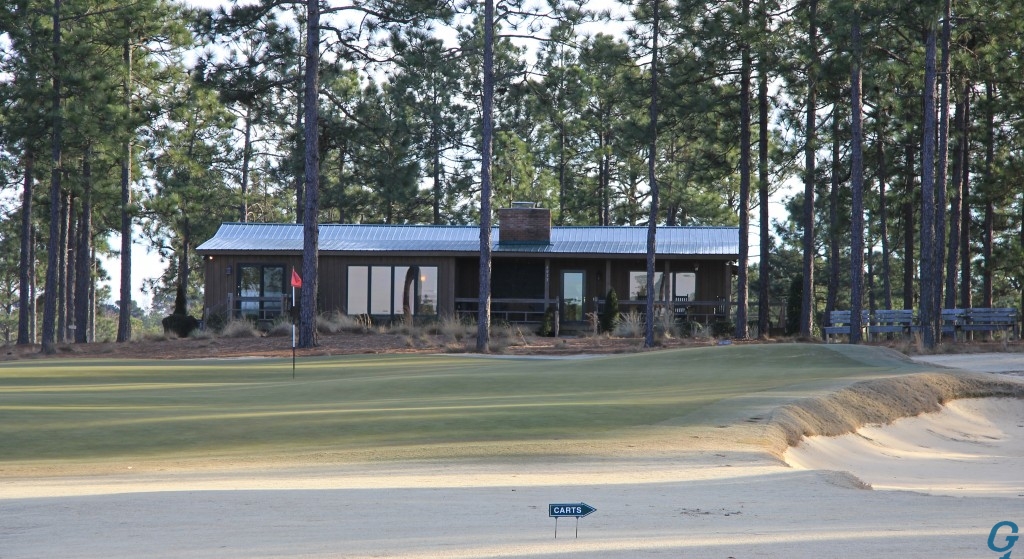 It is important to read this review recognizing the terms course and club separately. I will get into the golf course below, but I will address the club aspects here. Dormie Club is in need of investment. I'd imagine that the place is run on a lean budget. We only saw two or three members of staff during our visit and yardages have been painted onto sprinkler heads with what appeared to be whiteout. The clubhouse is a small temporary structure that was brought in on a trailer. In terms of amenities, there was precious little to make me call it Dormie "Club" rather than Dormie "Course." Cars park on pine needles among trees, where a parking lot was undoubtedly meant to be built.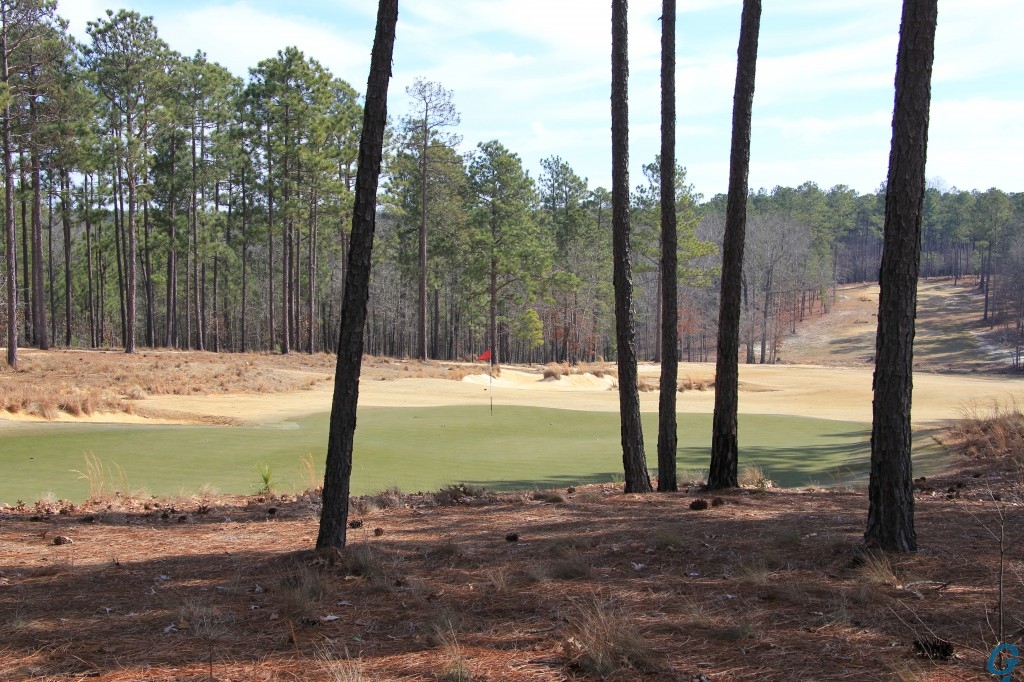 The owners of Dormie have clearly put their money where it counts – the golf course. Even the very dormant course in early February was in great shape, and aside from some random aerated sections on particular greens, the greens were rolling very well. The layout is everything you would expect from a minimalist design brand name like Coore & Crenshaw. The greens vary in size from small to massive, and the undulations are diabolical in areas. You can tell that the existing hills and slopes on the course were fully utilized in the design. I can't imagine that many tons of earth were shifted while making this design.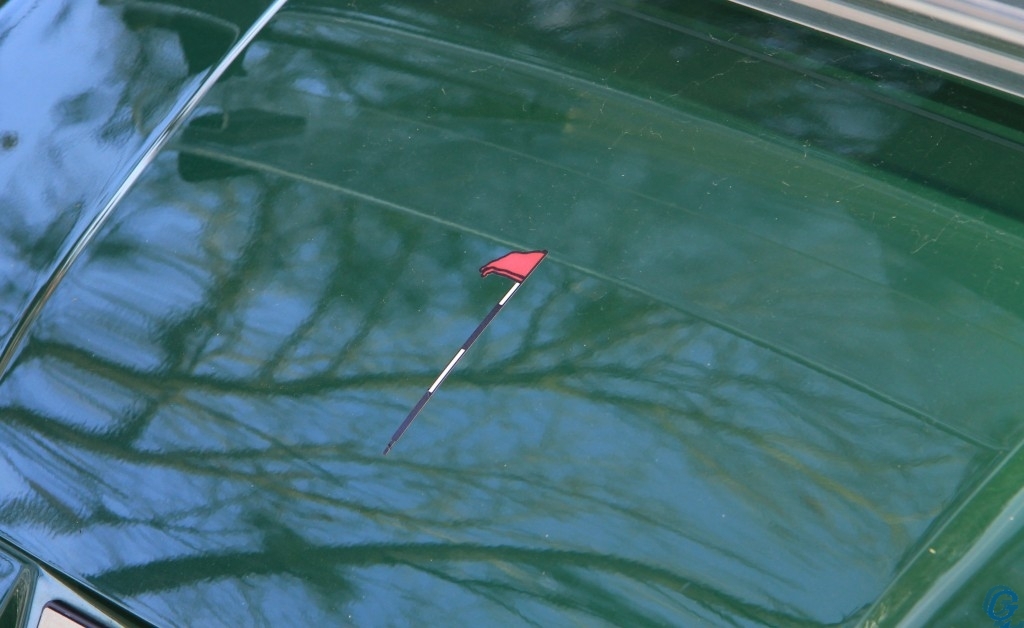 My only real point of contention with the golf course had to do with every bunker being considered a waste bunker. This made sense for the large sandy waste areas bordering most fairways, but the pot bunkers around greens were also considered waste areas. This meant they didn't have rakes, and by our afternoon round, many of our sand lies were in footprints and sand divots. Does anyone know why Dormie wouldn't just put rakes in pot bunkers around greens? Please comment if you know.
The first hole on the course opens with a wide fairway and enormous green. It always feels good to start the round with a green and fairway in regulation – two stats that are easy to grab on this hole. Waste bunkers either side of the fairway collect errant tee shots.
I took a driver off the tee on this dogleg left par 4, and I wish that I had hit a fairway wood or hybrid. The green has lots of subtle slopes, and although the green isn't heavily bunkered, balls seemed to trickle off its crowned edges.
The short par 4s at Dormie Club are very fun and uniquely challenging. Seeing a design team recognize the value of short holes is refreshing. The tee shot may be easy, but the narrow and heavily sloping green creates a wicked challenge. Mini-plateaus abound on the this green and I can't image what it must be like when they are rolling faster.
Playing a course for the first time always leads uncertainty with lines off of tee boxes. Someone who has seen this hole before will know that tee shots hugging the left side catch a slope and run to wedge distance from the green. The very large putting surface allows for a huge range of pin positions.
The sidehill sloping fairway on this 5th hole reminded me of lies that golfers find on Pinehurst #8. The lake is visually intimidating, but it shouldn't come into play for well-struck tee shots down the left.
Dormie Club has a number of great par 3s, and the 7th was one of my favorites. Trouble lurks on the right, but any ball aimed left will kick off the hillside down onto the putting surface. I am sure that back right pin placements are made during tournament rounds… such a fun shot!
The 8th was one of my favorite holes on the course. Dead center is the perfect line from the tee box, and the approach to the very long green is laid out perfectly in front of you. I imagine that balls run down onto this green particularly well in firm summer conditions.
After pounding a 4-iron on the last par 3, it is a nice change to pull out a shorter iron on the 9th. The two tiered green made for tough putting, and distance control is key when aiming for the top shelf due to bunkers behind the green.
Simply put, this is a 3-shot dogleg left par 5. It was another hole where picking a line off the tee was difficult having never seen the course. A marshy area reaches out into the fairway, creating a forced carry for layups.
Local knowledge is key on this green. Large slopes on the green protect this short hole, and being below the pin while putting is key. We all hit this green in regulation and all 3-putted having played to the wrong plateau on the putting surface.
Similar to the 5th hole, this is another fairway creating sidehill lies. As the lie naturally creates a slice for right-handed players, a bunker and slope collect those misses. The green is small in comparison to others – a common defense on these shorter par 4s.
These final holes were some of my favorite on the course. The 15th required strategy and thought. It was one of those holes where I want to go back and play it twenty different ways with a bucket of balls. Hybrids and fairway woods reach this fairway and a hill obstructs views of the green. The green itself slopes back towards the player, helping to keep approach shots on the surface.
The final par 3 on the course is very pretty. The light looked great at this point in the round, and we took time to soak in the view while on this tee box. The green is another large one, and waste areas collect errant tee shots.
The par 5 17th was another favorite of mine on the course. The green sits well above the fairway, and a Pine Valley "Hell's Half Acre" style waste area consumes the lay up landing area. Longer hitters can carry the waste area and reach the sloping green. I put my second shot in a greenside pot bunker and ended up in a huge footprint… why not have rakes in greenside pot bunkers?
Hole #18 – 410 yards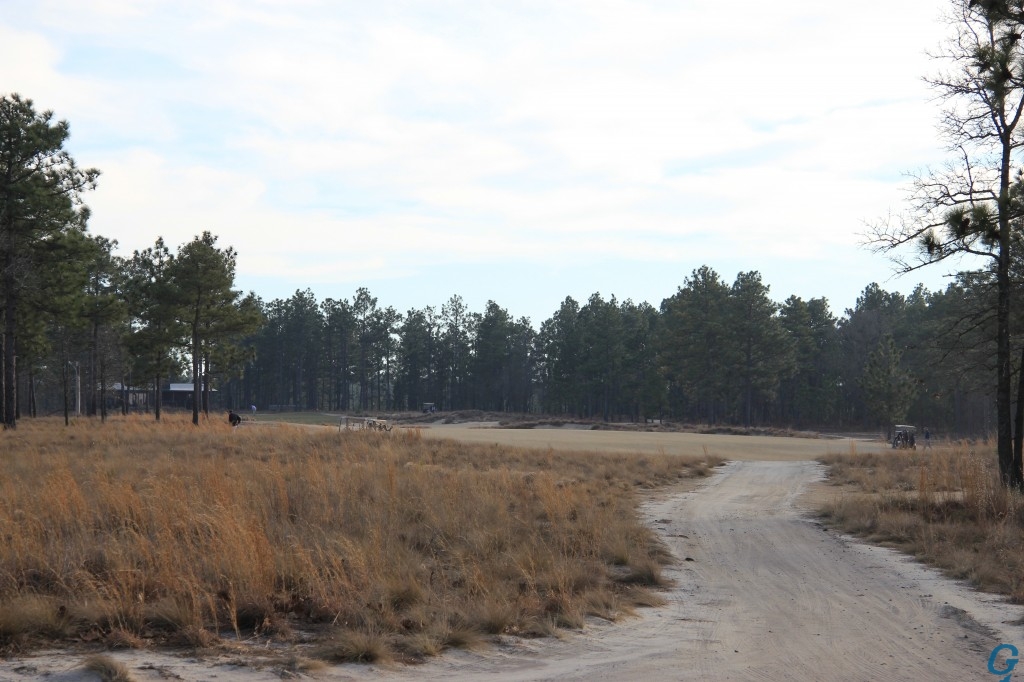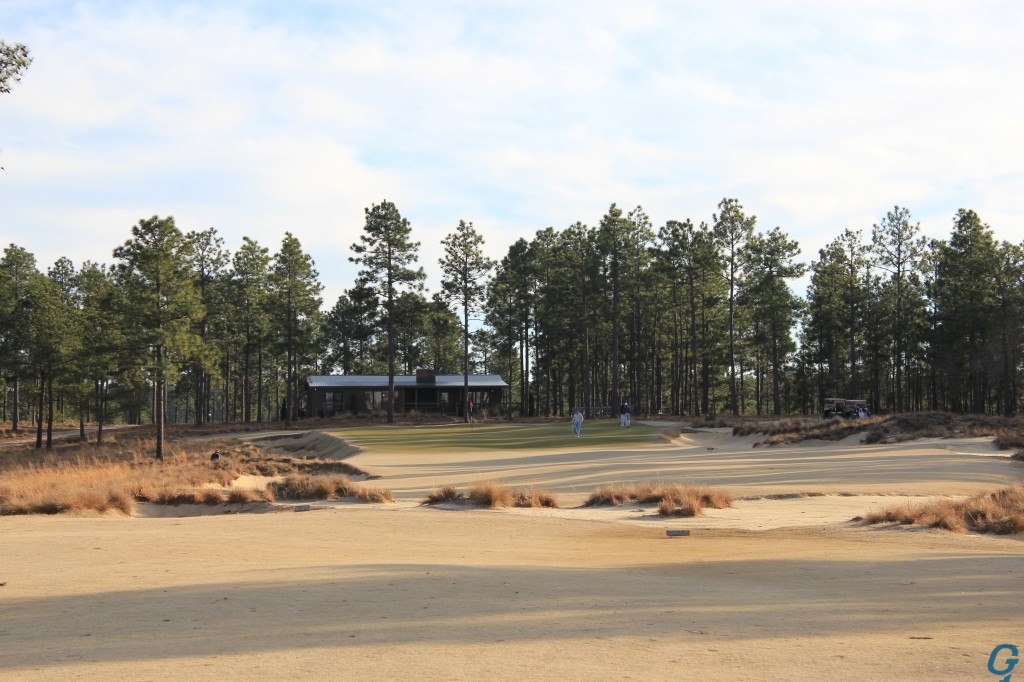 The final hole on the course required an accurate tee shot to set up an approach into this large green. The green slopes back to front, and even during our winter round, putts would roll up to the hole, pause, and then roll multiple feet back down the slope. I can only imagine how difficult putting on this green must be when they are rolling faster!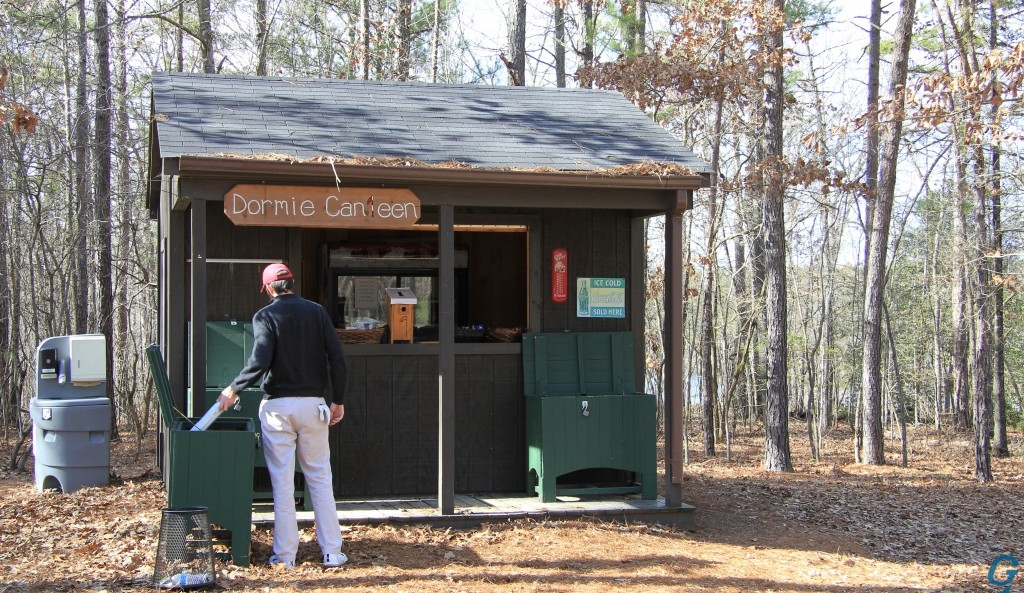 I hope that I have made it clear in this review that I really enjoyed the golf course at Dormie Club. The layout is great and I will certainly return when the course is green and in top shape in the spring, summer, or fall. I'm sure that the empty sprinkler heads are a result of early planning to have caddies with every group. The range was small, but great, and while the clubhouse is a temporary structure, it had provided a fine spot to get a shirt and snack. I will not visit Pinehurst again without making sure Dormie Club is on the itinerary. I have no doubt that plans are in the works to improve the amenities at Dormie Club, and when that day comes, it will be one very special place.