Much of this website is dedicated to planning Scottish golf trips, and while I've helped hundreds of people take trips of their own, I still get very excited every time I get to plan one for myself. Over the last year I've been piecing together a trip to Scotland with a group of my best buddies.
It will be a group of four (a perfect size for a self-planned trip) and I'm the only one who has played golf in Scotland before. My three buddies gave me a few directives that included a budget, a goal to see more than just golf courses, and a desire to see a range of links courses from ancient to modern. From there I got to planning.
The point of this article is to explain my thought process when planning a trip for myself. I've written extensively on all aspects of Scotland golf trips, but I still get "if this was your trip" questions all of the time. Well, here's my trip!

The Early Stages
Our group ranges in age from 26-36 and one goal was to remain within a reasonable budget. One easy way to do that is to stick to one (or two) regions. The guys left most of the planning to me, but in all of our discussions I emphasized the need to base ourselves in a single location for the week of the trip. It's something that I preach to almost everyone, but the dine-and-dash method of frantically driving around the country for a week leads to bad and expensive trips.
Our choice to base ourselves in St Andrews was made very easy by the fact that my wife and I own an apartment in St Andrews, Scotland. We rent the apartment out, so I just needed to block out a week for us to go and have "free" accommodation. Regardless of that apartment, I would have encouraged the group to choose St Andrews. It's the perfect place for a week trip, particularly on a first trip to Scotland.
Once we chose St Andrews, I immediately decided to enter the group in the Advanced Ballot for tee times on the Old Course. You can read my full article on how to get a St Andrews Old Course tee time here, but long story short you enter the advanced ballot in the late summer and find out if you got a tee time in early fall for the next summer. On the submission form you provide a range of dates you'd like to play and fortunately for us, we got our first preference – early June. I've written another article on the best time to visit Scotland for a golf trip, but we chose early June because it's not the peak of high season, the days are very long, and the courses are in great condition.
At that point we had our St Andrews Old Course tee time and a St Andrews Castle Course tee time (you have to play two rounds when entering through the Advanced Ballot). Those two rounds served as what I call "anchor rounds" around which we planned the rest of the trip. Read more about anchor rounds on the Scotland Golf Trip Planning To-Do List.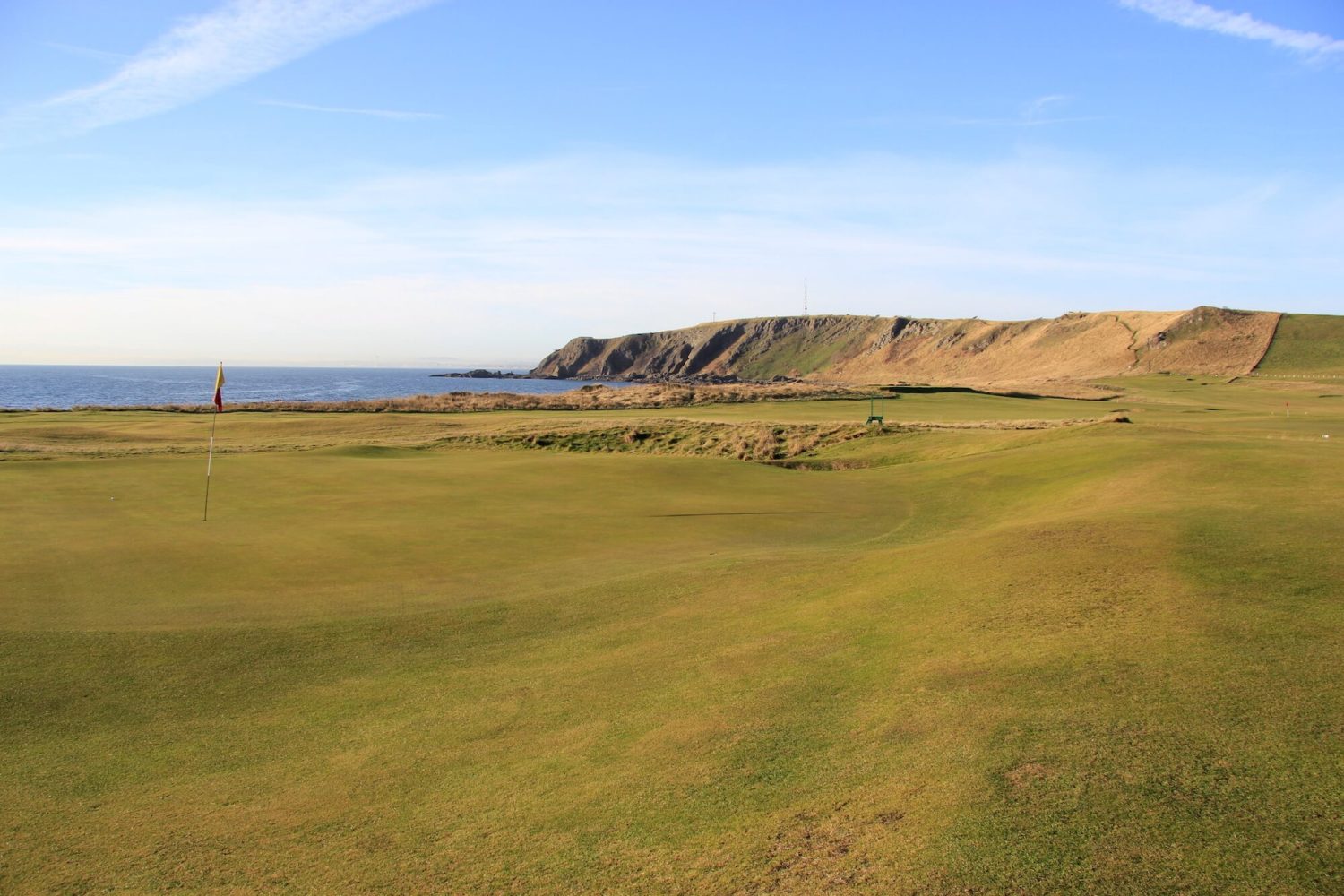 The Middle Stages
Once the anchor round(s) were set, we looked at where to play for the rest of the week. We decided to only book one round per day to leave plenty of time for non-golf activities, but we'll have open mornings and afternoons during which we can squeeze in another 18.
Since our goal was to stick around St Andrews, we decided on the St Andrews Old, St Andrews Castle, St Andrews New, St Andrews Jubilee, Golf House Club Elie, and North Berwick. The courses offer a mix of old, new, stunning views, history, and budget-friendly green fees. All of those courses, apart from North Berwick, are within a 20-minute drive of St Andrews. With only a week in Scotland I wanted to spend as much of it as possible enjoying the golf and towns, not driving around in a car.
Once we had the rounds selected, I started a Google Sheet with various details about tee times, green fees, and confirmation numbers. The document is shared among the group and makes it easy to keep everyone up to date.
I was surprised that at 10 months out from our June trip most courses were almost completely booked. With that in mind I highly encourage everyone to plan their trips about a year in advance.

The Final Stages
Roughly a month before the trip I sent an email to our group that determined an arrival plan (we're all getting in on different flights/trains). We're are all seasoned golf travelers, but I included a packing list of things my buddies might not consider on a US-based trip. The list was:
– Rain Pants (along with your rain jacket)
– Wool hat / Beanie (or two)
– A few large Ziplock freezer bags (to keep phone, wallet, gloves dry in a rainstorm)
– More golf gloves than you think you'll need
– Two pairs of golf shoes. If we have a heavy rain day it'll be really nice to have a dry pair the next morning (while the other pair dries 24 hours)
– Call your credit/debit card company to let them know you're traveling abroad
The trip is now two weeks away and the last step is to finalize our arrival plans. We've rented a van and I will drive us around!

General Thoughts
Because of my experience traveling and living in Scotland, we knew from the beginning that I would plan this trip for us. The alternative would have been to use a golf tour company, and I've written an article on how to choose one and whether they're worth the money. 
If you want an even more in-depth look at any of the topics mentioned in this article, I wrote an e-book that takes a deep dive on all things Scottish golf trips. It's called, "How to Plan a Scottish Golf Trip" and is available at Amazon.
Also, if you're planning a trip and want to look at courses outside of St Andrews, check out this map of Scotland with all of my course reviews plotted. You can also look at a list of course reviews as well.
If you have questions about a trip, leave a comment on this article! I'll answer it publicly so that everyone can gain some knowledge. As for our trip to St Andrews, follow along on social media (Twitter & Instagram).