This article is the first in a series about maximizing your time and money in planning, booking, and experiencing a golf trip to Scotland! The second article is Where to Go on a Golf Trip to Scotland!
The key to planning a successful golf trip to Scotland is knowledge. One of the goals of this website is to provide golfers with the knowledge necessary for planning their own trip. Whether they book the trip through a tour company, use the Scottish golf trip consulting option, or simply built their trip by themselves, I hope everyone finds this site useful in the process!
This article is a quick look at the topics you will need to address in order to have a successful golf trip. I provide tips that I picked up while living for four years in St Andrews and I've thrown in links to other useful sites along the way! Email in any questions to graylyn@graylynloomis.com
First Things First
Tour company or plan it yourself?
This question can be answered by the amount of free time you have and the size of your budget. In most cases you provide basic information to the companies and they return with an estimate for the trip. Keep in mind you are paying a premium with this option. Tour companies can also be a good way to snag guaranteed tee times on the Old Course, but that is where things start to get pricey. Tour companies can be pricey, but they offer a very easy way to book your trip.
Golfers that don't have the time to plan out an entire trip but want a customized itinerary should think about newer options like the golf trip consulting option on this site. You fill out a questionnaire and I provide an itinerary custom tailored to your interests both on and off the course that is extremely easy to book yourself.
Planning and booking a trip completely by yourself is a great option for those with time and some patience to do the research. There are some great resources out there to help, including this site and those listed under "Resources" below!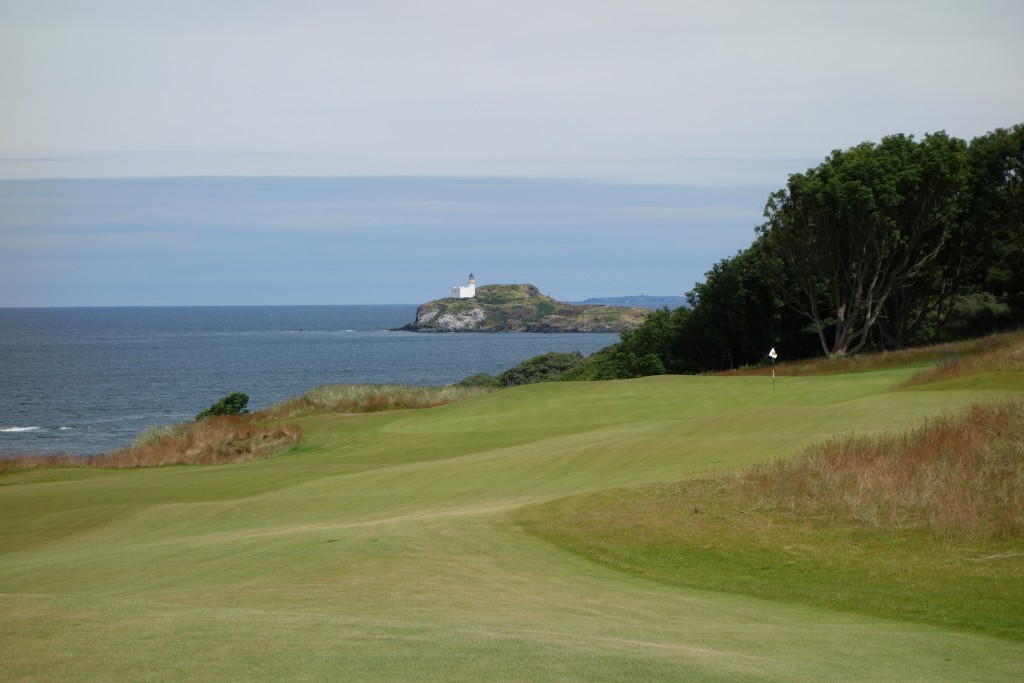 Setting your budget
Your budget is largely a personal choice, but there are great ways to maximize the money you plan on spending. Choosing a B&B over a pricier hotel, setting up base in one area and making day trips from there, or splitting some of the fixed costs among a larger group are all great methods for saving money. I talked about this topic at length with Ru from the Scottish Golf Travel Podcast, and that podcast episode can be found here.
Is it worth taking a caddie?
I have written an article on taking caddies that can be found here. In summary, a caddie can add greatly to a round of golf on a course you have never seen. That is especially true on some Scottish links with lots of blind shots. If caddies aren't in the budget, consider splitting a forecaddie within the group – you get much of the advice at a fraction of the cost.
Choosing where to go
I plan to expand on this topic in the second article in this series. A quick preview is that I highly recommend basing yourself in one or two regions for the trip. Playing all over the country is exhausting, expensive, and doesn't maximize your time.
I go into the various regions, driving times, and their golf offerings in Where to Go on a Golf Trip to Scotland!
Where to stay
B&Bs, hotels, or home rental?
Again, this comes down to budget in many cases. I prefer staying in B&Bs because you feel much more attached to the community. The proprietors are almost always friendly locals who can offer great advice and tips about the area. They are also almost always less expensive than a chain hotel. The included Scottish fry-up breakfast you'll receive at most B&Bs is worth its weight in gold!
Home rental can initially seem like an expensive option, but if you're traveling as a foursome or larger, it can actually be very cost effective. Splitting a £1000/week home between four golfers is a lot easier on the wallet than a week in a £150/night B&B or hotel. Your choice will largely depend on whether you want to travel or base yourself in one area.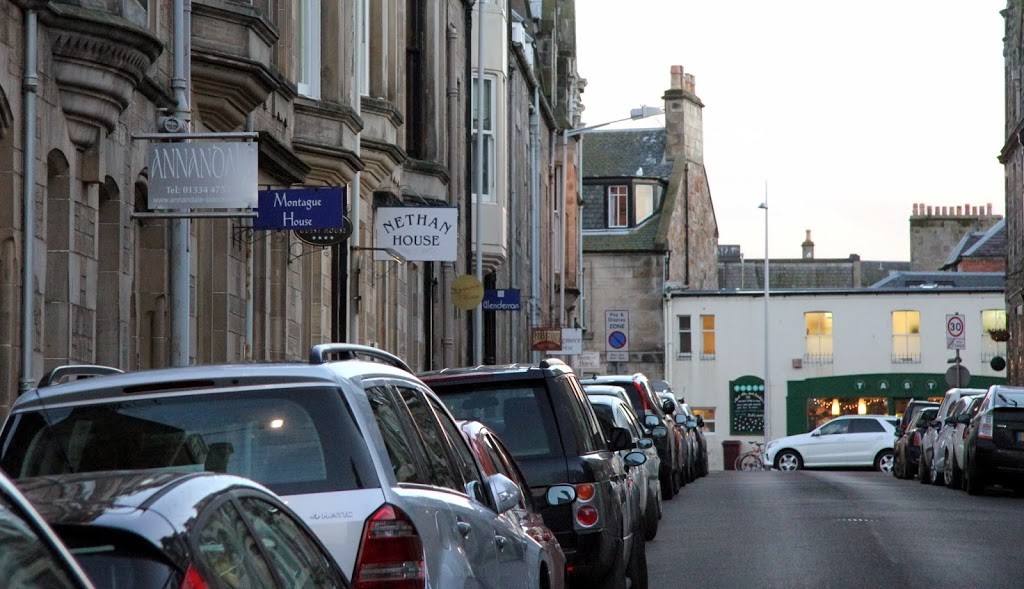 Transportation
An important consideration on your trip is transportation. If you are a twosome, threesome, or even a skinny foursome, renting a car is a viable option. Keep in mind you'll need a driver who is comfortable driving on the left side of the road in what will likely be a manual car. Also be sure to request a large rental car. If you find yourself in a typical European car it will be extremely difficult to fit all of your bags and clubs, let alone the golfers. Also, take note of the drunk driving mention below.
For larger groups, a transportation service or driver can be incredibly nice. Everyone can relax, have a pint after the round, and not have to stress about navigating in a new country or avoiding drunk driving laws (a single beer puts you at or just over the limit in Scotland). The cost of this option when split among a larger group can make a lot of sense.
Another way to avoid driving yourself is public transportation. It's not the easiest or most convenient option, but it is relaxing, scenic, and is how I traveled Scotland during my four years in St Andrews. If you want to look into train travel, I suggest visiting Scottish Golf By Train to help sort everything out.
Getting Tee Times
Getting tee times at most courses isn't a problem, given you're booking enough time in advance. Other courses like Muirfield and Renaissance Club have limited guest play, so you'll want to get on those really early. The Old Course is a different tee time beast, and I've written an entire article on that here.
If you know you'll want to play a course twice, it is worth asking about their replay rate. Some courses offer great deals if you play again that day or even within that week. One example is the very pricey Kingsbarns Golf Links that offers 50% off if you play again within one week of that first round.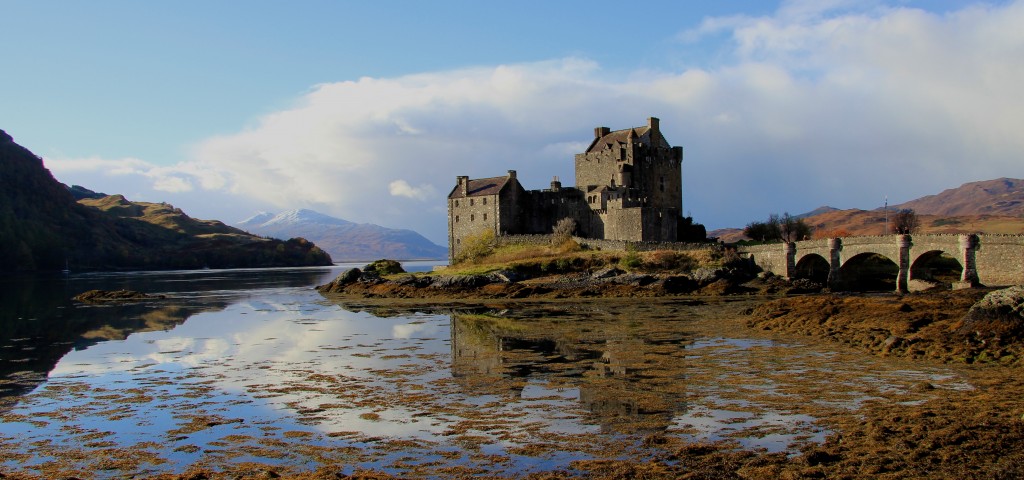 Valuable Resources
–Scottish Golf Travel Podcast (a great site and podcast dedicated to Scottish golf travel)
–Visit St Andrews (perfect for local tips and recommendations)
–Scottish Golf Trip Planner (a section of my site dedicated to planning your own trip)
–Scottish Course Reviews (my large database of Scottish course reviews)
If you have any questions and would like advice about your trip, I am always happy to chat golf! Just drop me an email at graylyn@graylynloomis.com