This post from Liam Frean is the eleventh in the Living as a Links Golfer section. The section will grow as Liam lives the life of a student golfer in St Andrews, Scotland!
Every time I leave St Andrews it can feel like a sad time. Saying goodbye to the links and pubs is not always an easy thing to do. However, this time I headed home to Dubai, which was made even better trip with a round on the Majlis course at Emirates Golf Club. If you aren't a massive European Tour follower, this is where they hold the Omega Dubai Desert Classic. The even has become iconic in Dubai as it was started before the city was filled with skyscrapers. 
My dad doesn't play much golf these days, especially since moving to Dubai, so anytime I can drag him onto a golf course I do exactly that. Golf in Dubai is about as civilised as it gets with stress leaving your body as early as the bag drop. During this round at the Majlis course, we warmed up on the range with the nice pyramid of balls in the Dubai sun.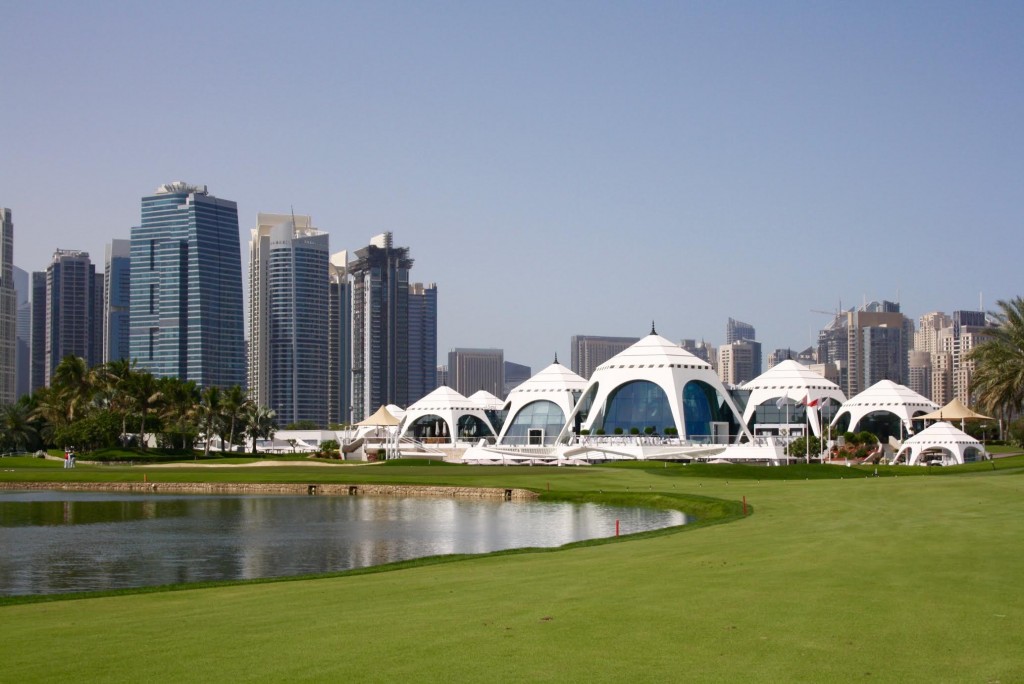 Since it was a shotgun start, we headed over to the 15th where we started our round. When we got there we met our playing partners; another father and son team who happened to have the same handicaps as me and my dad, this coincidence seemed to warrant a match. The 15th is a nice easy 174 yard opening hole with the pin at the front inviting you to go for it. I hit an average 6 iron to 25 ft which I managed to convert for the birdie. It was more dumb luck, because if the ball didn't hit the hole, it was off the green. The greens were running on about 12 on the stimp meter but more like 14 down grain, which I wasn't very used to.
The 16th holes presents some awesome views, especially when hitting the approach shot. I hit another 6 iron on the dogleg left hole. This time I was a bit too cautious on the putt so didn't covert. I was looking forward to due to drivable 17th, but you need a great shot to get it near the green. The hole takes a sharp turn right at about 290 yards meaning a fade is needed to work it around the palm trees. I hit a reasonably good drive which gave me a 20-yard chip that I would manage to get up and down. I got a bit of a bounce in my step being 2-under on a European Tour course… but it was all a bit premature. 
By this point my dad and I were 3-up in the father-son match going on, but over the next few holes we have some shot back. The greens are a lot smaller than they appear on tv and reading the grain is a real challenge. I made a few up and downs which stopped the bleeding at 1-down. On the signature 8th hole it turned into a bit of a photography fest with us all trying to get a picture like the pros. This was a turning point in the match as my dad started playing darts with his irons. As he stuck it close on both the 8th and 9th to put pressure on our opponents and get us back to 1-up. The shots he hit were especially exceptional as the greens on the Majlis need a ball to land like a butterfly with sore feet to stop.
I would have to say the 10th hole was probably my favourite, not for the fact I hit two of my best shots on it, but for how challenging a par 5 it is. It has an amazing view off the tee with palm trees making good targets in the distance. The fairway has a nice opening on the left but bottlenecks to the right at about 290 yards meaning accuracy is key. If you manage to get close enough to have a go for the raised green, avoid the tough bunkers guarding the approach. I hit my best shot here to give myself 12 foot for eagle which I tapped next to the hole. The raised green seemed to add a challenge for those who played up short as it really tested your control with the wedges. This has to be the best par 5's I've ever played and it is very underrated! 
After leaving the stunner of a par 5, we headed to the little 154-yard par 3. My dad and I were 2-up at this point but neither of us found the green with my dad having a long putt and me with a 20 yard bunker shot. Our opponents both stuck it to 10 foot so it looked like a loss. My dad made a good putt from off the green getting a par. I was left with 10 yards of bunker to carry then 10 yards of green before the pin. I hit the best shot possible with it landing on the fringe and rolling out to the hole and dropping. Our opponents were stunned but made birdie to get the half. The last few holes were a struggle but my dad closed the match out with a par after hitting a stunning 4 iron out of the desert round some pal trees to 15 foot. 
The Majlis is a course which not only caters to the higher handicap but also to the better player. Its great design made it fair and fun, bringing out the best golf in all of us. I couldn't have asked for a better place to play golf with my dad especially when I don't get to see him that much. I would recommend a trip to Dubai just to play the course. What an experience!