It seems like I have been running into more and more hickory playing golfers as of late. These "hickory golfers" tap into a purer form of golf, solely playing with clubs built pre-1935 while typically using replica golf balls. During my years in Scotland, it wasn't uncommon to find a player down on the St Andrews Links playing a set of hickories, and I always had respect for those hearty golfers.
My respect grew even more when I finally had the chance to play a round with a set of hickories. My round took place at a particularly fitting location – the Musselburgh Links Old Course. Documents prove that golf was played at Musselburgh as early as 1672 although Mary, Queen of Scots reputedly played at Musselburgh in 1567. The 9-hole course oozes history, having hosted the Open Championship six times in its infancy. The course has barely changed since the days of hickory golf, and the experience was something I can't recommend enough. Another option is Kingarrock Golf Course, which is a hickory only golf course 10 miles from St Andrews. The experience at Kingarrock is said to be like stepping back in time. Visitors can rent period equipment and quickly settle into the 19th century golfing experience.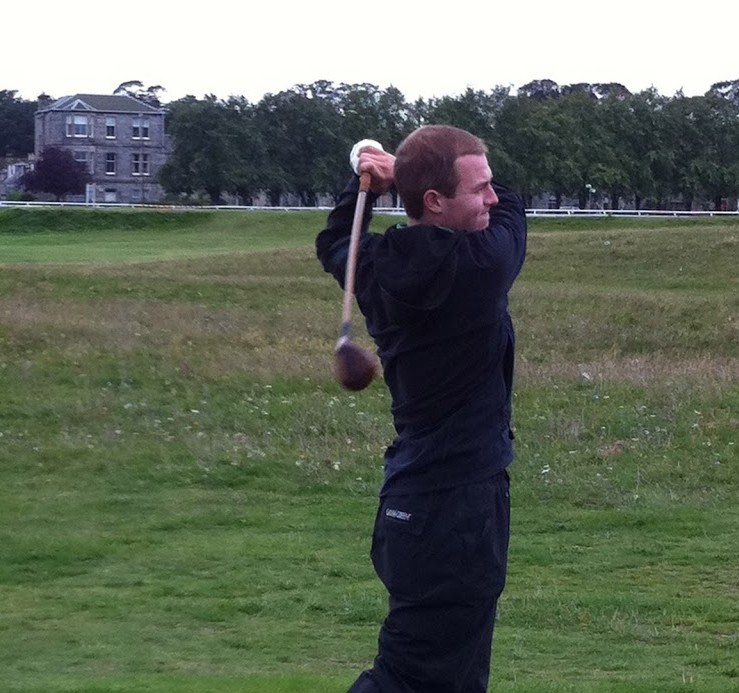 Tim Alpaugh is one of the golf purists that you will find out on the links with his hickories. After reading up on Tim and receiving one of his unique pitch mark repairs, I knew he was someone that I needed to speak with for the website. Our conversation reads more like a pupil and professor during a lesson on the history of the golf club. If you haven't ever experience a round with hickories, add it to your golfing bucket list. Below is my interview with Tim.
What is your background in hickory golf?
In 2010 I wrote the book, Claret Dreams, in response to some misguided notions as to who is history's greatest golfer. When the subject came up with friends on the golf course, two of the attendees said "Tiger Woods," shedding light on the fact that their knowledge of golf does not precede 1992. The other player said he thought it was Jack Nicklaus…"until Tiger broke his records." I noted that at least there was some credence in his statement. When they asked me who I thought it was, I said Harry Vardon. "Harry who?" said the two Tiger Woods acolytes. I pointed out Vardon's 6 Open Championships and his win and two second place finishes in the only US Opens he ever played. He did this while battling tuberculosis. I said that if he were to play in the modern arena he would be just fine, but if Tiger Woods brought his swing to 1920, there would be broken shafts everywhere.
Since I could not bring a player back in time, I decided to bring the clubs forward in time. This was the premise of my book and everyone asked me if I played hickories… I said "of course" and went about obtaining a set. Once I got my hands on a set, I realized what a joy it was to play pure golf. I began to restore clubs for my own use and found others who wanted the same level of care for theirs. If i was given the choice, on a respectable golf course – not one of these 7,500 yard behemoths that are built to keep astride the ever developing equipment and balls – I would choose hickory every time.
Provide us with some background on hickory golf clubs.
Golf clubs date back well into the 16th century, but those that were made in the mid 19th century were fashioned by hand and are recognizably "hickory" style. The heads were made from selected hardwoods like pear, apple and other fruitwoods, and the shafts were generally beech or purpleheart. Most golf clubs were known as long nosed play clubs because the heads were quite long, not more than a bit over an inch in height, and the lie was quite low. Players used what looked like utility woods for most shots to the green. A few clubs were made with metal heads and these were generally specific to extracting golfballs from precarious lies. Early on, carts crossed the linksland to retrieve seaweed which was used for fertilizer. When the wheels crossed the courses they left ruts in the soil. A small round scoop-like wedge called a rut iron was used to extract a golf ball unfortunate enough to find one of these crevasses. Bear in mind the balls were made of feathers and a mishit with an iron spelled disaster. As the gutta percha ball was developed in 1848, the increase of iron clubs for shots other than from the tee came to be.
Early irons were forged by the skilled hands of blacksmiths who found two-legged customers for their talents. In the early 1900's drop forging or pressing irons became the common way of making heads with some manufacturers like Tom Stewart putting out some 5,000 heads a month. When the United States began to feel the golf fever, the use of hickory, native to the Southeastern region of the United States, became the wood of choice for shafts and persimmon, a relative of ebony, became commonly used for heads. The shafts were exported to the United Kingdom and heads returned on the next voyage.
What is the restoration process?
When I get the clubs, from whatever source, I perform a triage of sorts on them. I generally remove the pin which hold the shaft to the head, clean the tapered end of the shaft and the hosel counterpart. I refasten them, re-pin them, strip the shaft of its shellac, sand it, sign it, stain it, and put on three coats of polyurethane. I then install a new grip and whip it with waxed linen. Following this procedure the club looks very much like it did in the 1920's or earlier when it rolled off the assembly line.
If I find my great grandfather's hickories in my attic, can I play them immediately?
I would strongly advise that a person who purchases a club that has not seen any action in 90 years to NOT go out to the golf course and test drive it. While the club may perform admirably for a few shots, it is on the next one where the head will come flying off and can be lost, or worse, hit someone. Changing conditions in humidity, heat, cold and the overall condition of the club when it was last played all play a great part in the need for attention. Also, the modern ball with its high compression center will cause vibrations in the shaft that will destroy a hickory club from the inside.
Speaking of the ball, what should I play with my hickories?
As hickory golf began its resurgence in the United States and abroad, an effort was made to come up with a modern version of the balls used back in the day. When playing pre-1900 golf, modern players use a synthetic gutta percha ball with a crosshatching design. The flight and feel of this ball is like nothing that the modern golfer would understand or appreciate, but it provides parity among the participants of hickory events. The same gentleman who brought this ball to the masses, Chris McIntyre, has also given us the mesh patterned post-1900 hickory ball. The core of the ball is a 50 compression modern ball that has been molded in heated molds containing the patterns prevalent in the 1920's. There are those hickory players who use the softer core modern balls for practice rounds, but in tournaments put on by the Metropolitan Hickory Society, we emphasize the need to use the replica ball.
Do you sell or restore clubs for others?
In April of 2013, a friend, writer for LINKS Magazine, and fellow hickory player, Tom Dunne approached George Pepper and asked if he could write a piece on a former accountant, turned master carpenter, turned author, turned hickory player who restores hickory clubs. Pepper agreed, and after the article was published I have had a number of readers contact me to restore the hickories of their parents, grandparents, and ones they have acquired at one time or another. The members of our hickory society have done the same and i have sold to them and others, restored clubs that are ready to find new homes.
Tell us about your unique pitch repair!
In the late 1990s I received a plastic two-prong divot tool from a golf course near my home. Later that month I was doing a carpentry job that required the use of purpleheart, an extremely hard, and oddly enough, purple wood. I decided to fashion a few divot tools from this wood for my personal use. When my friends all wanted one, I made some more. I had the opportunity to walk with Arnold Palmer in a Senior PGA event near my home as a spotter for ESPN. I passed one of my tools on to him and asked if he might want them for the 1996 President's Cup team that he would be captaining. He agreed and I haven't looked back. In 1998, while making a tool, one of the tines broke off and I wondered if a single tine would be more efficient in repairing  a pitch mark. After a few iterations, the single tine pitch mark repair tool was born. I have since experimented with a number of exotic and domestic hardwoods to come up with a tool that is durable, attractive and ergonomic. Each tools is made by hand, resulting in what i call the snowflake effect – no two are perhaps exactly alike.
I would like to thank Tim for taking the time to speak with me and provide some great knowledge and insight into hickory golf. For those interested a picking up some hickory sticks or playing in hickory events, have a look at www.hickorygolfers.com. If anyone wants to pick up one of Tim's very cool (and effective) pitch mark repairs, drop him an email.
Featured photo credit to Swiss Hickory.