This is the second post from Alexa Hammer in her Hammer & The Links section of the site!
So many people have asked me why I chose to attend University of St Andrews. They have asked me why I went to a different country for college and why I decided to leave the warm weather of South Florida. My answer to them is that I wanted to do something a little different. The greatest influencing factor of my decision to attend St Andrews was the Saints Golf program.
During my college search I was mainly looking for two things: a high-quality and respected education and a competitive university golf team. Well, there were actually three things on my college checklist… I also needed a Starbucks to be on campus. I wouldn't be able to survive without Starbucks (St Andrews is much more cosmopolitan than many think!). Obviously, University of St Andrews could provide me with a reputable degree. The university is highly ranked, and has been for centuries…literally! After my visit to St Andrews on my golf tour of Scotland in the summer of 2014, I discovered a Starbucks in the center of town! All I needed to further investigate was the university golf team, which is also known as Saints Golf.
I learned more about this unique golf program when I met the team and coaches during their visit to Florida in early January 2015. I thought the team at University of St. Andrews would be playing all of their golf in Scotland. But, little did I know how much the team travels and how many different courses they play! What interested me most was how the Saints Golf program's goal is not only to improve the players' golf games, but also to provide the players with as many opportunities as possible. I learned theme of the program is to provide "an overall golfing education."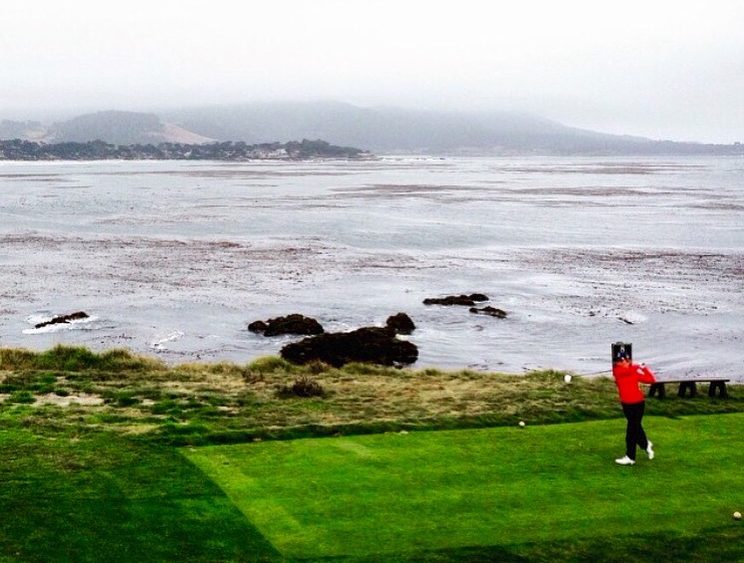 Since choosing University of St. Andrews and becoming a member of Saints Golf, I have been blessed with a few incredible opportunities outside of the university tournament world. Before even starting my first semester at St. Andrews, Saints Golf invited me on the golf trip of a lifetime to Monterey and Northern California.
On this golf tour we played Claremont CC, San Francisco Golf Club, The Olympic Club, CordeValle, The Preserve, Monterey Peninsula, Pebble Beach and Tehama Golf Club. Not only did we get to know these great venues, but we also were able to play with many alumni and supporters of University of St Andrews and Saints Golf.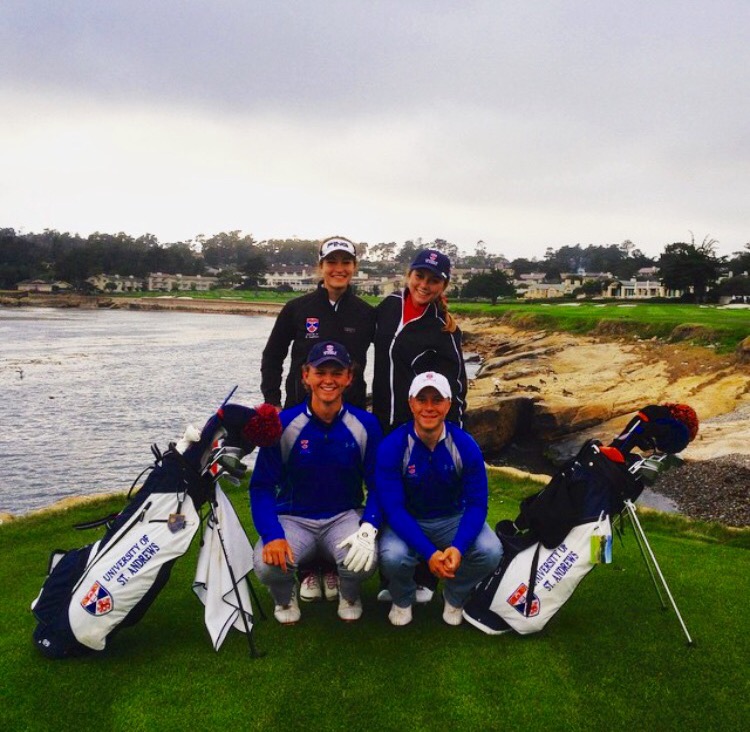 This past January Saints Golf arranged a day at Arnold Palmer's Bay Hill Club and Lodge in Orlando, Florida. This day would be a dream for many golfers. Shortly after arriving to Bay Hill I met Mr. Palmer himself. Meeting with one of the game's greatest players was a great way to begin the day.
After meeting Mr. Palmer – "The King" – I was able to play the course at Bay Hill, home to the PGA Tour's Bay Hill Invitational. The course's many intimidating tee shots, elevated greens, and last three holes made the round anything but easy! It was a day I will never forget.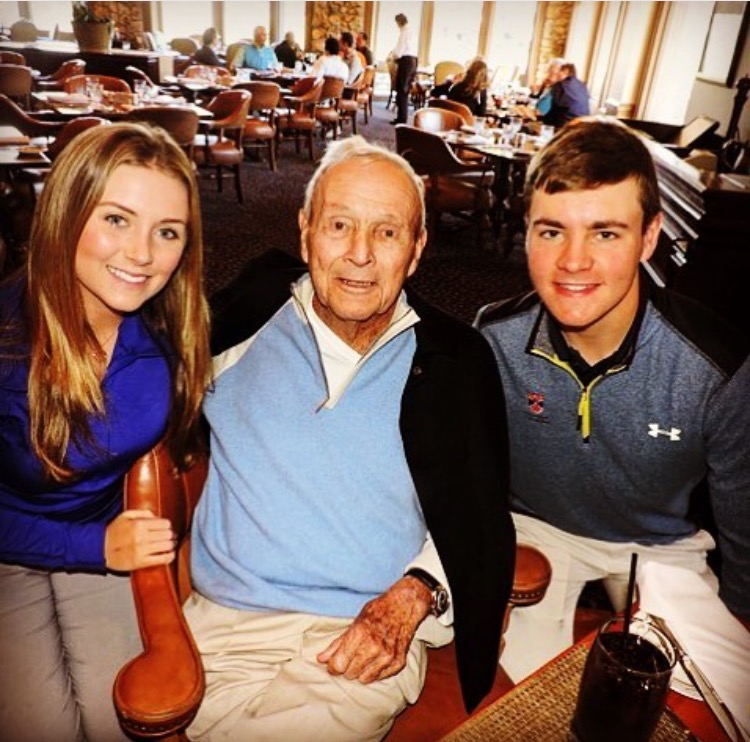 The third big highlight of my Saints Golf experience thus far was a trip to Pinehurst, NC during spring break. The team stayed and played at Forest Creek Golf Club. Forest Creek's beautiful practice facilities were perfect for team practice and the two golf courses allowed for very competitive team matches! While we were there we also made day trips and played other courses in the area, including Pinehurst #2, Pinehurst #8, Pine Needles, and Tobacco Road. Putting on the greens at Pinehurst #2 seemed like an impossible challenge. After the round, our group of four foursomes met up and nearly every person admitted to putting a ball off of the green at some point during the round. I had high expectations for every course we played and those expectations were met every time. But, one course that exceeded my expectations was Tobacco Road. This beyond quirky Mike Strantz design was unconventional in every manner. The angles of the holes, the shapes and sizes of the bunkers and the greens, and all other facets of the course were extreme. It was the oddest course I have ever played by miles. It also might have been the most fun course I have ever played!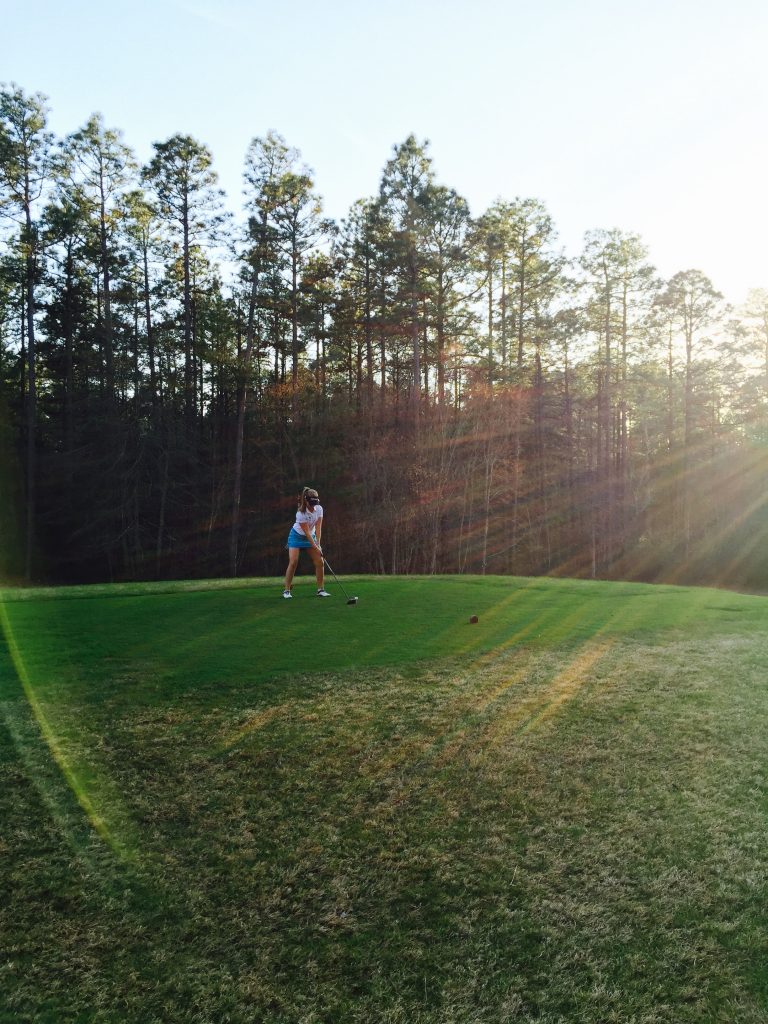 Saints Golf has allowed me to travel and play a handful of the best golf courses in the world and meet one of golf's greatest legends within my first year on the team. I am excited for future adventures and to further explore the uniqueness of Saints Golf.
P.S. Yes, I do go to class and study as well!