This review was written by my good friend and golfing buddy, Keith Olbrantz. He has traveled to Scotland and Ireland enough to make any golfer jealous, and he is kind enough to write about his Irish experiences for the site! I find Tralee to be an interesting club… an Irish course designed by Arnold Palmer? I've never been, but these photos make me want to get on the next flight over. – Graylyn
45 minutes drive from Ballybunion will take you to another one of Southwest Ireland's wonderful links. Tralee Golf Club was founded in 1896 with a 9 hole course. 88 years later a spectacular 18 hole links designed by Arnold Palmer was opened. 
I have played Tralee on two occasions. The most recent round was on a sunny day just after having played the visually spectacular Old Head. Even with that comparison, the beauty of Tralee held its own. The round took place on a very windy day, which made scoring very difficult, but it did not detract from my enjoyment of this beautiful golf course.
After a straightforward opening par 4,  you arrive oceanside on gently rolling linksland with many wonderful views of the adjacent water.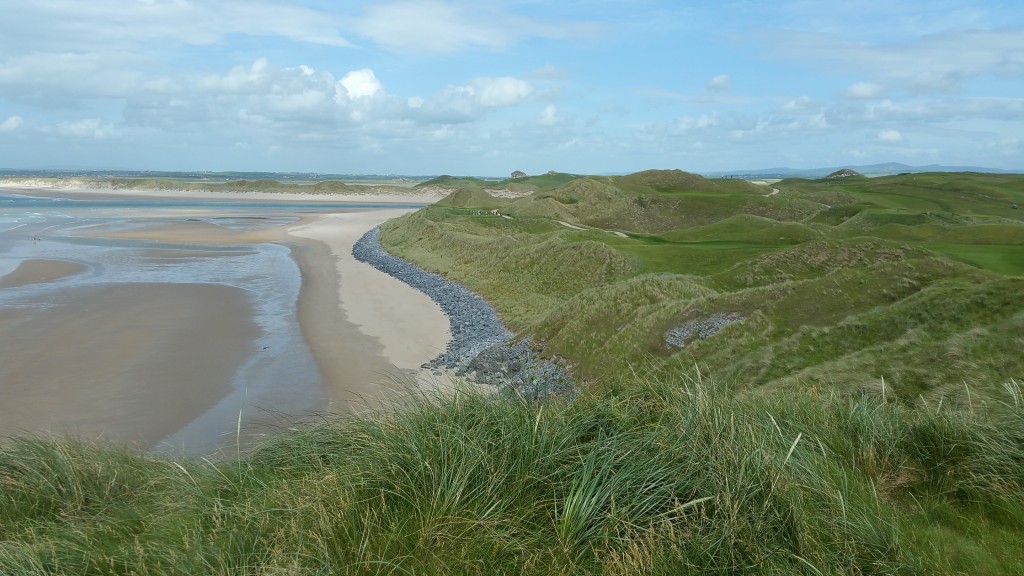 Hole #2 is a sharp dogleg right par 5 with a very large water hazard right of the green. 
Hole #3 continues the journey along the shore with a wonderful 160 yard par 3.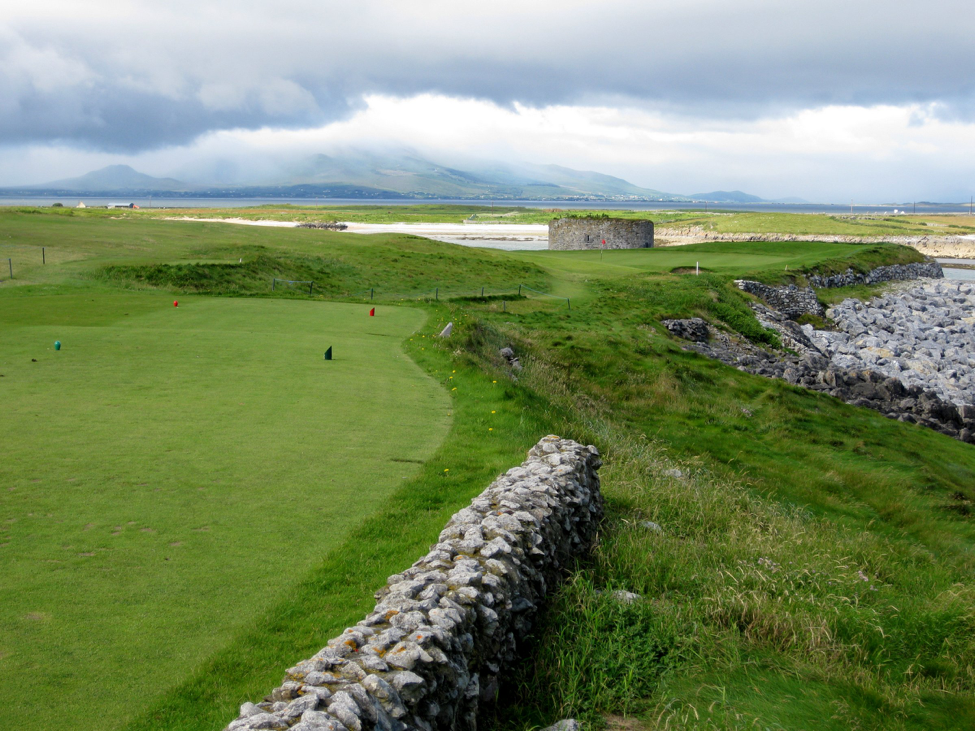 After the par 4 4th takes us away from the ocean, hole #5 returns with ocean as a backdrop and this lovely view (below).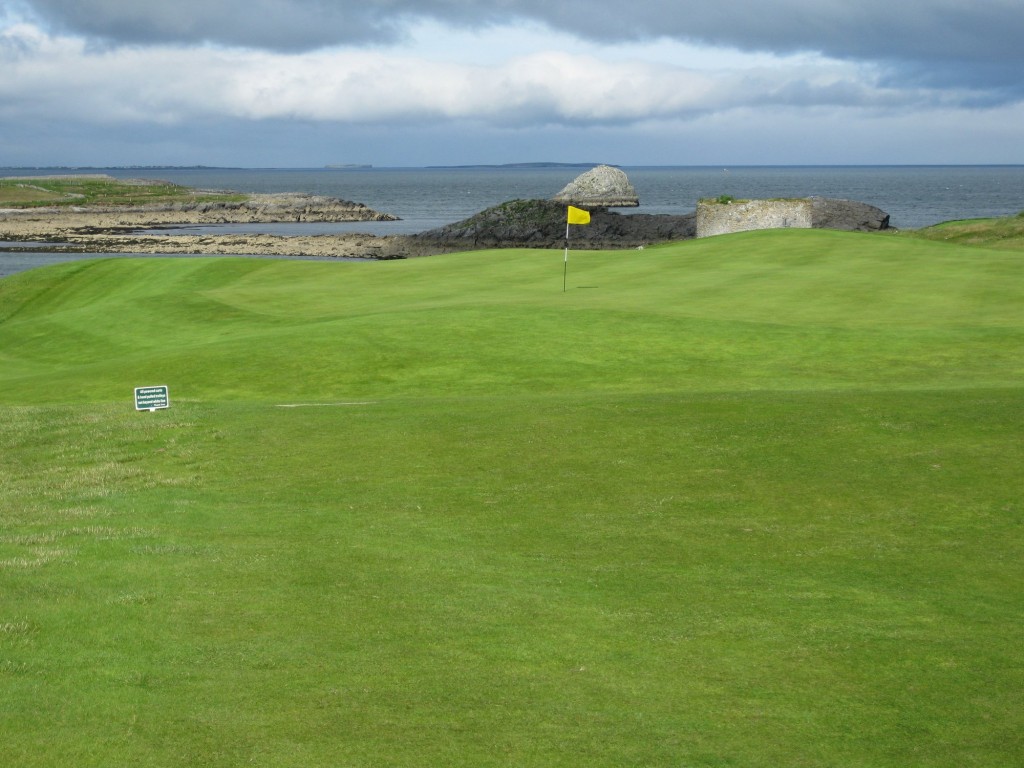 Hole #7 is a short par 3 with a nicely contoured and somewhat challenging green.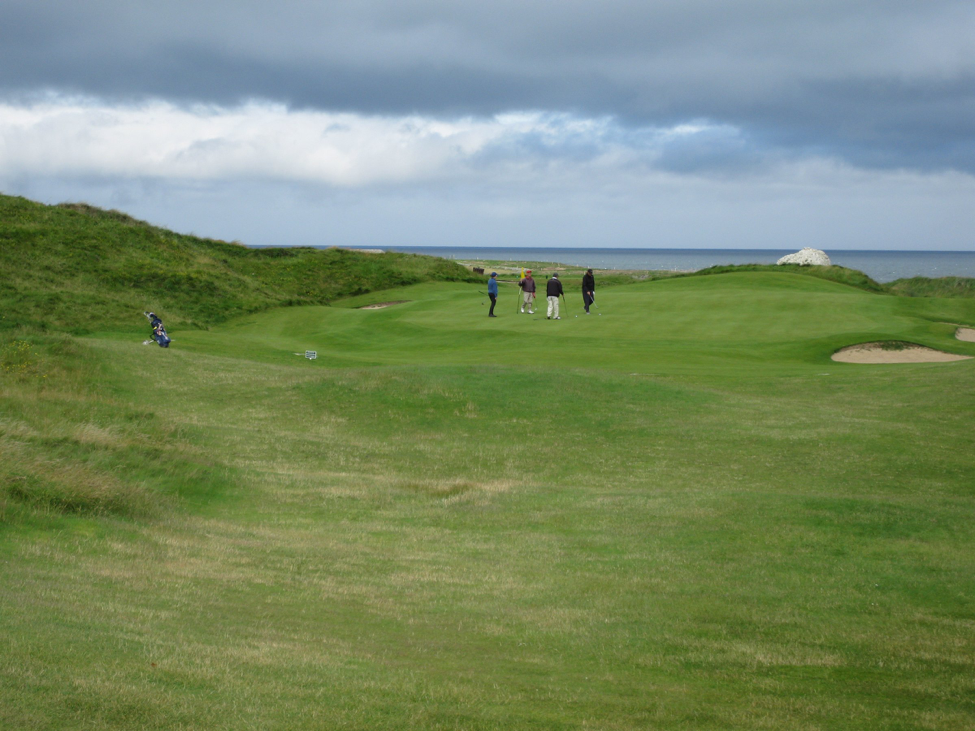 Hole #8 is a demanding but wonderful golf hole. A challenging tee shot must be played between a large dune on the right and the cliffs on the left.  The approach is then downhill into a right to left slope.  It sets up perfectly for a run up shot (which, sadly, is not a shot one gets to practice enough on most US courses).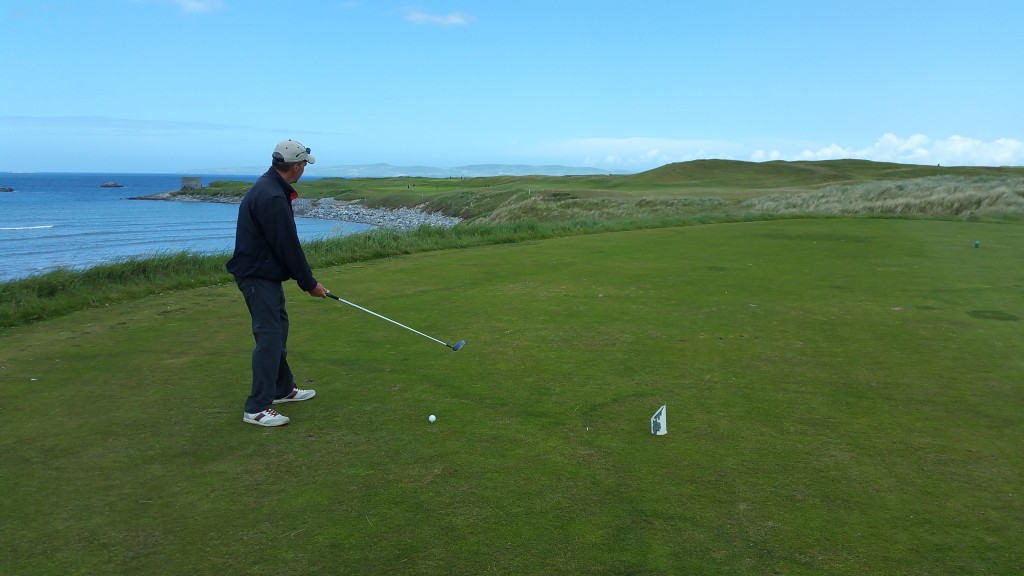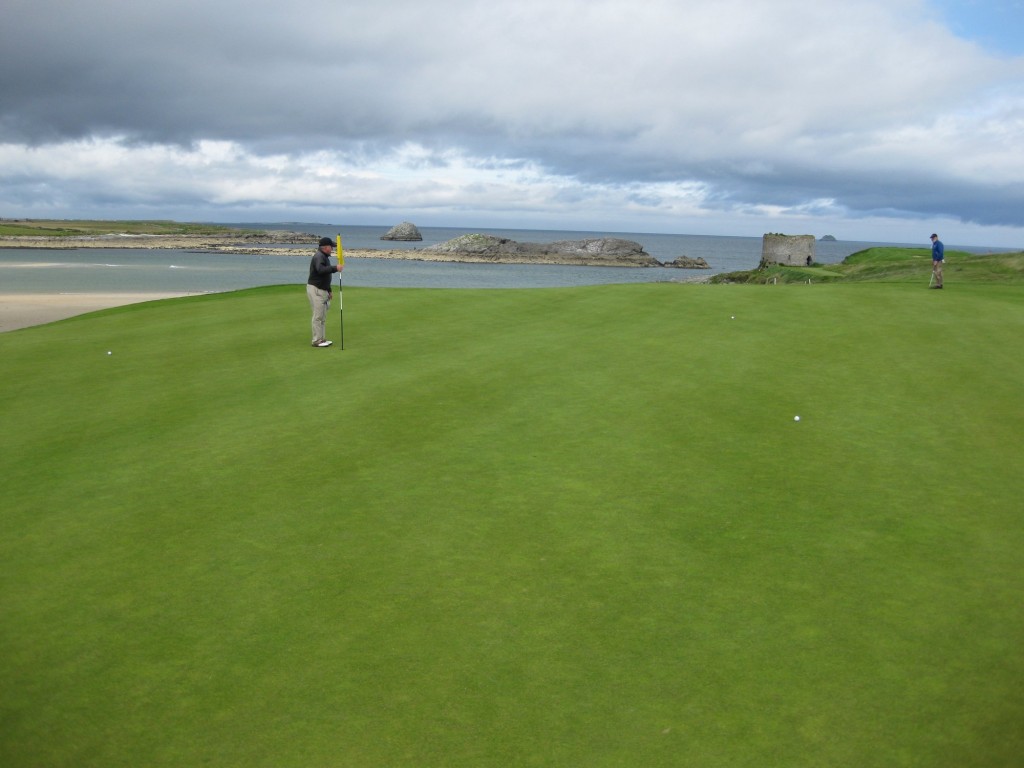 #9 is a par 5 that turns inland and takes us back to the clubhouse. A recent renovation added a cross bunker that will punish a poorly planned layup or those going for the green in 2 who come up short. As is the case with many links courses, the holes that head back to the clubhouse often suffer in comparison to the more spectacular holes built oceanside or in more rugged dunes. For those who layup it is a wedge to a dramatically contoured green with a birdie chance for a well played approach.
Hole #10 is a pretty par 4 that takes you back toward the toward the ocean and larger dunes on the property .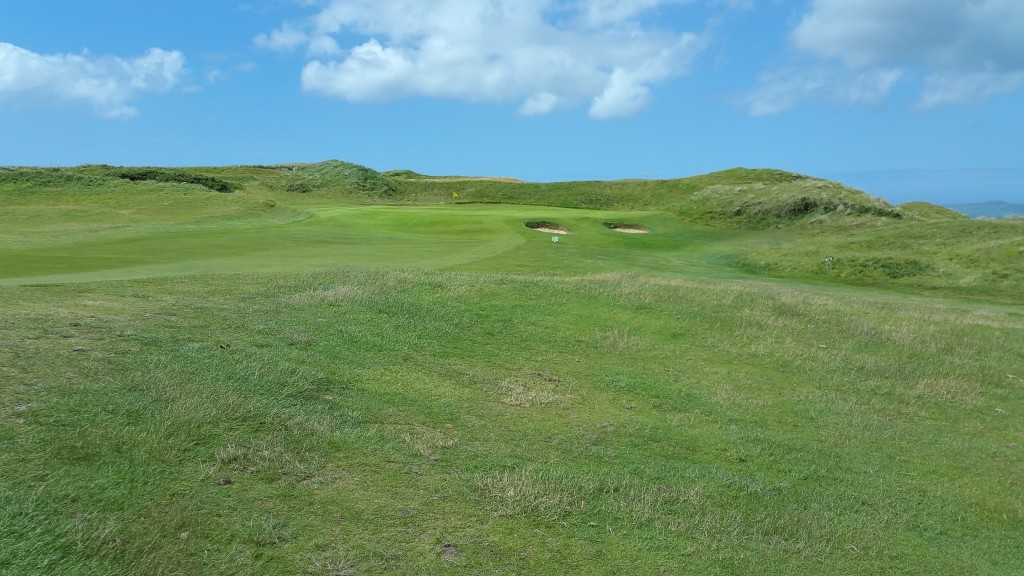 Not pictured: #11 gives us our first taste of the larger dunes of the back 9.  An uphill par 5 with a blind second shot.   the green is reachable for the longer hitter, but misses left face a dropoff into rough on the left. #12 and #13 are not for the weak golfer.  Forced carries and good distance control are required.  After a blind tee shot on #12, one is faced with an uphill shot to an elevated green off a slight downhill lie–and there is a large dropoff to the left.  Long right is the only safe miss. Par is often a winning score here.
Hole #13 is a dramatic short par 3 over a chasm to a green backed by a large dune.  Getting the right distance is critical.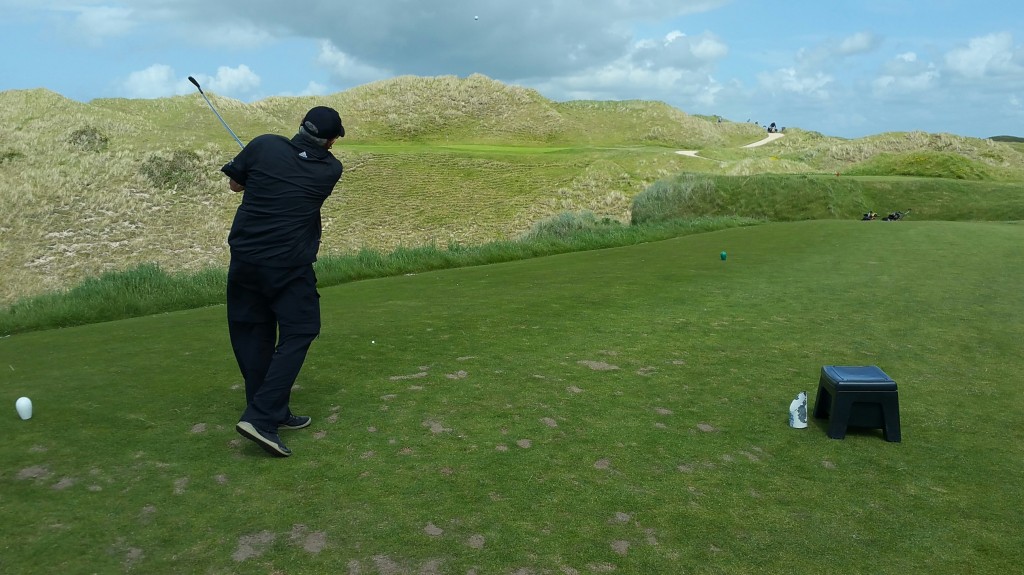 Hole #14 is another very scenic hole–this time a short par 4 with dunes right and a drop off left. It is a tough fairway to hit, but a short enough hole that you can recover from the left rough.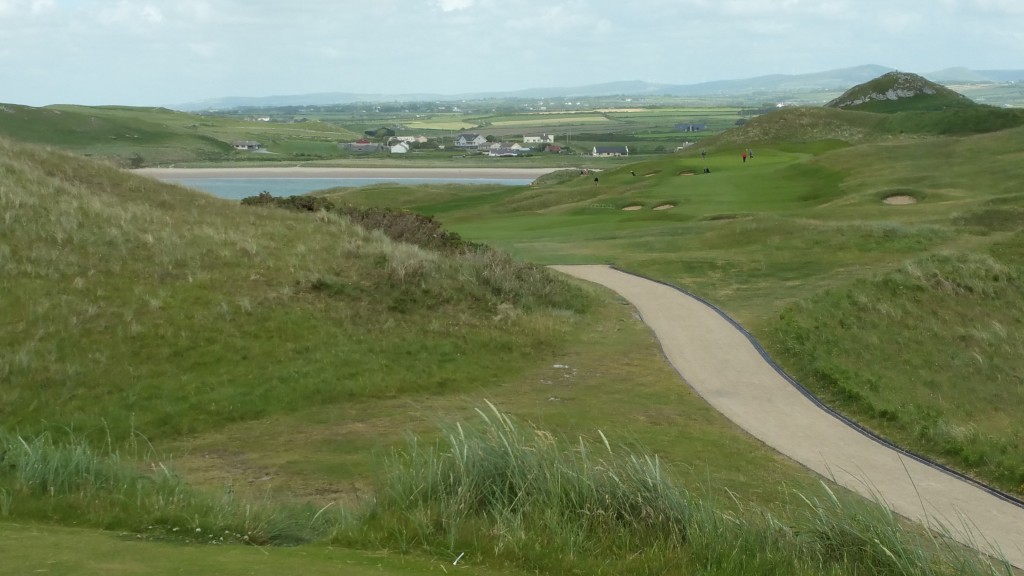 Hole #15 is another beautiful golf hole – a short dogleg right par 4 to an elevated green.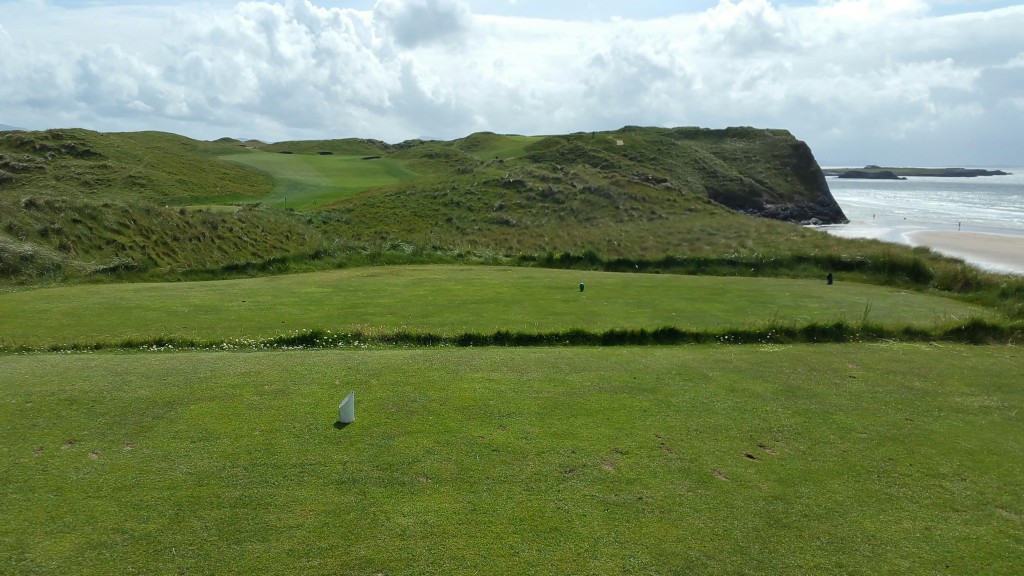 And it gets even better with the jaw-dropping par 3 16th. A mid iron shot to a tricky green is a tough par.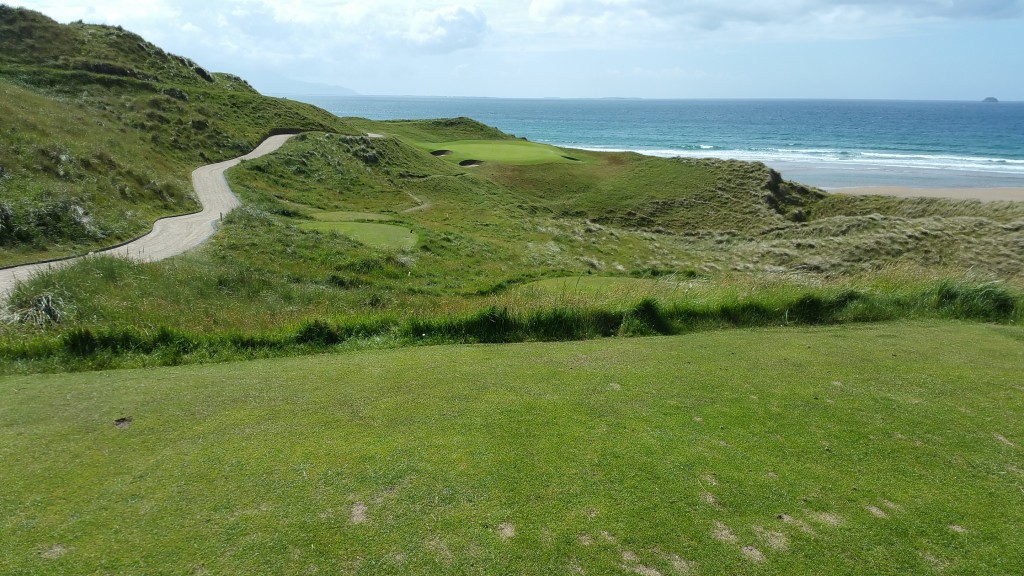 The spectacular scenery continues on Hole #17 with another dogleg right par 4.  A demanding drive leaves an uphill approach to an elevated green.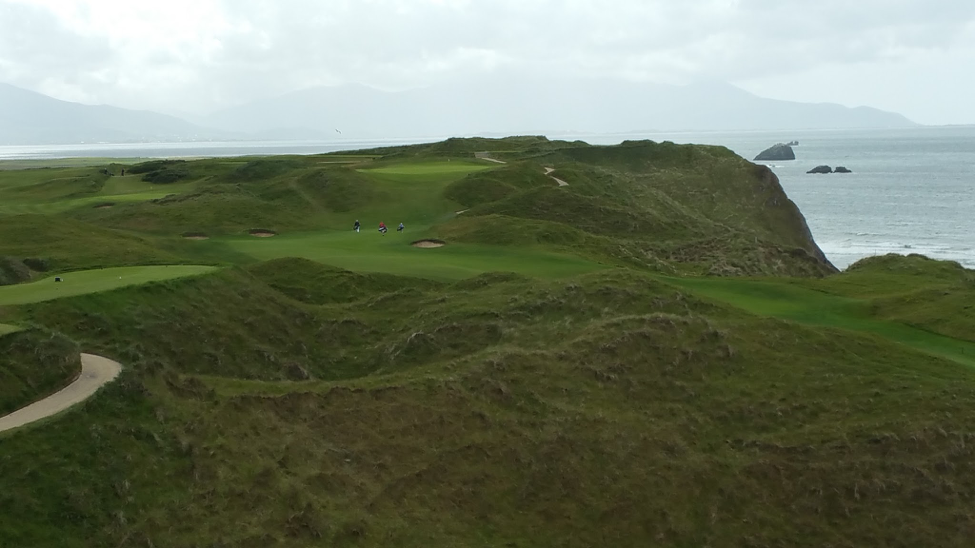 Hole #18 is similar to #9 – a par 5 heading back to the clubhouse.  A bit of a letdown after the spectacular scenery of 10-17 but a chance for a closing birdie. A beautiful stretch of beach is visible from the back tee.  This was a site used in the movie "Ryan's Daughter."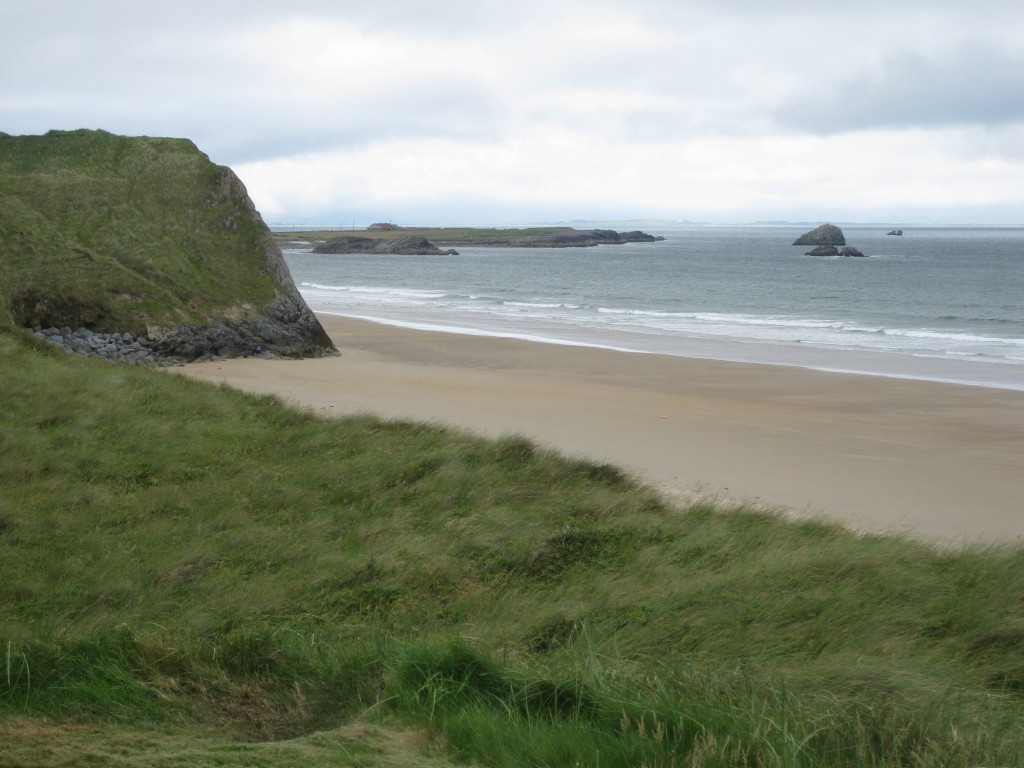 After the round, I heartily recommend the second floor restaurant/bar as a great place to relax and re-energize. The views looking back on the course are gorgeous and you will enjoy above average clubhouse food.