Scottish Golf Trip Itineraries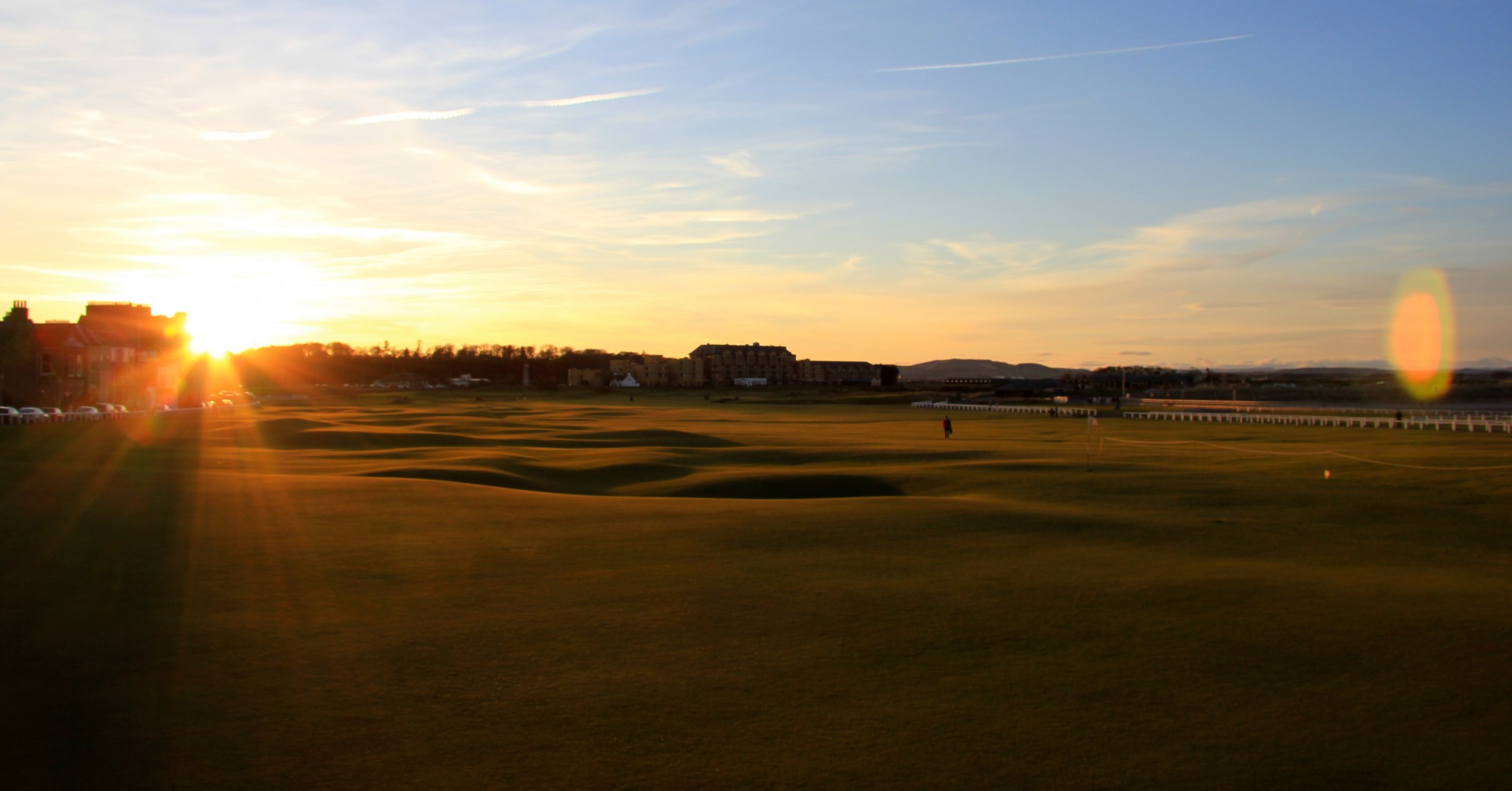 The Scottish golf trip itineraries below will provide inspiration for a trip of your own. I have gathered suggested itineraries from a number of other golfers as well, including Geoff Shackelford, Ran Morrissett, and others.
I recommend trying to visit no more than two regions during a golf trip to Scotland. It is tempting to play golf until your legs give out, but those trips leave you with little more than exhaustion and muddied memories. 
ST ANDREWS BASED TRIP – GRAYLYN LOOMIS
Basing your trip in St Andrews is a particularly great golf trip to Scotland. For those who want to avoid driving and additional travel costs, basing your trip in St Andrews provides ease as well as access to amazing golf courses. The courses on the itinerary below are some of my favorites, but I would also recommend giving serious thought to the St Andrews Castle Course, St Andrews Eden Course, and St Andrews Jubilee Course among others. *Details on St Andrews Old Course tee times found here.
                             Day 1:
Golf – North Berwick 
19th Hole – The Ship Inn
Off the course – Take some time to explore the charming town of North Berwick. Get the fresh catch at the Lobster Shack by the port!
Accommodation – Macdonald Marine Hotel ($$$)
                              Day 2
Golf – Muirfield
19th Hole – Have a glass (or three) of Kummel in the clubhouse after the round
Off the course – Try to book in for the full 36 hole day including the famous Muirfield lunch.
Accommodation – Macdonald Marine Hotel ($$$)
                             Day 3:
Golf – Carnoustie Golf Links (45 minute drive from St Andrews)
19th Hole – The Carnoustie Golf Club
Off the Course – Explore the British Golf Museum back in St Andrews
Accommodation – Russell Hotel ($$)
                              Day 4:
Golf – St Andrews New Course
19th Hole – The Jigger Inn
Off the course – Travel down the coast for a 30 minute drive to Anstruther for the UK's best fish and chips.
Accommodation – Russell Hotel ($$)
                             Day 6:
Golf – Kingsbarns Golf Links
19th Hole – Kingsbarns Clubhouse
Off the course – Visit Kingsbarns Distillery to gain some whisky knowledge!
Accommodation – Russell Hotel ($$)
EAST LOTHIAN PILGRIMAGE – GEOFF SHACKELFORD
Geoff Shackelford is a contributor to Golf World Magazine, Golf Digest, and is the author of eleven books. His website, geoffshackelford.com, aggregates the best golf news stories from around the world. He has worked in the design and construction process of multiple golf courses with Gil Hanse. Geoff has traveled extensively to Scotland and this itinerary that he wrote for the site can be found in more detail in this Golf Digest story.
---
Day 1 – Arrive, Edinburgh – Leith Links (visit only) Bruntsfield Links, Musselburgh
19th Hole: Kilderkin Pub (home to Far & Sure plaque), The Golf Tavern
Off the course – your chance to see one of the most beautiful cities in the world with vital early golf sites at Leith Links (now a park, but the ghosts are there if you look closely), Bruntsfield Links in the middle of the university and city (bring your wedges and putter), and Musselburgh Links where you can get in a fun tune up nine with your clubs (which you might have shipped here)
Accommodation: Save your money and be comfortable at the Best Western King's Manor. Easy access and parking. And a relaxed spa if you need a massage after a long flight.
Day 2 – Gullane No. 1
19th Hole – The Old Clubhouse, where else? Make sure to travel A198 from Musselburgh. Takes longer but oh so scenic. And if Archie Baird will give you a look around his museum next door to the pro shop, take the opportunity.
Accommodation: The Golf Inn. Excellent food and location. Walk to the links.
Day 3 – Muirfield
19th Hole – Have a glass (or three) of Kummel in the clubhouse after the round
Off the course – Try to book in for the full 36 hole day including the famous Muirfield lunch.
Accommodation – The Golf Inn
Day 4 – North Berwick West Links
19th Hole – The Golfers Rest for a pub visit or if a member takes you upstairs in the clubhouse
Off the course – Explore the town, including the cemetery.
Accommodation – Macdonald Marine Hotel (Ask for a view room!)
Day 5 – The Glen (North Berwick East Links)
Off the course – soak up the town, hit one of the two public greens and don't rush. No shortage of fine eateries to choose from. And don't hesitate to go play Dunbar, Kilspindie or Longniddry for another links experience.
Accommodation – Macdonald Marine Hotel (Go for an evening stroll around the West Links)
Day 6 – Musselburgh Links (again, this time rent hickories)
19th Hole – Mrs. Forman's. Golf's oldest snack bar is actually more fine dining now, but reasonably priced with golf memorabilia on the walls. If you want to get back in to Edinburgh now that you're on the move again, take in Holyrood Park, Arthur's Seat and The Sheep Heid Inn, the city's oldest pub and restaurant (and make sure to check out the ancient bowling alley in back).
THE LESSER SEEN PLACES – RAN MORRISSETT
Ran Morrissett is the founder of golfclubatlas.com, a website promoting discussion and debate about golf course architecture. Ran is considered one of the foremost modern minds in golf course architecture and he has most recently played a role in the development of Cabot Links in Nova Scotia, Canada. His depth of knowledge on all things golf, including its roots in Scotland, is astounding.
---
Day 1: Land in Edinburgh and head to North Berwick. You didn't come all this way to play the usual fare and no course better combines quirk, fun and strategy than North Berwick. Stonewalls, beaches, dog-walkers, direction poles and one of the best set of greens are here. 
Day 2: Don't be a list checker, play North Berwick again. On the way back to Edinburgh, play Gullane No. 1. Don't be put off by the discouraging sight of Gullane Hill itself, as once on top, it's one magical hole after another. The ten hole stretch bookended by the par 3s 4th and 13th is as good as it gets. 
Day 3: Peruse Margret George's Mary Queen of Scots and prowl around the city of Edinburgh. Reading about streets and places from 450 years ago and seeing them in person is neat. Dine at The Witchery before heading west to Pitlochery in the middle of the country. Play the sub 6,000 yard Pitlochery late in the day, soak in the mountain scenery and take in a play at the Pitlochery Festival Theatre. Stay at Fonab Castle.
Day 4: Head to Inverness for Castle Stuart, the best modern course built in the United Kingdom since World War II. The marvel of the ground game captured by the fast running, humpy-bumpy fescue fairways highlight that short grass is what makes the game great in Scotland, not wet thick rough.
Day 5: Fly from Inverness to South Uist. Time to go remote, unplug and appreciate the Hebridean culture. Play at least two rounds at Askernish but be warned: it isn't a quaint throwback. Featuring some of Scotland's biggest dunes, Askernish calls for broad shouldered, swashbuckling golf of the highest order, especially when the greens are as high as 8 on the stimp meter. 
Day 6: Fly to Glasgow, drive west to Prestwick Golf Club. The mixing and matching of Old Tom Morris's holes in the dunes near the clubhouse and the beefy par fours from 6-10 provide a course that's the best of both worlds. Wander around Glasgow that evening. Voted best city in Europe in 2008 for good reason, few cities in the world have transformed themselves so shrewdly in the past few decades as Glasgow.
THE HIGHBROW TRIP – JOHN SABINO
John Sabino (aka the Top 100 Golfer) has now played every course on Golf Magazine's Top 100 list. In many ways the first golf course review blogger, John traveled the globe playing top courses while writing about the experiences on his blog, entitled the Top 100 Golf Blog. You can get lost for hours reading his course reviews. John was my inspiration to start this site, and he sits among an elite group of golfers who have seen the world's best courses.
---
"You'll need a jacket and tie for this itinerary, but they are worth carrying along for the experiences they enable. Arrive Edinburgh, depart Glasgow on a journey that combines some of the most historic courses in the world with an itinerary any golf snob would love. The golf alternatives between short and quirky courses and championship tests. If you have to ask how much the itinerary costs, you can't afford it. There is no better tonic for adjusting to the new time zone after a red-eye than getting off the plane and playing golf immediately so we picked a course not too far from the airport to begin. As an aficionado you are expected to hire a driver to transport you around the country and for god's sake use caddies and tip them well."
Day 1, North Berwick – Home of the original Redan and the perfect place to immerse yourself in true Scotland. Stone walls in front of a green? Blind shots? You're not in Kansas anymore!
Off the course: Explore Edinburgh, which is one of the finest cities in Europe, featuring a castle built on a mountain-top above the city center.
19th hole: After a long day there is no better place to retire to than the Café Royal in Edinburgh, location of the famous restaurant scene in Chariots of Fire.
Accommodation: The baronial Prestonfield House, built in 1687 for a Lord, will make you feel like a Scottish laird in its opulent surroundings.
Day 2, Muirfield – Be prepared for pomp and circumstance at the Honourable Company of Edinburgh Golfers. Jacket and tie are required to enter and for lunch. You are doing 36-holes. Play is off the 10th tee only in the am; after your world-class multi-course meal it's off for the mandatory alternate shot round after lunch.
19th hole: The Old Clubhouse Pub in Gullane
Accommodation: The Edwardian Greywalls Hotel which sits on the golf course.
Day 3, Carnoustie – In the author's opinion, the finest golf course in Europe and a true Scottish links experience. There is not beauty to dazzle you, but the routing and the Barry Burn makes the golf course a demanding test, and exhilarating.
Accommodation: The 18th Century Balbirnie House hotel is set on 400 acres are ideal accommodations to continue the Edwardian accommodation theme.
Off the course: Find an R & A member and have a drink in the Big Room of the ancient clubhouse overlooking the Old Course's 18th green and a classic view of the Auld Grey Toon. Proper attire required.
Day 4, Cruden Bay – A golf course for connoisseurs and a unique experience in golf course design. Play it twice to better appreciate the dunes and the unusual routing.
Off the course: Enjoy the classic British 'sweet' at the nearby Udny Arms
Accommodation: Sticky Toffee Pudding.
Day 5, Prestwick – In many ways the true home of golf and less commercialized than St. Andrews. Home of the first Open Championship and host a record 24 times. Put aside your macho for a day and enjoy old-world and short. Arrange for lunch in the members dining room and soak up golf history. Old Tom didn't wear shorts and a polo shirt, and neither can you while dining.
Accommodation and 19th hole: The Lochgreen House Hotel. The quintessential 'country house' hotel with a dining experience of the highest order, complete with a drawing room that doubles as a whisky tasting venue.
Day 6, Loch Lomond – The ultimate coup on a Scottish golf trip, if you can gain access to the uber-private Loch Lomond, then you are indeed a master of the universe. You have to find a member to play as they don't easily accept guests, but it is worth the effort. An atypical course by Scottish standards but visually one of the most beautiful in the world, with a clubhouse to match.
Accommodation: Secure an overnight stay at one of the cottages on property.
A WEEK IN ST ANDREWS WITH NO CAR – TIM ALPAUGH
Tim Alpaugh is a student of golf history. His book, Claret Dreams, highlights the "golden age" of golfers such as Harry Vardon, who are all too often left out of modern golf conversations. He is a dedicated hickory golf club restorer and player who brings the original clubs back to where it all began, the Scottish links.
---
There are many courses within a 10 mile radius of St. Andrews that can be visited by public transportation, a cab, or on foot. If you are staying in town, I would recommend a bed and breakfast, specifically 5 Pilmour Place. You can walk the 100 yards to the Old Course or the 400 yards to the New Course from their front door.
I would recommend the Golf House Club at Elie, Crail (Balcomie), Lundin Links and Luden Links, Kingarrock, and of course, the St Andrews Eden Course. Being a college town, there are no shortage of fine dining and low cost dining options for pizza, fish and chips, and even a cheeseburger. The ambiance and plethora of golf photos in the dining hall of the Dunvegan Hotel as well as the abundance of 19 holers will provide endless entertainment and conversation. Enter the lottery for a group tee time on the Old Course or, if you are a single, get in the queue and get out on the course early!
A VISIT TO ABERDEEN – RUAIRIDH MACDONALD
Ru Macdonald is the founder of the Scottish Golf Podcast. His podcast is dedicated to providing vital information for those planning golf trips to Scotland. I have thoroughly enjoyed co-hosting podcasts with Ru, and his knowledge of Scotland as a whole never fails to impress me. As Ru was born and raised in Aberdeenshire, you can be sure he knows his stuff about this itinerary!
---
"The Aberdeen region in Scotland's northeast stretch of coastline is home to three top 100 golf courses and some of Scotland's most imposing sand dunes. It is also located approximately two hours drive north of St Andrews or three hours from international travel hubs of Glasgow and Edinburgh. While golfing in sight of Scotland's third largest city, Aberdeen, it's imperative to base yourself north of the city within easy commute to the region's best golf courses."
Day 1: Murcar Golf Links
Accommodation: The White Horse
Off the Course: Visit Stonehaven & Dunnottar
Day 2: Royal Aberdeen GC
Accommodation: The White Horse
Off the Course: Aberdeen City Centre
Day 3: Fraserburgh GC & Newburgh on Ythan
Accommodation: The White Horse
Off the Course: Brew Dog Distillery Tour/Bar
Day 4: Cruden Bay GC (36 holes)
Accommodation: The White Horse
Off the Course: Enjoy the Clubhouse view
Day 5: Trump International
Accommodation: The White Horse
Off the course: Cock & Bull Bar & Restaurant