This review is written by my good friend Andrew Rehfeld, who continues to offer his vast knowledge to the site as the equipment contributor. Check out his other reviews here!
I first got turned on to carry bags when I was at the University of St. Andrews with Graylyn, and he was lugging around his (ugly) orange Titleist carry bag. Since stand bags were the standard in junior tournaments and high school golf, I hadn't really considered anything else. However, I figured that if this kid from the South could go without a stand, I could too. I purchased a Mizuno Scratch Sac and enjoyed it until I recently purchased a Ping Moonlite Carry Bag.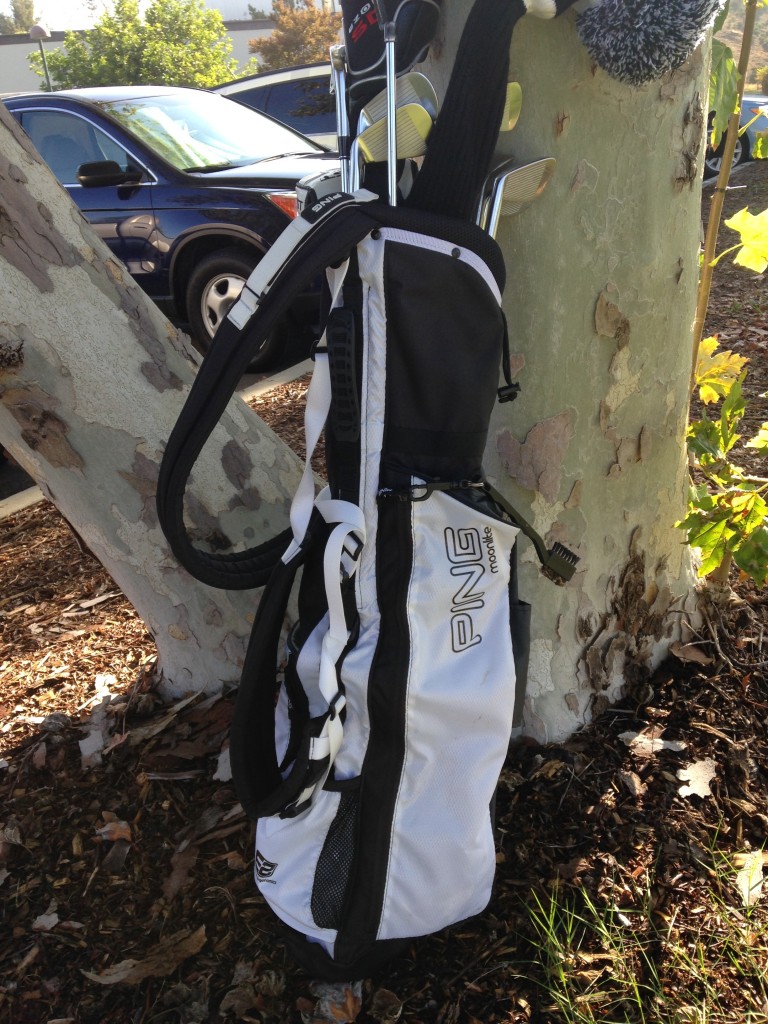 Most carry bags are lower quality and don't have many features. They also typically only have one strap, which can be a little awkward at times. The Ping Moonlite seemed to feature more thought in its design, and I liked the idea of the familiar Ping backpack style straps. A couple of months ago I picked up a white Moonlite from Golfsmith for $89.99.

As far as features are concerned, the bag weighs 2.5 pounds and is made of polyester and nylon. This isn't a top-notch, designer carry bag like the Jones Original Bag that Graylyn now carries, but it is built for functionality and ease of use. The bag has a 2-way top with a full-length divider, water-resistant underside, three pockets (and drink holder), umbrella sleeve, and a separate valuables pocket. It comes in five color options and has classic Ping looks.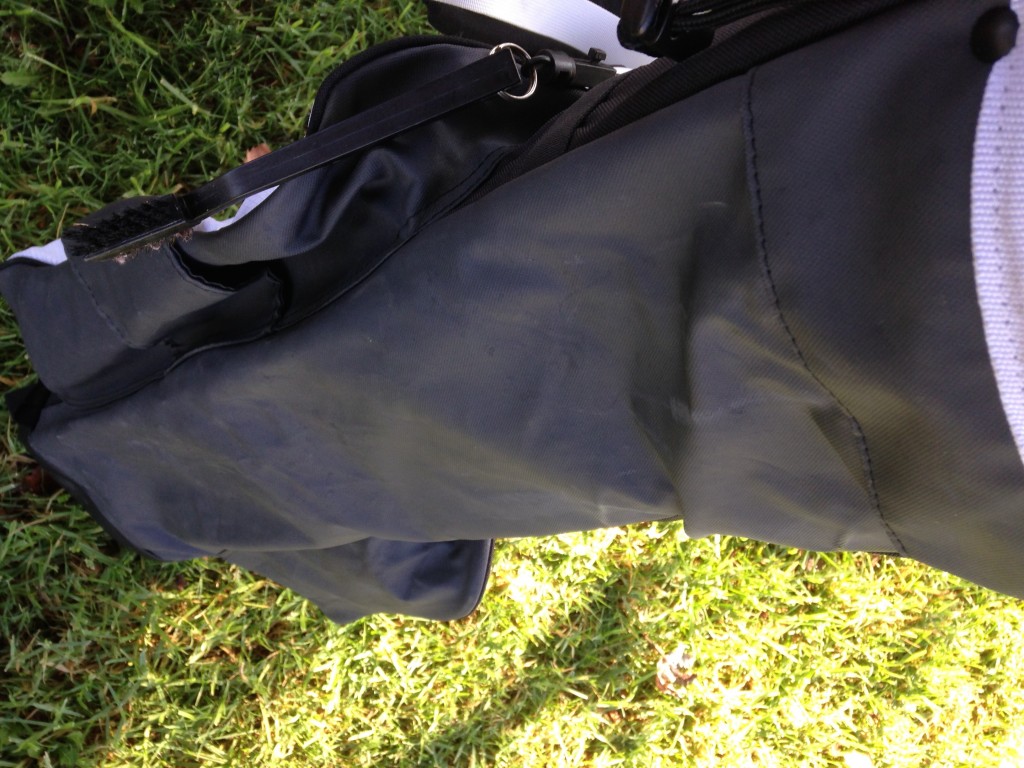 To cut to the point, I really like this bag except for two things. My main complaint is that, similar to most carry bags, it is unstructured. This means there is nothing supporting the bag when carrying clubs or when it's leaning up against something. It suffers from the classic 'droop' that is annoying when putting clubs in the bag. The top of the bag has to be held up so that the fabric inside doesn't bunch and stop the clubs from reaching the bottom of the bag.
Although it is common among most carry bags, The Moonlite does not have a rain cover. It doesn't rain much here in Los Angeles, but once the rain starts coming in the top of the bag and the grips get wet, you're out of luck.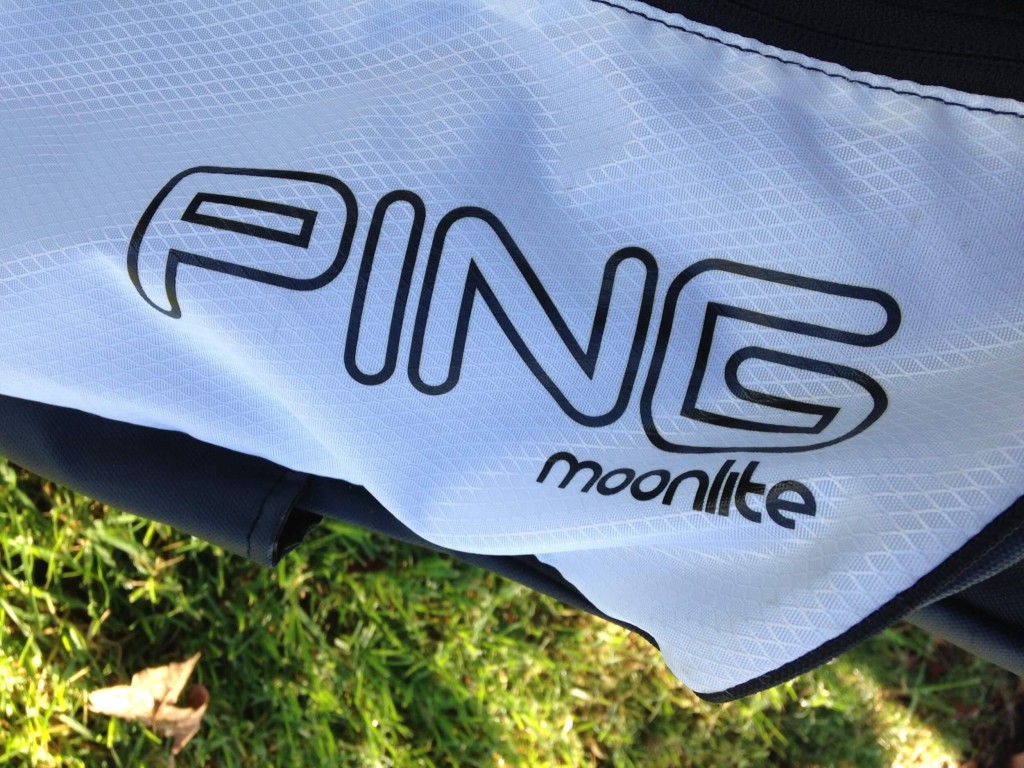 My problem with both of these issues is that my Mizuno Scratch Sac was structured and had a rain cover. However, that bag wasn't as comfortable or useable as the Ping Moonlite. The market is not huge for carry bags, and the options are limited – you have to weigh the pros and cons.
The Moonlite is great because of its comfort and ease of use. Due to the Ping backpack straps being thoroughly padded and the weight distributed between two straps instead of one, this bag feels especially light. The heavy-duty, water resistant bottom takes care of the common issue where wet grass seeps through bags that are laid on the ground. Because of the adequate storage space, you don't have leave extra equipment or food at home. I also really like the drink pocket, which sits on the 'spine' of the bag like a full-size bag (though I use it for balls/tees/etc.). There is also a small valuables pockets and clip in the big pocket (I use it for my keys?).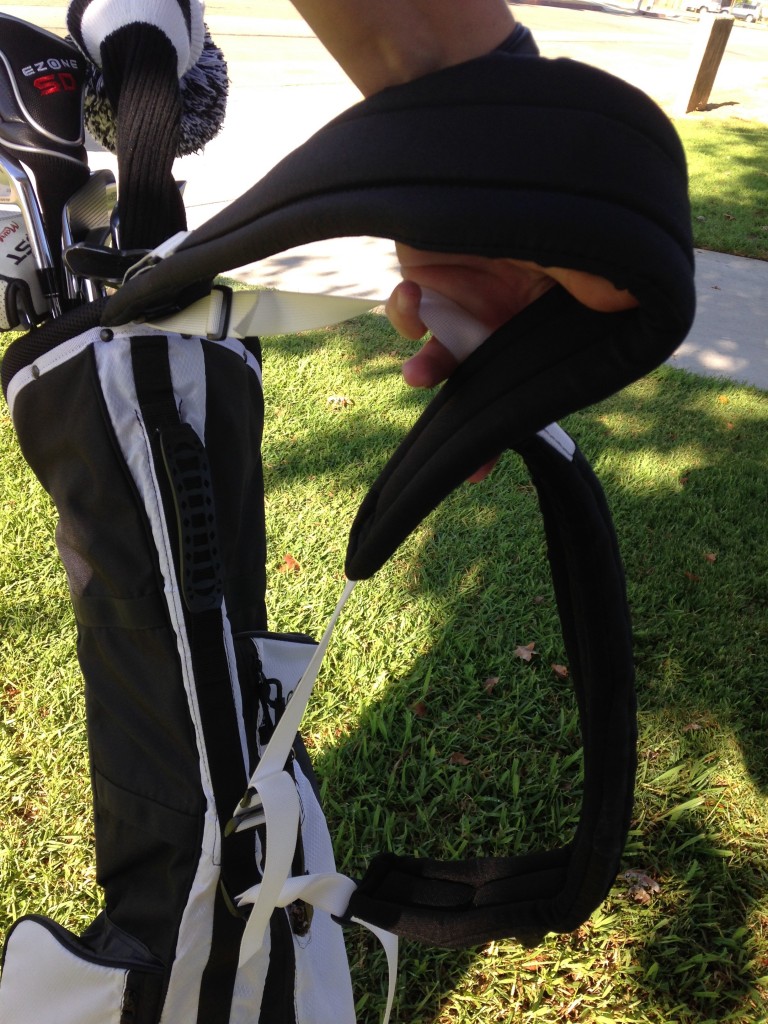 Overall, the Ping Moonlite Carry Bag is a great bag, especially for someone who wants to try a simple, light bag but doesn't want to sacrifice a strap. The features are all there, and it's easy to use. It also looks pretty cool – I would definitely recommend it.
LINKS:
Ping Moonlite Bag on Amazon